The Weekend Wash-Up – Round 20
Well… That was a strangely successful weekend. For the first time this season I don't feel like taking myself out to the shed and opting for the fetal position.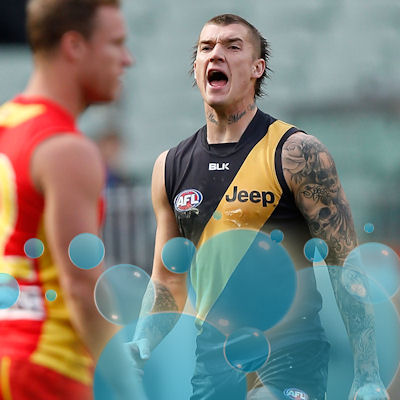 Well… That was a strangely successful weekend. For the first time this season I don't feel like taking myself out to the shed and opting for the fetal position. I suppose a more informative article couldn't hurt, I get the feeling the legends column may overflow. Don't fear though, my captain scored 78 and that's plenty of fuel to light the fire. It's time for the weekend wash-up!
Legends
Mitchell (138) – What a beautiful sight it is when Mitchell is allowed some FREEEEEDOM. Surely this is the game that he cements his spot in Sydney's midfield… Ball magnet.
McVeigh (125) – At this stage of the season you can't bring in players based purely on form. I basically straight swapped Yeo to McVeigh even though he managed a paltry 60 last week, and he delivered in spades. It's finals time, analyse what opponent a player has next and assess their potential on a week to week basis.
Kennedy (120) – Kennedy has recovered from a slow start in fine style, proving exactly why it's worth jumping on fallen premiums. As they say, form is temporary…
Hannebery (119) – What a season this bloke has had. I'll be honest I didn't see it coming at all, I had him in the Cotchin mould. Brilliant some weeks, but always susceptible to a tag. He has taken his game to another level and is well worthy to be nominated a legend!
Swan (139) – I see it, but I don't believe it. 2012 Swan is back!!! OIIINNNNKKKK!
Heppell (128) – As much as he has been a headache throughout the season, you have to give him credit for stepping up when it counted. If you pump out a 128 in the first week of the finals, a lot can be forgiven. Even more so when you play for a rabble.
Goddard (125) – As I said last week, that 25 masks how good he has been this season. Not sure about him as a bloke, but none of that matters if you rack up +6's! Get him in.
Stanton (118) – The amount of times I've backed in Stanton and he has thrown it in my face makes me physically ill. I refuse to even look at his picture, let's move on. I suppose he's a good finals differential… (Good to know I don't hold grudges)
Sloane (136) – Priced at $465k, we have a big decision to make. Does this game mark the return of beast mode Sloane, or is he just as likely to be outscored by Lambert next week? That's the decision I'm torn by… He is cheap enough for me to think he's well worth trading in this week, playing loose marking Brisbane and Eagles sides over the next 2 weeks. Then a trip to Simonds where he averages 109! Great option.
Laird (123) – I haven't mentioned Laird's efforts at all this season, so it's about time I gave him a shoutout. He has been awesome! He started the season as a $346k defender. Remember how badly we needed one? I'm ashamed to admit I have owned both Lumumba and Hunt, but didn't give this legend a second look. Shame on me!
Dangerfield (118) – Uber premo. Simple as that.
Jacobs (114) – Jacobs had to perform against the work ruck combo in the league, and he delivered. We have had our ruckman expectations blown out of the water by Goldstein and Martin, but Jacobs has averaged a very solid 97. Great value currently!
Lynch (111) – While I'm making the legends list into a novel, I might as well give a shout to Tom Lynch (Adelaide). I got him with the last pick of our draft, but wasn't brave enough to back him in Fantasy. Having been priced at $327k, he has averaged 86. Take that every day of the week.
Newnes (109) – Fair play to Newnesy! Even though he hasn't taken the next step at least it hasn't been a complete and utter Lumumba. I will never pick him again, but his second half of the season has saved our pride. Not quite a legend though…
Shiels (126) – Now this bloke is a legend at the moment. Make that 8 x 110 scores in his last 12 games! He is a tackling machine, which can never be a bad thing in Fantasy. The big question is will the Hawks rest him? They have 3 glorious fixtures and Shiels could potentially win you your leagues. He could also get dropped and cost you your league. Tough call. I'd avoid Hawks if possible, it's a decision that will make or break our seasons!
Guthrie (124) – I almost brought Guthrie in last week, before slapping myself in the face multiple times. Having not scored a ton all season, Guthrie has gone 116, 117 and 124 in his last 3. Is this due to a role change or a fluke? Geelong fans help me out!
Robinson (166) – When I first saw this score I just laughed. I hadn't considered him for even a second, presuming he was continuing to average in the 80's. I soon discovered that he has a 5 round average of 121!!! He hasn't gone under 90 since Brisbane's bye round, and has scored over 114 in his last 4 games. Could you seriously do it? Talk about a differential. His role must've changed, I'm all for a good finals risk!
Rockliff (143) – For some reason I didn't captain Rocky this weekend. I hadn't regained faith after giving him the for armband for a 50 a month ago, but it's time to admit that the Fantasy Pig is back in his pen. I'm going to presume he is owned by 100% of coaches with any intent of winning their leagues.
S.Martin (124) – LEGEND! I having been twitching uncontrollably ever since I traded out my highest averaging player, but so far it has worked a treat. Yes the other bloke scored a 150 but we'll forget that ever happened. Martin has a 3 round average of 132, he clearly isn't happy that Goldy has stolen his crown! Where are the doubters now?
D.Martin (140) – Dusty has averaged 104 for the season, I'd say we hit the nail on the head! Even though he has produced 3 scores under 70, he has also pumped out 3 scores over 140. Massive.
Wallis (132) – Wallis has been trudging along lately, averaging around 90. Many who knee-jerked him in will have been regretting that move, up until this week… First week of finals and BOOM! This score will have decided a lot of match-ups I'm sure. He has made a mockery of his starting price tag.
Mundy (117) – Do we have a new Mr Consistent? He just gets the job done, and more! I'm still not sure why he is classified as a 'defender', but when he scores like this you won't see me complaining!
Losers
Parker (55) – If half the competition hadn't been in the legends column this week I'd have put Parker there instead. He's by no means a loser. Parker hasn't quite lived up to expectations this season, but has been solid nonetheless. That hit he received in the first quarter would knockout 90% of players. He got up and pushed on, so be glad you got a score this good! The injury he suffered was horrific, let's hope he makes a full recovery. All the best Luke.
Higgins (57) – This is the risk you take by owning a player like Higgins during finals. This is where they produce their best form, depending on how you judge form… He was BOG for my side this week!
Steven (70) – Steven has received all the attention from opposition taggers, which has slightly halted his incredible season. As harsh as it is, a score of 70 in the first week of the finals can go a long way to undoing all the good work in the first 19. It's no good if you're knocked out of your league!
Bartel (71) – I traded in Bartel a month ago to try and get what I thought would be a differential to decide my finals match-ups. This week he was almost exactly that, just not the way I wanted him to be! He needs a big score this week, it's no good being consistent if you're going to produce something like this! He is still a great option though.
Simpson (71) – Give me a spell. This is comfortably my worst pick this season, even worse than Lumumba. Scratch that, he was my second worst pick this season. I backed him in when no one else showed him the time of day, and this is how I've been repaid. Pathetic!
Malceski (62) – Sooooooo… Anyone fall for this? Surely the worst recruit of the season.
Lumumba (37) – Believe it or not, just when you think he has bottomed out, Heritier is actually getting worse. Much like Australia's Ashes campaign. What's next? Will he be dropped for not doing his homework? Find out in the next season of Football player wants a possession.
Neale (78) – There aren't many reasonable explanations for why I captained him. Consider that I had 16 players score 100+, including 7 with 120+. How many people have captained their lowest scoring player (No injury)? Bartel saved me that embarrassment, but I was mighty close to that achievement. He has been one of my best picks, so I'm willing to let this one slide. Just.
Yeo (51) – I said last week that his role had changed! I have no sympathy here, you were well and truly warned! Don't get me wrong he was a great pick up, and when the Eagles get their 17 injured defenders back he will be an awesome pick. Just don't own him now.
Gaff (69) – Fantasy is a cruel mistress. Gaff has been one of the players of the season, but if you're going to post this score in the first week of finals then what's the point! The next few weeks will be huge for Gaff owners. He could flop and average just over 100, or he could star and win you your league… What's it to be, Mr Gaff?
Barlow (19) – Dear god. I don't know what to say really. This would have to be a bigger fall from grace than Michael Clarke. I didn't label him Mr Dream Team for no reason, but he has been SO bad this season. It's going to take a lot of convincing for me to pick him next season, scars this big don't heal over 6 months! Actually I'm not ready to move on, 19 in a final?!?! Goldy proves that you can come back from anything, but this pathetic, soft cock performance won't be forgotten anytime soon.

Click here to subscribe on iTunes.
Nominations time, and I'm struggling to fit everyone in!!! Nice problem to have.
Robinson – If you owned Mitch Robinson when he scored 166, that's a memory to cherish for a lifetime.
Mitchell – 41 disposals, 8 tackles and a lazy 138 points if you don't mind. We've had to put up with some pain (Thanks to Longmire) but this is just rewards!
D.Martin – Was there any Dusty captainers (New word invented right here) out there? Show yourselves in this poll!
Rockliff – 2 votes = 1 oink of the pig.
Swan – 1 vote = 1 oink of the pig. OP's (Original pigs) deserve special treatment.
Who will get your vote?
This Game Sh*ts Me
*There it is. The curse.*
I have no doubt that 'the curse' is a real thing. I hadn't checked my Fantasy team all weekend, but on Sunday arvo I decided to see how things were going. Shockingly, my team had been almost faultless! At half time in the Bulldogs game, my 3 players were on fire and I was strolling towards 2500. I honestly reckon I re-calculated it 4 or 5 times to make sure I wasn't adding a digit somewhere. Of course as soon as I tweeted my good fortune, everything went tits up. Captain Neale was… Unsighted. I could've come up with something worse. The doggies then decided to put their feet up and left me crawling over the finish line.
My score was still awesome, but the second you start following your progress and get ahead of yourself, the Gods strike you down. And that's why this game kind of sh*ts me.
The Other Bits and Pieces
My team managed 2420, but I'd looked almost certain to be on track for 2500+. Greedy I know, but after the season I've had it would've been nice! First world problems…
Let me know your sob stories in the comments, I'm sure there's a lot. Many would have pumped out their highest score for the season, only to go crashing out of finals. I suppose that's how this season has gone.
On a side note, as the Fantasy AFL season comes to a close, the EPL season picks up. MONEYBALL has added a brand new game mode, allowing you to join the fun over in England. There isn't too many playing at the moment, although there's quite a few DTTALK entrants already! You've got a good chance of taking out the prizes, I've already won three times! If you haven't tried it yet, it's simply a must! Try it out here…
Good luck next week!