The Friday Scramble: Round 20
Finals are here, and so are issues for our Fantasy teams! As usual it isn't clear sailing, and I am a bit nervous about the lack of carnage in the selections, it makes me think that something big is still coming. Nevertheless, it is a Friday, so that means it is time to Scramble!!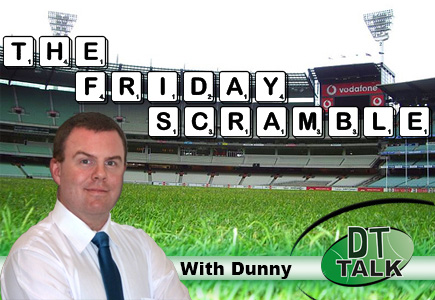 Can you feel it? The freshly cut lawns, the birds are chirping, the sun is out more… ahh who am I kidding. It is still bloody wet and cold, but it is Fantasy Finals time! With it still so rubbish outside then it is perfect to be sitting inside and watching the footy, but more importantly watching the scores of your players tick over. Our Supercoach friends are in the second week of finals, but for AF and RDT we are in the first week of our finals. Hopefully you have finished in the top four and you can play your way into a preliminary final. Otherwise, it is cut throat from here on out, so no mistakes!
But just because it is finals time doesn't make us immune from issues with our teams. We still have plenty to worry about… some may say scramble about!
Finals First!
So I am sure that I don't need to point this out to you guys, but just in case you are new to the site this year or it is even your first year that you have played the game, here are a few things that you should consider as you head into the first weekend of finals.
Don't get knocked out wondering what if. If you have trades in the bank and you could move a poor performer to a premium, do it. You can't take chances if you are in a knockout final this week. If you are in a qualifying final then it might be justified, but not in a knockout one.
Don't blow a trade on the bench. In RDT and SC where we are limited by trades, don't use one up just to strengthen up your bench cover (unless you have 8 trades left and have nothing else to do). You need to be saving your trades for resting or other injuries to your stars as we progress through the rest of the season. Of course in AF, you may as well use it up!
Check out the competition. If you are in an important final where you must win, it would be worth a quick look at your opponents team to see if there are any weak points in your line up that you can fix up.
Trade for unique or trade for safety? If you need to make a trade, you could go one of two ways. The safe one which is to eliminate a point of risk. So trading in a premium that your opponent has that you don't and you are worried about. Or you could take the risk and bring in someone that your opponent doesn't have and is a unique that could either make or break your game!
Forced Trades
Unfortunately we are without Nic Naitanui again this week for personal reasons. This means that you will need to trade him, unless you have a great setup with your DPP capabilities. Obviously the key here is to go to the best that you can afford which is Goldy if you don't have him. The problem there is that he will use up most of the cash you had on the bench. And under no circumstances (well ok, if you have 8 trades left and no other issues) should you be double trading to get him in.
There are other great options that won't cost you the earth and you can do comfortably, that would be to bring in Stefan Martin or Sam Jacobs. Sam could be a great option as he faces Essendon, Brisbane, West Coast and Geelong on the run home. Martin has Carlton, Adelaide, Hawthorn and the Bulldogs. Max Gawn is the other option you could look at and if you already have a R/F in your lineup you can put Max in and he can cover you on two different lines.
We are also without Adam Treloar this week and it looks like it may be more than one as he is out with injury and is not being rested. In regards to who to bring in for him, then there are a plethora of options in the midfield and everyones circumstances will be different with the amount of money you have and your other players. My advice here is simple, get the best person available. Take the guy that is likely to average the most from here to the end of the season.
Selection Table
From a big names point of view, no really bad news that we didn't already know about, only good news with Nat Fyfe finally returning, however, there is a LOT of rumour about that Mundy could miss this week, personally I hope he doesn't as I have him! Lobbe heads back to the SANFL but I doubt many of you have him in your side.  Clancee Pearce bounces back into the side this week, Deledio returns as does Stevie J. 
Dan McKenzie, Sam Colquhoun, Tom Clurey and Brayden Maynard are all out, but they would only be bench players for you anyway.
On the in's list we see our old mate Glenn Glenn yet again, but he is second last on the bench, so don't get excited!!
#AskDunny
@pkd73 @DTTALK in the next fortnight looking to trade out 2 of yeo/newnes/kolo. Who would be the 1 you keep ?? #AskDunny

— Brett Carson (@BCars29) August 12, 2015
For me this is a fairly simple one, I would be keeping Newnes. The other two have been a bit questionable of late.  Kolo is suffering with Malceski back and Yeo has hit a bit of a slow patch lately.  Newnes seems to have saved his best for the second half of the season.
@pkd73 @DTTALK Who would be the best sneaky pick for the year. One with no fanfare, but you have them and they have been good #askdunny

— John Freed (@John__Freed) August 12, 2015
I like this question John. I will give my thoughts, but I encourage you all to have a go at this question in the comments.  If I had to pick a couple I would have to say it would be Gaff, Macrae and Mundy.  Now I know you are all saying they have been in the news etc, but really they aren't the ones that have been talked about.  Gaff was in Priddis and Natanui's shadow.  Macrae was in Bont's shadow and Mundy was in Fyfe's shadow but they are ranked 12, 14 and 13 overall in terms of averages.  The round one sneaky pick would have to have been Jack Steven.  Not many would have predicted what he did this year.
https://twitter.com/AidanTheaker/status/631618124933038081
I am going to assume that this is in AFL Fantasy, otherwise I wouldn't recommend going with a double trade to get in Hannelbery (just for you Calvin).  However, if it is AF then I would say that this is a good trade to make.  Oxley is cooked and not in the side at the moment and Saad should be moved on.
@pkd73 @DTTALK which way should I go. Steele to Bartel or McIntosh to Boyd

— Tyche (@__Tyche_) August 13, 2015
Can't say I am a big fan of your fashion or twitter handle there, but you did ask a good question, so that counts for something! Firstly the guys you want to trade out.  Steele getting a vest and then getting dropped does worry me a lot.  I do note that he is named on the field which is something.  If I had to pick a sub in that team I would probably go with Zac Williams.  Kamdyn hasn't been fantastic of late, but he has been fairly consistent in his scoring.  The thing going for Steele is the fact that Scully is out for basically the rest of the year and Treloar is out injured and may miss more than one.  Kamdyn has also been fairly solid in that Tiger team playing every game this year.  So it will come down to what the other bench cover you have is like.  Based on that I think that Steele offers a little more value with his dual position eligibility.
Now for the guys you are bringing in.  Bartel is a jet and has been consistent of late, the Cats are in a fight for the eight so no chance he gets rested.  Boyd has played every game since their bye in round 11.  This makes me very nervous that he would get a rest before the Doggies hit the finals.  So, based on the flexibility that Steele provides you and the fact I am concerned Boyd may get a rest in the next couple of weeks I would love to be able to find a way to split this trade!!  If I had to make a choice, I think you have to go Steele to Bartel only because I think Bartel playes every game guaranteed.  But it is a really tight call in my mind.
Things To Remember
 Don't get yourself knocked out whilst conserving trades.
Beware of potential resting in ALL trades you make from here on out.
Use your trades on field players, not upgrading your bench.
Hopefully you are all in the top 4 and will make your way straight through to the Prelim finals.  It will be a big weekend of footy, but always be aware of late outs on Friday so keep an ear on the late team mail, particularly that for the Derby.  I wouldn't put it past Ross to make us suffer somehow from that game!!
For all of you that miss out and have a loss this week (or win your Elim final) I will be back again next week as usual to try and help you go all the way through the hard way to your Grand Final!!  Best of luck and catch you all on twitter @pkd73