Lampe's Price Watch – Round 20
Here is a look at some of the best and worst players to trade-in this week, with an emphasis on value and the run home.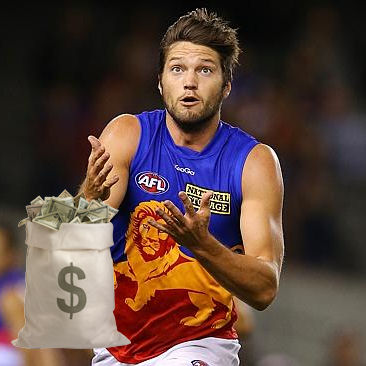 For most of us round 19 turned out to be a high scoring round. Hopefully you did enough to push yourself into the top eight, ideally with a second chance in the top four. If not, you can still play for pride and overall rankings, as the bottom half of the ladder still plays off during finals.
Here is a look at some of the best and worst players to trade-in this week, with an emphasis on value and the run home.
Defenders:
Buy:
Kade Simpson ($447,000): I've had a few people ask me who my pick of the defenders under 450k is. For me, that man is Kade Simpson. He hasn't been lighting the world on fire with a three and five round average of just over 80, but he has a fairly favourable draw ahead. Simpson faces Brisbane this week, a team he has a very good recent history against. He has scored 104, 87, 111 and 119 in his last four matches against them. He then takes on Melbourne, GWS and Hawthorn in the remaining three rounds, with the potential for good numbers if he can avoid a tag. I think the odds are in his favour to avoid tight attention against Melbourne, but he may cop some against the Giants. Simpson was rendered completely ineffective by a Tom Bugg tag last year, holding him to just 11 touches and 26 fantasy points. Simpson owners will be hoping Bugg remains out of the Giants line up for the rest of 2015.
Simpson has the potential and draw to average 90+ throughout the finals. If you are worried about a tag, James Kelly would be my second defender target under 450 grand.
*Side note*- Of the big four, Matthew Boyd ($536,000) is the one I would go with this week. He is the cheapest he has been all season, and is coming of 120 last weekend. He just pips Mundy who has been in terrific form lately, but has a slight injury concern having gone in for scans earlier this week.
50/50:
Sam Gilbert ($357,000): Gilbert is one straight out of left field, who has been quietly getting back to good form. He is priced just above 350k, and has scores of 87, 90 and 94 in his last three matches (albeit with a week off due to a small niggle in the middle). Gilbert's break-even is a lowly 31, so it is highly likely that he will be in for some significant price rises in the coming rounds. Although it's been a long time since his glory days as a fantasy defender, he still has some solid potential. If he could average 80-85 from this point on it would be a massive win, but are you be willing to take the risk this late in the game?
He is an extremely unique option with just 1.53% ownership, and is slowly getting back to his best. Personally, he is too risky for me at this stage of the season, but he is worth considering if you are strapped for cash.
Avoid/Upgrade:
Nick Malceski ($384,000): Unfortunately, Malceski's run of form has slowed in the last two weeks. It seems like this is primarily due to a leg complaint that seems to be hampering his movement. Last weekend fox commentators mentioned that he didn't look 100% on the field, and there was speculation leading into the match that he could be a late withdrawal. With scores of only 60 and 53 in his last two, coupled with a break-even that's risen to 88, this could be the ideal week to upgrade him before he loses significant money.
I honestly believe he was set to average 80+ before his newest injury worry, but alas it seems likely it wasn't meant to be. A mini upgrade to one of the big guns could net you an extra 30-40 points weekly.
Midfielders:
Buy:
Tom Rockliff ($533,000): I believe that Rocky is the number one midfielder to trade-in this week. Since coming back from injury he has posted four hundreds from five matches, three of which have been 120+. Rockliff presents unbelievable value if he can get back close to the form of last year, and he is currently down a staggering 230 grand form his starting price. He faces Carlton and Adelaide in the next two weeks, teams he scored 153 and 180 on last season (although he did have only 95 on Carlton earlier this year after being knocked out the week before). The only real concern about Rocky is his small susceptibility to a tag. He was kept to just 53 points against Bastinac a few weeks ago, but I am predicting for him to break through any attention he receives and average 120+ for the remainder of the year.
Although he hasn't been able to reach the lofty heights that made him the stand-out fantasy player of 2014 (mainly due to injury), he is still one of the best options for the run home. There is a very strong argument to be made that he is the most under-priced player in the competition, and I would advise all coaches to have a real look at trading him in before he loses some of his current value (b/e 88).
Lachie Neale ($540,000): Neale is a player many of us gave serious thought to in the pre-season, but few had the guts to actually go with. For those who took it on, they have been rewarded with an average just shy of 104 and some monster scores along the way. It is the diminutive Docker's final four opponents that could see him end the season with a bang. He faces West Coast, North and Port in his next three, teams he monstered for 162, 151 and 125 respectively, earlier this year. He faces Port in the DT Grand Final, a team he only had 59 on in the season opener, but he did have scores of 99 and 124 against them before that.
If you are looking for a point of difference that could possibly end the year with gigantic numbers, Neale could be your man. He has a break-even of just 85, so there is every chance he won't be any cheaper again this year.
50/50:
Brent Stanton ($597,000): It is probably a bit harsh putting Stanton as a 50/50 given his incredible form, but he has burnt us so many times in the past I can't in good conscious put him as a must have. Despite his roller-coaster nature and checkered history, Stanton is having one of his best fantasy years to date. His second half of the season has been particularly impressive, notching scores of: 100, 143, 124, 122, 112, 114, 58, 113 and 153 since round eleven. This has resulted in him becoming the third most expensive player in the competition, behind only 2015 standouts Hodge and Picken.
I can't bring myself to do it, largely because it's Brent Stanton, but he has rewarded those that have taken the punt handsomely. He has a good draw ahead with matches against the Crows, Suns, Tigers and Pies and could give you something brilliant in the DT Grand Final, with scores of 130, 150 and 143 in his last three encounters against Collingwood.
*Side note* If you are looking to save money, Rory Sloane ($446,000) and Pearce Hanley ($450,000) are two unique options. They both have the potential to average 100+ for the remainder of the year and have reasonably favourable draws ahead.
Avoid:
Once again I found it too difficult to signal out one particular midfielder this week. Luke Parker ($508,000) is well down on his mid-season form, averaging just 87 in his last five matches. I can't completely advise you to avoid him however, as he has possibly the best run home of any of the popular Mids. As good as David Armitage ($511,000) has been this year, he is clearly playing hurt and only has one hundred in his last five matches. His break-even has jumped out to 120, and he could be under 500k next week. Dyson Heppell ($500,000) also has one hundred in his last five, and is seriously suffering from Jobe's absence. He cops the hard tag every time the opposition decides to dish one out, and it has resulted in a five round average of only 86.
Rucks:
Buy:
For those coaches looking to upgrade Naitanui, McKernan, Leunenberger or any other ruck, here are my top three options this week.
1) Todd Goldstein ($673,000): I almost went with Martin due to value, but I simply can't look past how good Goldy has been. He is now the highest averaging player in the competition, and is coming off another massive score of 155. Goldstein now has ten consecutive hundreds, incredibly six of which have been 130+. He faces St Kilda this week, a team he had 130 on last year when he wasn't anywhere near the fantasy player he is now.
2) Stefan Martin ($591,000): Martin has been in incredible form lately, scoring 138 and 134 in his last two. He may average slightly less than Goldstein for the rest of the year, but at 82k cheaper he provides great value. Martin hasn't gone under 90 since round one.
3) Sam Jacobs ($482,000): If it wasn't for the unbelievable form of Goldy and Martin, Jacobs's value would be getting him a lot more attention. He hasn't been quite as consistent as 2014, but he is still averaging just a shade under 96. He must be very close to his basement price (b/e 90) and should smash Giles or McKernan this week.
50/50:
Jonathan Giles ($359,000): If you are looking to save money (which I wouldn't recommend unless you have to), Giles is possibly the best option in the rucks. He is coming in with scores of 74 and 90, and as long as McKernan stays out of the side he should be solid. His break-even is only 47, so he has money to make and there is a good chance he can average 75+ as the lone ruckmen.
Giles has shown his capabilities in the past, averaging 82 in his debut season with the Giants. He isn't anywhere near my top options, but he should be solid enough if you desperately need to upgrade elsewhere.
Forwards:
Buy:
Luke Dahlhaus ($523,000): Dahlhaus looks like the man right now, and is back close to the brilliant form he began the year with. He has a lowest score of just 94 in his last five matches, and has two hundreds (both 120+) during this period. Dahl is another player who has a strong history against the remaining sides he takes on this year. He pumped out 113, 113, 110 and 108 against the Dees, Eagles, Kangas and Lions respectively, earlier this year. The only concern about Dahlhaus, is his susceptibility to a tag. Melbourne loom as the only team that use a tight checking, run with player, and although he plays them this week, there is a high chance The Bont will be tagged ahead of him.
Dahlhaus seems to be working through his attention issues, and is riding the Bulldogs strong wave of form. His break-even is 88, so this could be the cheapest you see him for the remainder of the year.
50/50:
Lachie Hunter ($394,000): I've had a number of people ask me about Hunter, so here is my take on him. He is coming off three big scores, 89, 122 and 127 in his last three, and has increased 106k during this period. The key to his transformation has been his markedly increased possession tally, racking up over 30 touches in each of these matches. Hunter has a break-even of only 22 and has a lot of money to make if he can continue his current form. Having said all this, I won't be going with Hunter this year. It's not that he doesn't have potential or couldn't pull it off, he's simply too risky for my liking given that finals start this weekend.
It basically comes down to whether you think he can keep up the big scores, and how much risk you are willing to take. He's not for me, but quite a few coaches may be willing to take the punt on the young Bulldog.
Be very wary:
Devon Smith ($427,000): Smith is another player there has been a bit of talk about this week. This is primarily due to his low price. Smith is now under 430k, and is down over 100 grand from his starting value. Unfortunately for those that took the punt on him, 2015 has not been his year. His first half of the season was solid enough, but his second half has been well below average. Smith has only produced one score over 100 in his last six matches, including scores of 69, 54 and 49 in three of his last four. With a break-even of 96, he may not have reached his basement price yet.
A player with enormous potential and a good fantasy game, but it's hard to justify his selection right now. He does have 133 and 110 in his previous matches against Port and Sydney (his next two opponents), but it would take a very brave person to join the 1.53% of coaches who currently have him.
Final Thoughts:
Lampshade's Lads scored 2377 in round 19, moving me up 477 places to 2154th overall. Unfortunately this still resulted in my second league loss of the year, both times in which I have been the second highest scorer of the round. Sometimes these things just happen. In regards to my trades this week, I am looking to downgrade one of my mid rookies in order to generate the cash needed to upgrade Malceski to Simpson.
If you have any trade questions I will happily respond to you in the comments below, or on twitter @David_Lampe1
Good luck to everyone in the first week of finals, hopefully you either get yourself straight through to the prelim, or keep your hopes alive with a spurring victory over one of your mates.