Roy's Trade Talk – Finals Week One
It's Finals Time! Also known as Resting Season, so have plenty of names and scenarios at your disposal.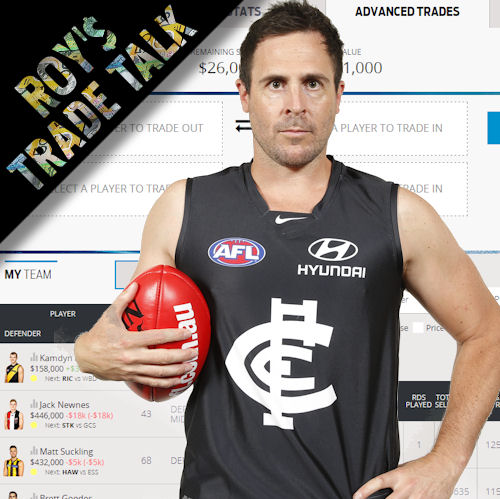 The first week of the finals is upon us! For some of us that means the endless striving for a completed team, for others some luxury trades could be on the cards. So whether the dream is alive for the cup or you are battling for the Tit-Ed cup, make the trades count.
As all teams are in different positions and faced with a number of varying scenarios, I'll throw a few random's out there that might suit your needs in classic or Elite, as well as a few blokes that I think are worthy candidates to get you over the line.
Who Tha?

These guys are arguably unique for a reason, but I'll throw the names out there for discussion if nothing else. Having said that, they are well worth considering as scrap heap additions in Elite.
Sam Gilbert (DEF, $357,000) has reappeared this year after becoming a forgotten man. He has never been a superstar, but has shown to be a capable scorer when at his best. His past three weeks has been very impressive with a three round average of 90. He has a break-even of 32 and with some of the misfiring defenders, he may be a high risk option.
Aaron Hall (FWD, $379,000) has embraced some extra midfield time as the injury plagued Suns battle to fill the centre square with players. In the past three weeks he has averaged 104 with 111 and 112 the past fortnight. He has a break-even of 13 and if his role continues, he should continue to tick over some respectable scores.

Click here to subscribe on iTunes.
The Hunter becomes the Hunted
Lachie Hunter (FWD/MID, $394,000) is the real deal, collecting over 30 possessions in each game over the last three weeks and scoring 122, 127 and 89 in that time. That gives him a three game average of 113 and a break-even of just 22. He is undeniable value and owned by just 2% of the competition.
Going for Gold
Usually I look for some value, but we almost have a Tom Rockliff (2014) moment where a player almost costs 700K, yet coaches are asking if they can afford not to have him. Todd Goldstein (RUC, $673,000) has thrown the most interesting Fantasy curve-ball we have seen in years where he now has the ability to get you the head to head win off his own bat. The big guy has a five game average of 135 and has scored over 130 on eight occasions so far this year and he is currently on a streak of 10 games without dropping under 100 and he has only been under 120 three times during that stretch. This week he officially became the highest averaging player in the competition and he doesn't look like slowing down. Dare I say it, the second half of this season has him in Goldswine territory.
King of the Hill
If money is an issue in the midfield, an option to consider is Stephen Hill (MID, $481,000). He has had an outstanding month of footy with scores of 116, 96, 97 and 131 in that time which gives him a break-even of just 48. Not traditionally a reliable Fantasy scorer, but in the last four weeks of the year money issues can lead to some less traditional selections if the value is there. His owners should be in for an instant reward in week one of finals as he has a good history in the Derby with 149 and 145 in his last two.
Getting Higgy With It

Shaun Higgins (DEF/FWD, $476,000) is in red hot form leading into the finals on the back of two 31 possession games straight which resulted converted to scores of 118 and 112. With many defenders miss-firing, Higgo is putting his hand up at the business end with a break-even of just 63 leading into his game against the Saints at Blunstone Arena where he scored 119 in his last game at the ground.
Twitter Time
@RoyDT @WarnieDT @CalvinDT is a cash grab a good idea with a double upgrade next week? #fantasy

— Jack Richardson (@RichoJack) August 10, 2015
You would have to be very confident of beating this week's opponent. I wouldn't do it.
5K off going Heppell to Hunter, then Kreuz to Martin!! @RoyDT @WarnieDT @CalvinDT

— Oscar (@ozziedabeast) August 10, 2015
That would have been a perfect trade! So unlucky.
@RoyDT @CalvinDT @WarnieDT #AFLFantasy Bit of topic boys, but what has been your highest ever weekly score and rank?

— Luke Hall (@Lukey_Hall) August 10, 2015
No idea of weekly score, but I finished top 5 one week.
@AFLFantasy @RoyDT @WarnieDT @CalvinDT I'm thinking Sloane and Tex but any ideas? Only have 10k in bank :(

— Guy 🌱🏳️‍🌈 (@greysfan) August 10, 2015
I wouldn't be bringing Tex in.
1st in league, need POD. Armo+Yeo -> MRobbo+Shuey. Backing form unique options for fnls @AFLFantasy @WarnieDT @RoyDT @CalvinDT #AFLFantasy

— Luke Chandler (@lukeyc13) August 10, 2015
I would hold Armo, but trade Yeo. Mitch Robinson is in awesome form but I couldn't bring myself to do it and I think there are more reliable players that Shuey.
Cheers guys,
@RoyDT