The Friday Scramble: Round 19
Beams and Wines gone for the year, Fyfe missing yet again and we are trying to get ourselves into the finals! What a week in Fantasy. At least the Selection gods were fairly good for us (unless your player happens to live in Bondi and have a stack of cash and a long contract). Let's Scramble!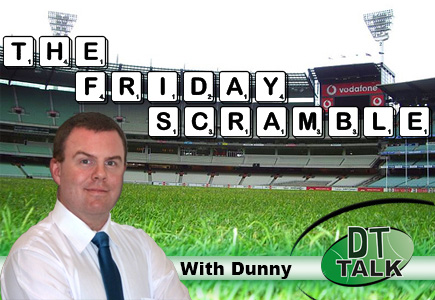 Another week, more season ending injuries! This time to Beams and Wines. Hope you still have some trades left in SC and RDT to cover these guys. On top of that we have our issues with selection of course that we need to deal with.
But the most exciting thing this week is that in both AFL Fantasy (for default leagues) and RDT we are in our last round before we hit the finals! So you need to get yourself ready and make sure you are in the best position you can be leading into the first week of finals next week. Of course if you are a Supercoacher, then you are already in the finals.  I have a comment on that too coming up today. But hey, enough preamble, let's Scramble!
Can I have a Wines and Beams?
Wonder how that would taste, Beam and Wine? I am sure some people have had that as they look to drink every last drop as a big night comes to an end… but anyway, enough of that.
So these guys are both now out of their respective teams for the rest of the year. Clearly you need to trade them. But you need to be careful about this trading, particularly in RDT and SC. In these forms of the game with the limited trades, make sure that you aren't trading in to trouble. By this I mean take a look at the teams that have the better run home and try and pick them. But also be wary of teams that may rest players (yes I am looking at you here Ross Lyon). For example Freo are clear on top and have some great options like Mundy and Lachie Neale. However, in Round 22 (SC Grand Final week and RDT and AF Prelim Final week) they play Melbourne at home. Not sure about you, but this screams alarm bells for me. We know that Ross has a history of resting players. At this stage they appear to be the only team likely to pull this kind of stunt as everyone else is still battling for their positions.
This is the one thing that kind of goes against the reasoning for Supercoach to bring its' final to be the second last round of the season to avoid the resting. It won't always be the last round where resting will occur. I mean, this year Freo may rest in that home game against Melbourne and then have a good hit out before the finals against Port. Or they could go the other way and rest players instead of travelling to Adelaide in round 23.
Similarly, Hawthorn may choose to rest guys like Mitchell and Hodge in round 22 when they play Brisbane in Launceston rather than Carlton in round 23 at the G. And to throw a third example in, if WC are locked in second and can't move with two rounds to go, they may not send a full team to Adelaide to play the Crows.
So what I am saying is I understand what the boffins at Supercoach are thinking with their plan, but I just don't think we can insulate our games from this sort of resting.  Anyway, enough seriousness from me.
So… who do we look for that has a good run? Well have a look at these tables from our great mate @nixtrader they tell us that Richmond, Port, Bris and Sydney are most likely to post tons whereas Bris, Rich, Syd and Port are the ones that are likely to have the most points.  The colour coding is such that those in green are are in the top 6 in that category year to date, orange is the middle 6 and red is the bottom 6.  So as you can see Richmond are in red in both, but are up the top as their draw opens up for them towards the end of the season, they have Adelaide, GCS, Collingwood, Essendon and NM.  Sydney have a great run with Geelong, Collingwood, GWS, Saint Kilda and GCS.  Catch Nix on twitter if you would like to chat to him about it, he is great at this stuff so I thank him for this info.

Finals and trading strategies
Whilst looking at trading and finals, here are my two cents worth on trading as we lead into the finals for the newcomers to the game and our site.
The following are my thoughts on ladder position (in your most important league) and what that could mean for your trading strategy this week in RDT and AF.
Locked in top four and can't move. In this circumstance you should be trading this week with a view to making your team stronger next week. That means you may even do a double downgrade this week as it won't matter what happens in your matchup. You would then have heaps of cash for two big upgrades next week.
Top four but could be dislodged. Trade with a view to next week, but don't hurt your team to the point where you may actually lose your matchup this week. Top four is far better than fifth to eighth.
Top eight locked. If you are in reach of the top four then go for it, if you can't get up that high then as with those locked in the top four, trade to make your team better for the first final as that will be an elimination final that you can't afford to lose.
Just outside the eight. Go for broke! You can't win it if you aren't in the eight! So trade to do what you can to get the advantage on your opponent. You might want to look for a unique premium that your opponent doesn't have that might just tip the scales in your direction.
Outside the eight and can't get in. Well not much you can do here, but you can win the bottom half of the league (the infamous Tit-Ed Cup), so go for it!
Where's Fyfe?
Well Nat is out again with this groin injury. I would love to trade him out in AF but I have other issues (my team has struggled this year). In RDT and SC you may want to trade him out if you have the trades available, but really he should be back next week and with two weeks off now I can't see him having another rest from here on out. Personally I will be holding him in both those formats to conserve my trades. However it is up to you.  If you have more than five trades in those formats I would say go for it. (so you can deduce that I have less than 5!)
Selection Table
Massive news that Lance Franklin is out again with that dodgy back! But even bigger news is that our old mate Glenn Glenn is out again having been omitted! Matthew Leuenberger is also out, but he was one of the knowns with Wines and Beams who are injured and Stevie J who is suspended. Other than that the fantasy gods were pretty good to us (unless you are a Zac Dawson owner as he is suspended also).
On the ins side of the ledger we see Riewoldt back.  Clancee Pearce is back, but may not make the cut and if he does my money is on a vest. Cam McCarthy is back, but also extended bench so probably won't make the cut!
Other than that it is a pretty clean selection for us this week.  So rejoice!
#AskDunny
@pkd73 @DTTALK #askdunny Double Downgrade this week to make a Finals Cash Kitty or Standard Downgrade Upgrade?

— DK 🇦🇺 (@SparringDK) August 4, 2015
Thanks DK for that one, as I have mentioned in the section above, this really comes down to your team's position heading into the finals.  So really both of them are valid options in AFL Fantasy. If you are in RDT, then it really comes down to number of trades left.  If you are 4 or less I would say hold until you need them.
https://twitter.com/gnburgan/status/628705917245075456
Mate I reckon out of that lot I would be trading out Laird and Kruezer to Shaw and Jacobs. The other thing you could do is Broadbent instead of Laird. I like McVeigh, but Heater is just playing so well at the moment.
https://twitter.com/AidanTheaker/status/628871665057861633
Must say I like those trades.  Jelwood was great last week and we know that he tends to go off as we get closer to the end of the season. Lachie Neale has been a bit up and down over the past few weeks, but he does have some big scores in him when he gets going.  I think he is a safer bet for you than Oxley at the moment.
Things To Remember
Finals are this week for Supercoach.
When trading in, be really sure about the player.
Check Calvin's Captains this week to see who has the number one position!
I hope your team does better than the Aussie Cricketers did last night with the bat (at the time of writing we were still batting…. just so I don't know how we did with the ball at this point). Hopefully you get your team into the top four, but if not, definitely get into your top 8 and go for glory!