Lampe's Price Watch- Round 19
For most us, round 18 provided some much needed respite, with many of the big names pumping out big scores. Here is a look at some of the best and worst options in each line of the ground.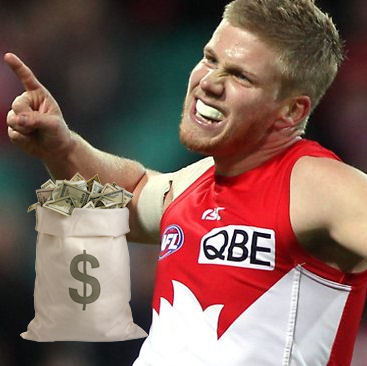 For most of us, round 18 provided some much needed respite, with many of the big names pumping out big scores.
Round 19 marks the last round before finals begin, and whether it be forced or luxury trades, we all have some big decisions to make in order to put ourselves in the best possible position come week one of finals.
Here is a look at some of the best and worst options in each line of the ground.
Defenders:
Buy:
Luke Hodge ($623,000): Given that it is the week before finals, the number one defender to bring in (slightly ahead of Picken imo) is Hodge. You will be paying a premium for him at above 600k, but he is worth every cent. Hodge has only had one poor match all year (52 against Essendon in round 13), and has been sensational other than that. He has notched up five hundreds on the trot, four of these being 120+, and has 11 in total from 14 matches. This has led to him being the second highest averaging player in the competition, only 0.71 points per game behind Steven. Hodge's massive numbers have come largely from his flexibility that allows him to play a number of roles, even within a match. He is Hawthorn's 'Mr Fix It', racking up multiple + 6's in defence, gathering 25+ touches in the middle, and often laying five or more tackles. This variety allows him to still score highly when one aspect isn't firing, and produces a massive ceiling when all are working in tandem. Hodge's break-even is 104, and playing West Coast this week (a team he had 120 on last year) he may be even more expensive come the first week of finals.
If you could have any player in your Squad right now, you could make a very strong argument that Luke Hodge would be that man. 60% of the competition still don't have him, so be in the minority and pick the best fantasy defender in the game.
Heath Shaw ($562,000): There has probably been a lot of people stay clear of Heath Shaw…well because he's Heath Shaw. In all seriousness though, he has been in outrageous fantasy form. He had the second highest score of his career last week (147), but it is his form over an extended period of time that makes him one of the in-form players of the competition. Since round nine, Shaw has had scores of: 136, 70, 119, 128, 102, 89, 125, 90 and 147. At least partly paying us back for years of tears and frustration. He faces the under-performing Bombers this weekend, a team he scored 125 against last year, and could be in for another big score. He finishes the year with a relatively friendly draw against Port, Sydney, Carlton and Melbourne, and although he doesn't have a great recent history against these teams, it is a different Heath Shaw right now.
You will be paying top dollar for him, but if you think he can continue his exceptional form he is worth the money. He has a break-even of 80, so he could be nearing 600k soon.
50/50:
James Kelly ($415,000): If you need to upgrade your defence and you can't afford one of the big boys, then Kelly looms as a solid in-between option. He has hit back strongly since his horrific injury, with scores of 60 (as the sub), 121, 88 and 81. He seems to be playing a reasonable amount on the ball, and with the Cats pressing for finals, hopefully they will keep his hard and experienced body around the contest. One small worry is that Kelly had a bad end to last season. I picked him up around the same time last year, and received a number of sub-par scores, (54, 56, 94, 64, 66 and 86). He should be able to do better than that for the final rounds of this season, with an average of 85 not beyond him.
At a little over 400k, he is good value for money. He does have a tough month ahead, but with the risk comes the reward.
Avoid:
Brodie Smith ($356,000): Unfortunately, I think it's time to either avoid Smith, or potentially cut him loose (for the 15.75% of coaches who took the punt on him). He started the year with a bang, but two severe concussions and a run of poor form has halted what many predicted to be a break-out season. Smith has averaged only 64 in his last three matches (and 68.6 in his last five), and although this doesn't make him the worst defender going around, a mini upgrade to a Hodge, Picken or Mundy could net you an extra 30-40 points a week.
If you may have more pressing trades, or want to keep him, his break-even is only 68 so he should be around the same price next week. If you are in the position of luxury trading, Smith looms as a good candidate to complete a mini-upgrade with.
Midfielders:
Buy:
Joel Selwood ($502,000): How good was Selwood last week!? He scored a massive 146 fantasy points, his third hundred in a row. However, it must be remembered it was only against the Lions. This week he faces a match tougher assignment against the Swans. He only had 80 on them last try, but did manage six consecutive hundreds before that. He comes up against the Hawks the week after, a team he has a huge standard deviation against. He often wills them within reach with a big score, or is minimized by the reigning premiers brilliance. It is more in the last three weeks of the season, in which Selwood could cut loose. He finishes the year with matches against St Kilda, Collingwood and Adelaide, having posted some big numbers against all of those sides in recent times. This includes scores of 132, 133, 113 and 110 in his last four matches against Adelaide… the team he comes up against in the Dream Team Grand Final.
Selwood looks to have returned close to 100% fit, has dominant numbers in the second half of recent seasons, and has now put three good matches together consecutively. His break-even is only 48, so he could be in for another big price rise if he delivers again this weekend.
Daniel Hannebery ($599,000): Hannebery is a player who has been on my radar all year, but unfortunately, is one that I haven't been able to secure. He produced a season high 153 on the weekend, but once again, it is his excellent form over the course of the season that makes him one of the top fantasy prospects heading into finals. Hannebery has gone 125+ on six occasions, has nine hundreds from seventeen matches (more than one every two outings on average), and has only gone under 86 once this year. He faces Geelong and Collingwood in his next two, and while he should be good against these sides, it is again his end to the year which gets me excited. Hannebery plays St Kilda, GWS and Gold Coast in his last three matches, and being only 24 years of age, should avoid the rest that is bound to come a few Swans way.
Hannebery is another player having a break-out fantasy season, averaging 111 points to date. His round 23 encounter against Gold Coast, who he had 132 on earlier this year, could give you a big advantage if you make it into the final week of season 2015.
50/50:
Isaac Smith ($503,000): Smith's first half of the season was as good as any midfielder, scoring 118, 151, 125, 123, 106 and 116 from rounds three to nine. Incredible numbers. However, Smith has slowed since then, scoring his first hundred in six weeks last weekend (101). Smith's problem in the second half of the season hasn't been consistency, he has rarely gone under 90, it is more that he has lost the ability to produce that monster score. This has resulted in him dropping over 100k from his max price earlier in the year. However, it is this very drop that has me interested in him once again. If he can reclaim his form of earlier this season, and come up with a couple of big scores, he would provide fantastic value for his current price. He comes up against West Coast this week, a team he had 108 on last year, but again it is his last few weeks that are the biggest attraction. Smith finishes the year with matches against Brisbane and Carlton, and although he only had 81 on the Blues a few weeks ago, these are two of the teams you would most like your players to face at the pointy end.
There's no guarantee that Smith can get back to the form of earlier this season, but it is a possibility. Given his price, he may be worth a punt in the hope he can do so. At worst, he should bring you scores between 90-100 from here on out.
Avoid:
David Armitage ($531,000): This is probably a little harsh given that he has been nothing short of magnificent this year, but Armitage may be one player to avoid right now. His form has dipped slightly (scores of 77, 73 and 84, in three of his last four matches) and Alan Richardson admitted that he "certainly copped a few whacks" two weekends ago. There is every chance he could prove me wrong and hit back with another big score, but the odds of him doing so must be slightly lower, given he is playing somewhat hurt. Armitage's break-even has shot-out to 136, so another sub-par performance could see him close to 500k in a week or two.
Armitage has been one of the standout players this season, averaging a tick under 108 points per game. However, I would advise you to tread wisely given his high break-even, dip in form and being a bit banged up. If he proves me wrong and hits back, he could be a great bargain over the next few weeks.
Rucks:
Stefan Martin ($575,000): If you don't have the extra 91k to get to Goldstein, Martin is the clear standout as the second best fantasy ruckmen in the competition. He pumped out a massive 134 last week against Geelong, his second highest score ever, and there could be more of the same against Gold Coast this weekend. He has scores of 116 and 122 in his last two matches against them. Martin could be a perfect upgrade for the 16.5% of coaches who own McKernan, or the 20% of coaches who own Leuenberger. With Leuenberger in particular, unlikely to be seen again this year.
If you are looking at cementing your rucks, Martin is a brilliant second choice. An average of somewhere between 100-105 is more than feasible for the Lions big man.
50/50:
Aaron Sandilands ($489,000): The Freo giant has been in good form since his lackluster beginning to the year, having really hit his strides in the last two months. Sandy is coming off a season high 113 last weekend, and has four hundreds and two 90's, in his last seven matches. He comes up against the relatively inexperienced (and small…compared to him) combination of Longer and Hickey this week, and could be in for another 100+ score. His break-even is only 83, so another hit-out frenzy could see him up above 500k next week.
Sandilands has always had massive fantasy potential, due to the 50+ points he often receives from hit-outs. Lately, he has been adding to that with 15+ touches, multiple marks and a few tackles. This has upped his average about 20 points per match since the middle of the season.
Forwards:
Buy:
Taylor Adams ($575,000): IMO, Adams has a good chance of being the number one forward for the remainder of the year (I forgot about him last week when I placed Goddard at number two, who I have since relegated to third. Sorry!). Adams has been nothing short of exceptional since his return from a broken toe, barring his wayward elbow of course, with scores of 146, 126, 95, 139 and 113 since then. This has made him one of the highest averaging players in the competition, when he has taken to the field during this period. Adams is always likely to be behind Pendlebury, Sidebottom and probably Swan, when it comes to copping a tag, and is often left to his own devices (accumulating DT points). His break-even is 90, so another big score could see him very close to 600k.
Trading out Adams when he missed with a toe injury, is a trade that still haunts me. I would advise you to learn from my mistake, and enjoy his points for the rest of the year.
Jimmy Bartel ($495,000): Although I've mentioned Jimmy a couple of times lately, it would be remiss of me not to do so just one week out from finals. Bartel was hyped-up all pre-season, and although injury has derailed his year, we are beginning to see the fruits of this work. He has come back with scores of 116, 122, 90 and 103, but it is the way he has looked on the park, after such a long time out, that has been most impressive. Jimmy still remains at least 50k under-priced, and with a break-even of just 73, his value decreases each week you don't trade him in.
If you are one of the 23% of coaches who are looking to do something with Franklin, or any other forward, Jimmy is a fantastic target. Along with Selwood, he has a tough two weeks against Sydney and Hawthorn, but ends the year with easier matches against the Saints (148 on them last year), Collingwood (93 last attempt) and Adelaide (99). You should weigh up whether Adams is worth the extra 80k, and go from there.
*If you are in the half of the competition that doesn't own Robbie Gray ($494,000), he is exceptional value at under 500k. He is coming off a big hundred, and with a break-even of only 86, won't be this cheap for long.*
50/50:
Mitch Robinson ($473,000): If Robinson's last month is anything to go by, he is getting back to the form that made him one of the top fantasy forwards a few years ago. He has scores of 118, 114, 90, 100 and 92 in his last five matches, and has considerably upped his disposal and tackle count during this period. Robinsons' break-even is only 49, so if you are willing to take the punt on him, now is the time to do so. He comes up against Gold Coast this week, and with matches against Carlton, Adelaide, Hawthorn and the Western Bulldogs ahead, he could be in for more 100+ scores if his run of form continues.
It is a massive punt, but he is capable of pulling it off, and rewarding you with big fantasy numbers. I don't have the guts to do it, but with just 0.87% ownership, he is an extremely unique option that could pay off big time.
Avoid/Trade Out:
Lance Franklin ($423,000): There hasn't been much going Buddy's way lately. His fantasy scores have been horrendous over the last month, and he is clearly suffering from a back issue that looks to be significantly hampering his movement. Unfortunately, he looks no guarantee to face the Cats this weekend, and I would advise you to consider upgrading him to a more reliable forward target, with the big matches ahead.
Buddy's break-even is 109, so another poor performance would make it even harder to trade him to a fitter and more reliable forward. At his best, he is as good as anyone in the competition, but it looks like 2015 is not going to be his year…at least fantasy wise.
Final Thoughts:
Lampshade's Lads managed 2223 in round 18, but in what was a high scoring round, this was only enough to move me up 139 places to 2641st overall. I am looking at trading Bartel (if I can raise the funds) into my forward line this week, and if not, a player like Toby Greene.
If you have any questions I will be more than happy to answer them in the comments below, or if you add me on twitter @David_lampe1 I will get back to you there.
Good luck to everyone in round 19, hopefully you cement your place in the top 8, push for the 4, and have a rise in the overall rankings.