Roy's Trade Talk – Round 19
Four trades until the first final… make them count!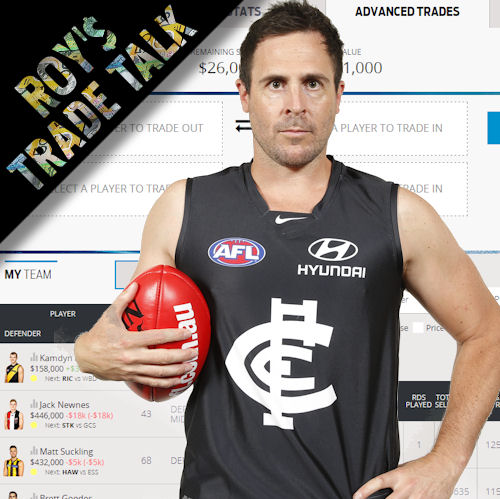 With one round and four trades left until we are into finals, we should be using them to complete our teams. If I can dodge injuries this week, a traditional downgrade/upgrade in the backline will have my team in that position. Here are some guys I think are worth considering this week to finalise your side:
Harley's revving up
Harley Bennell (FWD/MID, $535,000) has been on fire with a three game average of 122 with scores of 112, 124 and 130 in that time. He has basically played the last two games without Ablett and has embraced the added opportunity and his form looks set to continue after knocking up 130 against the Lions earlier this season. He is only owned by 4% of the competition so he certainly ticks the unique box if that's what floats your boat.
Shawly Not
In years past, Heath Shaw (DEF, $562,000) has earned his spot on 98% of coaches 'Never again list' and for good reason. He strings a few outstanding games together before completely letting coaches down with a ridiculously low score. He is certainly doing his best to trick me into taking him off the list with outstanding form which has resulted in a five game average of 111 and a three game average of 121. He has a huge ceiling, as demonstrated in his last game with 147. His break-even is just 80 and he has a lowest score of 89 in his last seven rounds.
In Case You Mitched It
Tom Mitchell (MID/FWD, $473,000) is heavily under-priced due to copping a couple of vests and being forced to tag a number of times over the past six weeks which forced coaches into the #FreeTich campaign after he started with six out of seven 100's with a lowest score of 95 in that time when he was given a green light to just play footy. On the weekend we saw him get a free run at it again and he dominated with 37 touches and eight tackles for 132. He has a break-even of 85 and is so cheap for one of the most talented scorers in the competition. Obviously he comes with risk as he seems to have a knack of pissing Horse off during the week at random times and copping bad roles or a vest as a result.
Buy and Selwood
Definitely buy! Joel Selwood (MID, $502,000) looks a sure thing to continue his career trend of finishing the year like a house on fire. As per usual, he had an indifferent start to the year before the byes but has swung it around of late with a three game average of 118 after score of 103, 106 and 146 on the weekend. He has a break-even of 48 leading into this weeks game against Sydney at the Cattery which is basically another guaranteed ton and price rise.
McFeast
Jarrod Mcveigh (DEF/MID, $484,000) feasted on the Crows for 37 possessions and eight marks to give him a whopping score of 131. The fact he is so cheap and available in defence makes him an absolute bargain and he should be on the radar as he also has good history against his upcoming opponents. He has a break-even of 71 and a three game average of 99m making him the sensible defender upgrade despite the obvious temptation to chase the likes of Liam Picken as the extra $120K will no doubt be handy in the coming weeks.

Click here to subscribe on iTunes.
Twitter Time
https://twitter.com/T_Gregg95/status/628135457486864384
Yeah jump on Pendles
https://twitter.com/BrandonMcKay6/status/628135330638475265
Very tough call… Haus, Bart then Goddard for me
@RoyDT @WarnieDT @CalvinDT rich or B Smith or J Steele need to go. Who first?

— Michael Baxter (@mbaxter837) August 3, 2015
Steele goes first
@AFLFantasy @WarnieDT @CalvinDT @RoyDT Brodie smith out or Sloane out to a premium

— geezer (@whyhiderun1) August 3, 2015
Sloane to a big dawg
@CalvinDT @WarnieDT @RoyDT thoughts on getting in lachie hunter?

— Jordan Tran (@JordanTrann) August 3, 2015
May suit some teams, but I wouldn't be doing it
@RoyDT @WarnieDT @CalvinDT is fyfe a genuine option for the rest of the year?

— Jack Richardson (@RichoJack) August 3, 2015
Certainly if he is fit! Heavily under-priced
Good luck this week, feel free to hit me up on Twitter @RoyDT