The Friday Scramble: Round 18
Gazza Gone, Fyfe Floundering…. and we are running low on trades! What do we do? We Scramble of course!!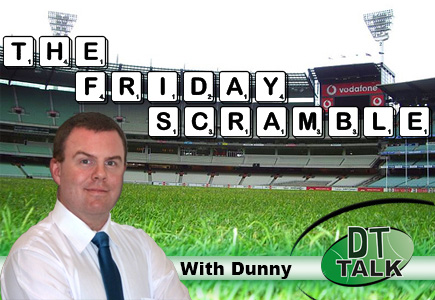 What a weekend of footy. If we could have scripted a worse week for Fantasy coaches I am not sure what else we could have done. However, we need to get ourselves back up off the canvas and then step up to the line again this week and try to do the best with our teams. Hopefully in Real Dreamteam and Supercoach you have a few trades left to try and get yourself through this situation. In AFL Fantasy it is nice that we have the two trades per week, however in that format of the game Gazza is worth a little bit less. So… do you have a plan? Well let's have a little look at a few of the options that we have and what we could do.
Gazza Down!
Yes, we all moved heaven and earth to get him back in a few weeks ago, or even last week! I nearly got caught out, I had double traded to get him in in RDT but at the last minute chickened out and reversed my trades. Man am I thankful for that! However, I am sure that in at least one form of the game you probably have him somewhere. So you need to do something about getting someone else in.  Who are your best options? What is your best strategy?
Firstly I would be looking at players that are hurting you each week. So if there is one of the big guns that you don't have and you cringe each week as your opponents team beat you off the back of the one player. Guys like Pendles (35% RDT Teams), Dangerfield (16% RDT), and Hodge (42% RDT) might be ones that you would seriously look at in this category. They are all fairly popular and hence you come up against them most weeks.
Alternatively you might want to try and pick yourself a unique that you can then use to get an advantage over the rest of the competition. Here is where you might consider someone like Hannebery (6% RDT Teams), Priddis (10% RDT) , Montagna (1.9% RDT) or Gaff (2% RDT) . They aren't completely unowned but they aren't in the majority of sides.
The third option that you have is that you might want to really downgrade Gaz and then make some cash so that you can use it to upgrade one of your other players.  Perhaps you could use that cash to upgrade Adam Oxley since he is missing this week after his vesting last week. If you were truly adventurous you might want to go back to Rory Sloane since he came back this week. Personally he has burnt us too many times this week but hey, if you like living on the edge go for it! But seriously, if you are strapped for trades and only have a few left then you may want to do this and even bank the cash to help with any forced trades that you have coming up.
What to do with Fyfe?
So we know that Fyfe is out for the one week. In AFL Fantasy, if you don't have any massive issues you can look at trading him out for the one week. The rules here are always the same, if you are going to do this make sure you pick someone that if everything goes wrong and you have to keep them for a second week you would be happy to have them in your side. Also, make sure you are trading to someone that won't dive in cash, because then you are probably not going to be able to get him back in.
In Supercoach and RDT this is where we are really starting to test our nerve and our bench cover. Here I wouldn't be trading unless you have 5 or more trades (after you have traded out Gaz). And even then I wouldn't do it without a lot of consideration. Here of course you are trading for good. In these limited trade forms of the game you simply can't trade out and back in again as you don't have enough trades for it. So if you are determined to trade Fyfe out this week (which I do recommend against) then you need to be prepared to keep the guy you trade to.
If you have someone like Jack Steele as your bench cover or even someone better, then just hold him and give those guys a run. Remember he is a heavily owned player and you won't be the only one with this problem. The other option is to use your DPP setups that you have in place.
Selection Hassles!
So we had the known issues of Fyfe and Ablett, now we are faced with more headaches thanks to the selection table!
Are you an owner of Matt Suckling? Well he is out this week with hamstring soreness, this is probably going to be more relevant in draft leagues as he isn't highly owned in regular leagues. Liam Shiels comes back into the Hawks line up this week, however, he isn't particularly fantasy relevant either. However, the Cats v Lions game gives us some intrigue, firstly we see Naika Cockatoo come back into the cats side, but for the Lions we see Beams come back in after his late withdrawal and we see Hanley come back into the side. I am suspicious of Beams with them playing at Geelong, but hey, perhaps the week off did him the world of good.
We have the other end of the scale with Collingwood v Melbourne! Oxley Owners beware! After his vesting he is now being Rested! If this doesn't ring massive alarm bells for those still holding him nothing will.  However in RDT and SC you may now be in trouble with a lack of trades.  That game also sees Billy Stretch being omitted. Another bad sign. Whilst we are talking omissions, Rory Atkins has been omitted from the Crows lineup this week. In that same game though we see Franklin, Tippett and McGlynn come back into the Swans side.
If you held Adam Saad then your prayers have been answered with him coming back into the side.  Much like Daniel McKenzie who is back in the Saints team this week, however Nick Riewoldt has finally succumbed to that calf injury and is out.
As we suspected Clancee Pearce has been omitted as has Shaun McKernan. Devon Smith will miss with a knee injury.
So it doesn't get much easier, we are missing premiums, but some of our fringe players are also letting us down this week!
Things To Remember
In Supercoach this is your last round before the finals.
Gaz ain't coming back, trade him, you can't carry him.
Check out what Calvin has to say. He has lots to say this week and Goldy isn't number one!
Whatever you do with your trading best of luck, it won't be an easy week. But no matter how many trades you have left I would be trading Gaz out (unless you are already out of trades of course). I haven't finalized my plans as yet, I will be doing that later today. There is a lot to consider this week so best of luck with what you are planning to do, hopefully you have the trades left to get through the rest of the year. It is going to be difficult but I am sure that we can get to the end with our teams somewhat intact!
As always stay close to social media tomorrow for any late changes before lockout and if I hear anything, I will tweet it @pkd73.