Lampe's Price Watch – Round 18
It's only two weeks until finals and the vast majority of teams have at least one, if not two, forced trades this round. What many people do with these trades will have a huge influence on how they perform come finals time. Hopefully you pick the right players this week!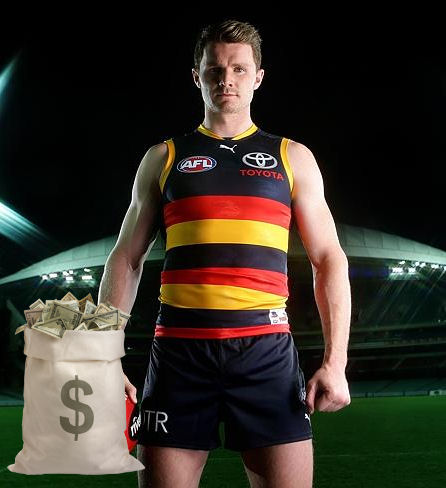 What a shocking week round 17 turned out to be for most of us! I'll get to my horror story later on, but first there are some massive issues to consider this week. Ablett is out for the year, Fyfe is out this round, who knows what's happening with Beams, and Riewoldt injured his 'good calf' on the weekend. I've said this many times over the last year, but I really think that the incredible pace of the game is leading to more and more injuries each year.
Anyway, back to fantasy, it's only two weeks until finals and the vast majority of teams have at least one, if not two, forced trades this round. What many people do with these trades will have a huge influence on how they perform come finals time. Hopefully you pick the right players this week!
Here is a look at some of the best and worst of those options, with a particular emphasis on the midfield, where many teams are under the gun right now.
Defenders:
Buy:
Dylan Roberton ($506,000): Hasn't this guy flown under the radar? His second half of the season has been particularly impressive, and it would probably take a large number of DT fans by surprise how good he has actually been. Since round nine, Roberton has a lowest score of just 89, and five matches of 95+ in seven outings. It is important to note that St Kilda have a very tough end to the year, but playing as a defender, this could work in two ways. Roberton will likely receive less of the easy ball, but will probably find a much larger percentage of the game played in his half. Hopefully the later helps to continue his good run of form. Roberton is a unique option, with just 2.21% ownership, and could improve you side if he continues on his way.
It looks like Roberton might finally be living up to the high expectations when he switched from Freo to the Saints. His exploits have been overshadowed by the incredible seasons of Hodge, Picken, Boyd and Mundy, but he could easily fit into most sides at D5/6, given his current form.
*Nick Malceski ($389,000) He is still a terrific buy if you are chasing an underpriced premium in your backline. His break-even is only 47, and he has a three round average of just under 89. If you want to save money in order to upgrade elsewhere, he would be my number one value target this week.
50/50:
Ryan Griffen ($468,000): If only Griffen had gained defender status a month ago, when he was at his basement price of 377k. There would probably have been far more people seriously interested in him. Regardless, at 468k, and in good form since round 12, Griffen is worth considering. The last five matches have seen the GWS recruit play his best footy for his new club. He posted three straight hundreds, as well as 85 and 81 in his last two encounters. It is entirely possibly that it has simply taken Griffen half a season to gel into his new side and role at the Giants. Hopefully he can get back to his form of 2010-13.
Griffen does come up against Freo this week, a team he has a shocking history against (however things should be considerably easier now that Crowley is suspended). It's probably a case of bad timing for Griffen, with many backlines already completed, and Malceski taking many peoples final position.
Avoid/trade out:
Clancee Pearce ($399,000): For the 10.51% of coaches who still own Pearce, as well as those who are unaware of his new injury, there is not much to be happy about lately. Clancee is now under 400k, on the back of an horrendous month. His last three matches have produced a red vested score of 30, being dropped, and a 37 point partial-shoulder dislocation. Not great in anyone's books! Pearce's b/e has shot out to 123, and there is every chance that his shoulder will either prevent him from playing this week, or even worse, break down mid match. This would cost you considerable points, and further money to upgrade him to one of the big boys.
Being so close to finals, it is highly undesirable carrying an injured player in your squad. Although you may have more pressing trades this week, upgrading Pearce to one of the big four could hugely improve your team come finals time.
Midfielders:
Buy:
Joel Selwood ($474,000): Over recent years, Selwood has been a second half of the season specialist. And he may be starting to do it again. He has notched back to back hundreds (103 and 106) for the first time since rounds two and three, albeit with a suspension in the middle. It's also not just the fact that he has finally been able to put a couple of good scores together, it's the manner in which he has done so. He has attacked the ball in the ferocious manner in which we have become accustomed too, and having three of the last five rounds off looks to have done his body the world of good. Jelwood comes up against Brisbane this week, a team he has 139, 104, 91 and 121 against in his last four attempts.
Do be aware that Chris Scott said he may spend more time forward during the remainder of the season. On the flip side, he also stated that Selwood has gotten over some of the niggling injuries that plagued him throughout the middle of the season. I am trading Selwood in this week, taking the punt he can save me some much needed cash, and average 100+ from this point on.
Patrick Dangerfield ($593,000): If you are looking at trading-in one of the elite midfielders for Beams, Ablett or Fyfe, Danger is worth strong consideration. He has always had massive fantasy potential, but 2015 is easily his best DT year to date. He looks to be having fewer spells in the forward half (they were almost entire matches during the last few years), and is consequently having less poor scores. The other big attraction to Danger, is that he has been able to go HUGE at times this year. He has five scores of 120+, including 138, 142 and 147 in three of his last seven matches.
Do be aware that Danger has a tough run home, including Sydney this week. However, he has conquered most of the challenges put to him this year, posting 10 hundreds from 15 appearances.
Steele Sidebottom ($544,000): I can't help but give Sidey another mention this week. He looks to have finally recaptured the form that made him one of the top fantasy prospects at the beginning of the year. Steele racked up a massive 130 on the weekend, which included a relatively slow start to the match. This was his fourth hundred in a row, and at under 550k (with a b/e of just 63), he is still under-valued. The only real concern about Sidebottom is that he comes up against Melbourne this week. He was completely tagged out of the contest earlier this year, registering only 62 points. Half of which came in the final quarter.
If he can avoid the Vince tag, he should post his fifth straight hundred. Even if he is tagged and has a slightly lower output this round, he will still be a fantastic addition to your side come finals time.
Marc Murphy ($555,000): Murphy was one I swore onto my never again list sometime over the last few years. However, as is so often the case with players like this (I'm looking at you Cotchin), I can't help but get drawn back to them. Time and time again. Since round seven, Murphy has been one of the best and most consistent midfielders in the competition. He has posted seven hundreds in nine matches, with a lowest score of just 89 over this period. He looks to have more freedom under Barker, and is back to the form which made him one of the best fantasy players a few years ago.
Not for the faint of heart, as he has had his troubles breaking through tight takes in recent years. I can't bring myself to trade him in, but those that have taken the punt have enjoyed good scores over the last two months.
50/50:
Rory Sloane ($465,000): Another player who should be considered due to his very low price. However, I'm finding it harder and harder to jump on players straight after injury. I did it with Rocky- twice,  Ablett-twice, and Sloane himself, earlier in the year. So far, none of these have paid off. That being said, Sloane has the potential to average 100+ for the remainder of the season, leaving you with valuable money to upgrade elsewhere on your field.
It will probably take another week or two for Sloane to get back to his best, and with a break-even of 92, he should be around the same price for that time. I think an average of 85-95 is what you can realistically expect for the next few rounds, but if he gets back to full form and fitness, he could up the ante when it matters most.
Avoid:
I found it very hard to signal out just one player who should be avoided this week, as most midfielders have been performing well and have relatively achievable break-evens. However, Luke Parker ($536,000) has been average of late, with three straight scores in the 80's. he does however, have a very friendly run home in the last three weeks. Brad Ebert ($513,000) has been as frustrating and as much of a roller coaster as ever. He notched his first hundred in five matches last weekend, with patches of brilliance prior to that. He too has a favourable run home. Lastly, Isaac Smith ($509,000) has crashed down to Earth lately, with five straight scores under 100. However, he too has an easier end to the season, with matches against Brisbane and Carlton.
Rucks:
Buy:
Sam Jacobs ($499,000): Although he's not the number one ruckmen in the competition, (that mantle easily goes to Goldy), he would have to be my number one trade-in target for the big men this week (given that Goldy is nearing 700k!). The primary reason why sauce is so cheap, is due to his 52 points against West Coast (although that can be completely understood given the circumstances). Other than that, he has been good in his last six matches. His break-even is 97, so if you have more pressing matters, he should be under-priced for another week or two.
Jacobs comes up against Sydney this week, and with Pyke doubtful, he could be in line for 120+. He also comes up against Essendon (and McKernan..hopefully) in the first week of DT finals. We all remember what Goldstein did against the Bombers just a fortnight ago.
50/50:
Ben McEvoy ($404,000): I gave the advice to someone on twitter last week to avoid Big Boy, due to the fact that he could lose the Hawks number one ruck mantle at any stage. Although I still believe this is a real possibility, given the incredible flexibility and ingenuity of the Hawks side (as well as Ceglar and Hale being good options), he is firming by the week. McEvoy has now notched three straight hundreds, and with a break-even of only 24, will be more expensive in the coming weeks. Despite his favourable position and form right now, don't forget that he started the year with a highest score of just 64 in his first six matches.
If you are searching for a ruckmen, McEvoy is a fairly high risk-high reward option. I would personally spend the extra 100k and get Jacobs, but if you believe he can hold down the number one position, and continue his excellent form, then by all means trade him in.
Forwards:
Buy:
Brendon Goddard ($503,000): Let's try this one more time. When I mentioned Goddard in round 14, he absolutely burnt me. He had only 29 points, the second worst score of his career. He later admitted "I let the scoreboard and circumstance dictate my effort". As filthy as I am about that, I can't see anything like that happening again this year, if ever. Goddard is my number two ranked forward (behind Swan), and I think he can average 100-105 for the rest of the season.
Put plain and simple, he is a player you would rather have on your side then someone else's come finals. Goddard is significantly under-priced, has 9 hundreds from 16 matches, and other then that horrendous 29, has just one other score under 89 for the year.
50/50:
Harley bennell ($511,000): I believe there is a solid chance Bennell could be one of the best forwards for the rest of the year. The primary reason for this, is the public shaming and humiliation he received, during the now infamous drugs scandal. He came back on the weekend and collected a massive 39 possessions against the Crows, but more importantly, looked as determined as I have ever seen him. Maybe the penny has finally dropped. On top of this, he has actually been quite good in the limited number of games he has played this season. He has four hundreds in his six matches since round five.
On talent alone, he is up there with any player in the AFL. At his best, he has a fantasy friendly game. He can rack up the touches, lay 5+ tackles, and kick bags of goals. The question is which Harley will we see from here on out?
Avoid:
Steve Johnson ($436,000): Having gained forward eligibility, there may be a few people considering Stevie J this week. Unfortunately, I highly doubt he can get back to the form that made him one of the elite fantasy players of the competition. It is a bit hard to believe, but Stevie J is actually the 40th highest averaging forward this year. Yes, 40th! He has been a bit better since round six, however he now has played nine straight matches without cracking the ton (a feat he has accomplished just once this year). Johnson is playing almost exclusively as a stay at home forward, and although he still produces moments of brilliance, he longer does enough to qualify as a fantasy star.
At a bare minimum (and I'm being generous), there is at least 10 guys who should be considerably better than Stevie from this point onwards. He is a superstar of the game, and is still incredibly dangerous up forward, however his days of an out and out fantasy gun look to be over…a little sad I know.
My top three trade-in targets this week:
1) Joel Selwood: It's a risk, but I'm giving the mantle to Jelwood this week. I keep coming back to his price, his incredible record in the second half of recent seasons, and his body looking closer to 100%.
2) Steele Sidebottom: He's been in fantastic form, and looks back to his very best. I'm a bit worried about the Vince tag this week, but I would take a small hit to have him in my side come finals time.
3) Brendon Goddard: I'm still a bit dirty on him for such a pathetic performance when I last backed him in. However, he's too cheap and good of a player to ignore.
Final Thoughts: I had my worst non-bye round for as long as I can remember. Basically everything went wrong. I captained Ablett, Beams was a late withdrawal (and my emergency was the sub), Rocky spudded it up, and Mitchell capped off my underperforming forward line with the green vest. Consequently, Lampshade's Lads managed only 1880 in round 17. I was expecting a drop of a few thousands places, but obviously a lot of people endured similar carnage. My ranking slid 402 places 2780.
The small consolation I can take from last week, is that I saw my first game since moving to Melbourne. Mundy, with ice running through his veins, lifted my Dockers to a final minute win over the Tigers.  I'd already stopped looking at fantasy scores by this point, so it considerably lifted my mood.
If you have any questions I will be more than happy to answer them in the comments below, or if you follow me on twitter @David_Lampe1
Good luck to everyone this weekend, hopefully you have a big win and put yourself in the best possible position for finals. For those still in the hunt overall, best of luck to you, you have done incredibly well in one of the toughest seasons in recent years.