Climbing The Ranks: No Gaz, No Worries?
Benjo is back with a new series. This week he looks at a group of PODs to bring in for Ablett.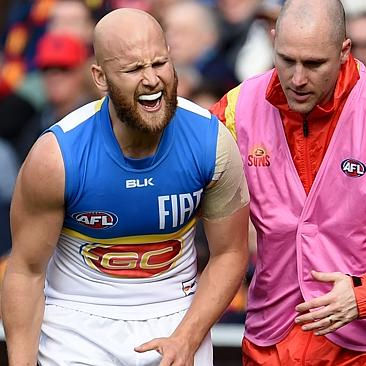 Welcome back to… Climbing The Ranks! Last week was a taste-tester of what I'll produce week in week out, on DT Talk.
Firstly, if you haven't seen last week's article, here is the link, because it's a must read for all serious Dream Team coaches out there.
So, what will my new article bring to you guys? Well, each week I'll discuss the weekly issues, inform players, and the weekly talking points.
Well, the obvious issue this week is Gary Ablett. Gaz went down at the 15 minute mark of the first quarter, scoring his owners a mere 22 points. The only good news to take out of this, is that you weren't the only one. Ablett was the most traded in player last week in AFL Fantasy, coming in at 592k. To add to the pain, the Goat was also the most captained player of the round, scoring coaches 44 points as captain.
Though Ablett's injury is not the only migraine we had to deal with: Dayne Beams and Nat Fyfe both under injury clouds. EDIT: Lyon has ruled Fyfe out to play against GWS this weekend.
With this predicament at hand, we need to look at our options and act accordingly to make sure that the absence of Ablett does not affect our fantasy as much as we first thought.
I will present to you my best trade options that us coaches should seriously consider trading Gary to.
1: Liam Picken ($608,00) 6.30% Ownership
It is amazing to see the amount of owners that Picken has acquired, considering he has averaged 119 in his last five games, and has only dropped below the magic 100 mark in two of his last twelve matches!
Picken picks up possessions around the ground at ease, averaging 31 disposals a game in his last month of footy. Bulldogs face Essendon, Port Adelaide, Melbourne, Eagles, North Melbourne and Brisbane in their last six games of footy, so Picken's rich vein of form is likely to continue.
But this is why I love Picken. He averages 26 disposals a game, 5 marks and 7 tackles a game. Most players only have two out of three strengths listed above. Players like Priddis gets his points from tackles and disposals only, while a player like Brandon Ellis only gets his points from disposals and marks. Picken has it all.
His recent form cannot go unnoticed. I don't understand why Picken has such a low ownership. He is very consistent, and he has a massive ceiling, as shown by his 127, 151 and 136 scores all recorded in the last month!
2: David Armitage ($555,000) 9.6% Ownership
Armitage is the sixth highest averaging player in the competition, and is extremely cheap for what he is capable of.
Armitage is currently averaging 109.88. However, Armitage was averaging 121.5 in round six, and was averaging 113 before his bye.
Armo has scored under 90 four times this year. All of these scores are against the Giants and Melbourne, who are both tough to score against.
In St Kilda's final six games, they face Port Adelaide, Fremantle, North Melbourne, Geelong, Sydney and West Coast.
North Melbourne may look like the easiest team to score against in the above list, but Ben Jacobs has become one of the leagues most prominent taggers. Jacobs kept Rocky to 54 points, Heppell to 58 points and Selwood to 76 points.
Freo, Sydney and West Coast all look like making the top four, so should that worry the Saints and Armitage's scoring? It will definitely affect the Saints as a whole, but Armitage won't be affected. Armitage has shown he can score against tough opponents. He averages 109.6 when playing in a losing side this year.
Armitage has a brilliant ceiling as well. He has recorded three scores over 140 this year! Plus, he has only dipped under the 100 mark four times this year!
3: Brandon Ellis ($532,000) 5.35% Ownership
Ellis has had a great season, and has 'backed it up', after his breakout season last year, averaging 96 points.
Ellis is one of the most consistent dream team players. He hasn't dipped below the 80 mark all season. In fact he's only scored below 90 on two occasions this year.
Ellis will never attract a tag, with Cotchin likely to take on the taggers week in, week out.
Despite facing Hawthorn on Friday night, Ellis has shown that he can perform at his best level against the best clubs. Ellis recorded a score of 116 against the Dockers in a thrilling 4 point loss. Ellis gathered 31 disposals, and 10 marks!
Ellis has also scored a ton in 9 out of his 16 games. 5 of these scores have been in the 90s. Amazing consistency!
Ellis is a player who I am strongly considering, and he could be a brilliant, underpriced point of difference come finals time.
Given that your midfield may have inflicted lots of pain over the weekend, it is important to consider your options to be irreplaceable. The player to step into the boots of Gaz has to be one of a high standard, but it could also be worth looking at the unique options, or the 'outside of the box' players.