Jeppa's Juniors – Round 17
Fantasy finals are around the corner and it's important to get your rookies right. Check out Jeppa's full analysis from the Round 17 action.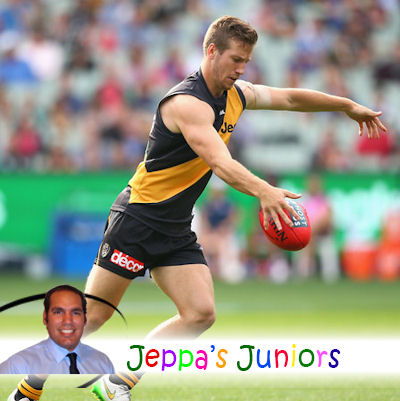 Trading in the right rook doesn't apply to all teams this week. Many coaches have 22 premos locked away; it's just a matter of picking the right ones. Easy! Well that's what I thought when I brought in Gaz and Rocky this week for Fyfe and Heppell…epic fail.
For those still looking to make a bit of cash there are a few options that will double up as handy benchwarmers too…
Three Gamers 
They call him Lambo! Kane Lambert (Fwd/Mid. $220,000, -22 be AF. $230,700, -26 be DT) was on fire against the Dockers and his toughness around the contest needs to be acknowledged. The forward / mid finished with 22 possessions (13 contested & 8 clearances), 4 marks, 6 tackles and 94 Fantasy points in the best game of his short career. If you don't own Lambert and you've got a bit of cash to spare then pick him up as a cheap back up for a few weeks. Those that do own him, his earnings are going to be mighty handy come finals time. Thanks to our DT Talk mate @rumballz for the graphic! Get around him on Twitter.
I'll be honest; I did not expect a ton from Nick O'Brien (Mid. $274,000, -14 be AF. $279,500, -16 be DT) this season. He didn't really seem to have an opponent for most of the match against Port and he racked up 10 kicks, 22 handballs, 7 marks, 3 tackles and 106 Fantasy points as a result. It's now a case of his owners enjoying the cash increase over the next couple of weeks but don't go starting him on your field. If you don't own him, it's a lot of cash to cough up at this stage of the season.
Brandon Jack (Fwd. $232,000, 0 be AF. $233,900, -19 be DT) was fired up against the Eagles. The forward gave a four quarter effort in one of the best games of his career and his stat line read 7 kicks, 8 handballs, 6 marks, 5 tackles, 2 goals and 82 Fantasy points. We are all judged by our last performance thus Jack needs to be considered and with a few out at the Swans, the opportunities should continue to come Jack's way. His breakevens are appealing.
Shaun McKernan, 68 (Ruc/Fwd. $320,000, 55 be AF. $236,700, 73 be DT) gave away 4 (questionable) free kicks on Saturday night, that's an extra 12 Fantasy points on top of the 68 he finished with. Hird has persisted with McKernan this long and we should too. He should have a decent battle against Campbell this week. McKernan's young teammate Jayden Laverde (Fwd/Mid. $236,000, 32 be AF. $159,500, -17 be DT) is building. He caught my eye with his tackling pressure and goal sense. Laverde is Dreamteam relevant only due to price. Did I mention dual position status!? Consider.
Isaac Heeney (Mid. $276,000, 64 be AF. $209,000, 5 be DT) looms an interesting option for DTers after scoring 74 Fantasy points in his first game back since Round 5. We all know what Heeney is capable of and he's still cheap enough in Dreamteam to pick up. I am seriously considering brining him into my Dreamteam and you should too. 
Darcy Moore, 74 (Def/Fwd. $237,000, 41 be AF. $189,200, 5 be DT), Ben Lennon, 74 (Fwd. $196,000, 9 be AF. $215,300, 1 be DT), Blaine Boekhorst, 68 (Mid. $247,000, 35 be AF. $207,900, 20 be DT and Rory Lobb, 66 (Ruc. $252,000, 16 be AF. $254,200, 10 be DT) round out the keepers this week but only for current owners. All have job security concerns and it would be high risk trading these youngsters in now. You might get away with Moore after his 5 goal performance last week.
DON'T PANIC
There were plenty of average rookie performances this week.
Keep your cool if you own Josh Prudden, 60 (Mid. $181,000, -3 be AF. $166,200, -15 be DT), Liam Dawson, 60 (Mid. $156,000, 18 be AF. $131,900, 10 be DT), Caleb Daniel, 59 (Fwd. $248,000, 15 be AF. $218,300, 3 be DT), Tom Downie, 57 (Ruc. $207,000, 6 be AF. $198,800, 0 be DT), Sam Colquhoun, 56 (Def. $299,000, 31 be AF. $283,400, 25 be DT), Taylor Garner, 54 (Fwd. $166,000, 3 be AF. $155,700, 2 be DT), Toby Nankervis, 53 (Ruc. $185,000, -2 be AF. $167,600, -15 be DT), Jack Steele, 53 (Fwd/Mid. $343,000, 56 be AF. $288,300, 33 be DT), Brayden Maynard, 52 (Def/Mid. $246,000, 34 be AF. $195,100, 18 be DT), Josh Glenn, 51 (Mid. $206,000, 25 be AF. $174,800, 16 be DT), Zac Jones, 49 (Def. $191,000, 19 be AF. $202,500, 39 be DT), Riley Knight, 49 (Fwd/Mid. $192,000, 5 be AF. $169,500, 1 be DT), Jack Redpath, 44 (Fwd. $238,000, 15 be AF. $264,000, 25 be DT), Jake Kolodjashnij, 36 (Def. $157,000, 8 be AF. $148,400, -3 be DT) and James Harmes, 34 (Mid. $148,000, 11 be AF. $142,400, 3 be DT). All the players above have breakevens lower than / close to their averages so you shouldn't lose out if you hold them.
Knight, Dawson and Prudden are still cheap enough to trade in for those that are desperate. Alex Browne should be your number one option though!
TRADE, TRADE, TRADE
If I haven't categorised a player from Round 17 under 'Keepers' or 'Don't Panic' then trade them out as soon as you can but when appropriate.
Two Gamers 
After five years on Essendon's list, Alex Browne (Def. $165,000, -3 be AF. $124,600, -33 be DT) is having some luck with injuries and he can be proud of his performance against the Power on Saturday night. Playing on a wing and half back, he had 17 possessions, 4 marks, 3 tackles, 1 goal and 75 Fantasy points. Hird pumped Browne up after the game (source) and I suspect that he'll hold his spot for the remainder of the season with Essendon out of the finals race. If you missed out on him last week, you obviously didn't see my tweets on Thursday night after he was named to play. Fortunately, Browne is still cheap enough to bring in this week for Fantasy and he is a must in Dreamteam! All aboard the Browne bandwagon.
Tom Campbell's (Ruc/Fwd. $276,000, 12 be AF. $254,800, -15 be DT) dominance in the ruck is resulting in some very handy scores. After his 85 Fantasy points in three quarters last week, the big fella backed it up with a 78 against the Pies. It's a shame Campbell is so expensive because he's playing with plenty of confidence and his healthy scores should continue as a result. I'd pick him up as my R3 in Dreamteam if I had the cash. Jon Griffin (Ruc. $183,000, -7 be AF. $248,200, 16 be DT) is another ruckman providing a handy cash injection for owners. The popular Fantasy R3 scored 69 Fantasy points in Round 17 but he still isn't a threat up forward and the Sandi / Clarke combo works much better in my opinion.
Don't be deterred by Hugh Goddard's (Def/Fwd. $229,000, 48 be AF. $122,900, -9 be DT) red vest on the weekend. The lockdown defender kept big Dawes to just one goal and he had 14 possessions and 43 Fantasy points of his own before being subbed out at three quarter time, which I suspect was just to manage his early load. Looking ahead, Goddard is definitely not going to be a big scorer but his DPP could suit a few coaches. Not for me.
Do not trade in Hawks' fringe player, Jono O'Rourke, 71 (Mid. $241,000, 21 be AF. $232,800, 11 be DT). It is very unlikely that the young midfielder will hold his spot with Shiels set to return from injury and Jed Anderson on fire in the VFL. Brad Walsh, 29 (Mid. $120,000, 36 be AF. $102,900, 20 be DT) and Rory Atkins, 20 (Mid. $120,000, 33 be AF. $124,600, 32 be DT) wore the green vest for a second consecutive week suggesting that they are not worthy of selection this season. Stay away.
Liam McBean (Fwd. $128,000, 12 be AF. $124,600, 9 be DT) and Matthew Dick (Def/Mid. $120,000, 26 be AF. $124,600, 26 be DT) are likely to return to AFL ranks this week but note that both haven't scored higher than 40 Fantasy points in their two games this season. Pass.
One Gamers 
Tom Barrass (Def. $135,000, 0 be AF. $124,600 DT) probably didn't sleep the night before his match against Sydney thinking he'd have to contend with Buddy Franklin. Lucky for him, Buddy missed and he competed against Nankervis and Goodes instead. The full back did his job and scored a reasonable 57 Fantasy points in the process. Barrass will play against the Suns on Saturday but when McGovern returns in two weeks, he'll be omitted.
Another cheap defender Xavier Richards (Def. $132,000, 3 be AF. $124,600 DT) filled in for suspended brother Ted. Playing on Darling, Richards was taught a lesson but he did score 51 Fantasy points. Expect him to be dropped this week with Teddy set to return.
Notable mention to expensive option Sam Shaw, 52 (Def. $230,000, 37 be AF. $256,800 DT). First choice full back Daniel Talia will return this week and Shaw will make way for him. Avoid.
Coaches should note that Tom Lamb (Fwd. $209,000, 29 be AF. $117,900 DT) is very close to a return to AFL ranks. I wouldn't be surprised if he was named to play against the Suns after his four goal haul in the WAFL on the weekend.
Please note that if I haven't mentioned a rookie priced player above, it means they're not relevant. Remember rooks are classified as players under $250,000 in Fantasy and/or Dreamteam.
Keep Your Eye On
Reading the latest reports, it is unlikely that we'll see any fresh faces at AFL level this week. The previously mentioned Ben Reid (Fwd. $146,000, 27 be AF. $222,000 DT), Matt Scharenberg (Def. $182,000, 34 be AF. $124,600 DT) and Ed Langdon (Fwd. $142,000, 28 be AF. $117,900 DT) are around the mark. If you needed to pick one cheapy, get Reid if named.
Feel free to ask me a question below and don't forget to add me on Twitter @JeppaDT for all things Fantasy and more. Happy trading!