Roy's Trade Talk – Round 18
No better way to forget a shocking round than to use two trades! Thanks the Fantasy God's for two trades!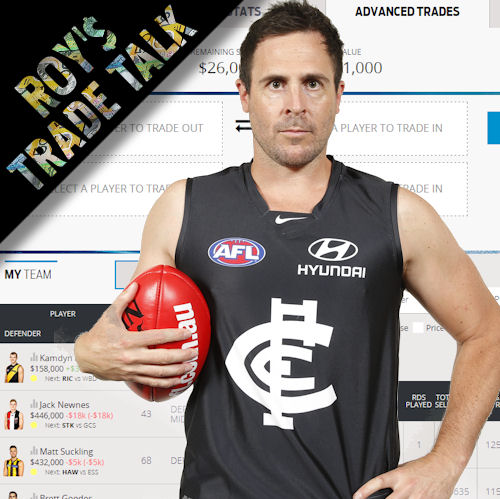 There were plenty of bullets week that have left coaches with forced trades… some from injury, some from sheer frustration. Obviously most good teams have Gaz, who has succumbed to a season ending knee injury, leaving a gaping hole in the midfield. Here are a few blokes I think are worth considering getting in this week either for Ablett or an under-performer.
Taylor's Swift Return
Taylor Adams (FWD/MID, $556,000) will come straight back in for the Pies this week and they have certainly missed his grunt the past two weeks. Before his suspension, he was in outstanding form with a five round average of 121 which included three massive scores over 125. In round 11 he returned from a two game break to pump out a score of 146 so he could do something similar against the Dees as he shouldn't cop any attention from the taggers.
Bont Is Back
After suffering a mid season slump, the Bont (FWD/MID, $479,000) is back in form and provides great value for a player under 500K. He has a three round average of 108 and has not dropped under 97 in that time. He has a break-even of just 70 leading into this week's game against the Bombers who should provide a good scoring platform.
Click here to subscribe on iTunes.
GoddDamn Bargain
Brendon Goddard (FWD/MID, $503,000) has put together back to back tons and his price has bottomed out after dropping 47K since the start of the year, mainly due to a one-off horrible effort in round 14 where he scored just 29. Opposition teams don't care what Goddard is doing out there which is a good avenue for him to rack up plenty of 'nothing' possessions.
Weller… What do we have here?
A change of role has changed the Fantasy prospects of Mav Weller (MID, $454,000). In the last four games he has scored under 100 on just one occasion with 96 which gives him a break-even of just 55. As a midfielder you could never pick him but if he gains DPP, he may be worth a risk at that price. UPDATE: No DPP addition, so pass in Classic but consider off the Elite scrap heap as a bench option.
OK… Who to get in for Gaz
Patrick Dangerfield (MID, $593,000) is only owned by 14% of the competition despite a secondary break-out where he is averaging 110 points per game. He is in hot form with a three game average of 123 and will continue his hot form against the Swans who have been giving up huge Fantasy scores. He has a break-even of 98, which should not cause him any trouble. Having said that, there are a few unique guys you can not go wrong with including Gaff, Macrae, Hanners, Priddis and Picken to name a few.
Twitter Time
I 100% agree with @RoyDT about Titchell. Can't believe it! He's one of the best and the coach subs him 😡 I'm a Swans supporter. #AFLFantasy

— Guy 🌱🏳️‍🌈 (@greysfan) July 27, 2015
Absolute joke! I'll hold him but there is every chance he will undeservingly be dropped!
@RoyDT @CalvinDT @WarnieDT danger, jpk or hannebery??

— Jordan Tran (@JordanTrann) July 27, 2015
All good but I have Danger slightly ahead of Hanners
@WarnieDT @RoyDT @CalvinDT Gary and Cripps to Joel and Sidebottom. Leaves me with 0k! Is it worth it?

— Richard Bosworth (@rboz95) July 27, 2015
Lock and Load
@RoyDT @WarnieDT @CalvinDT Goddard or bartel?

— Alan Pham (@Phamalann) July 27, 2015
Even though I wrote about Goddard, I love Bart… So Bart
Good luck this week team!
@RoyDT