The Weekend Wash-Up – Round 17
I can't be a good week if Matt starts with the words "I hate this game and everything it stands for."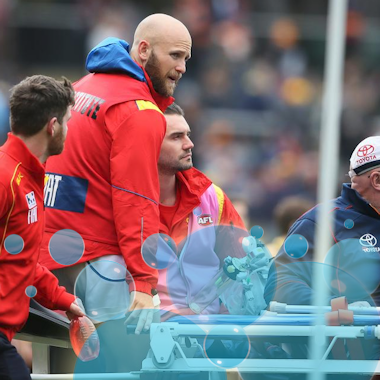 "I hate this game and everything it stands for." I'm sure that echoes the thoughts of most coaches who experienced Saturday's pain. Of course there are always a select few who dodged the bullets, if that's you feel free to walk away and make yourself a coffee. The rest of us have shattered our mugs, what other choice do we have but to vent? It's time for the weekend wash-up!
Legends
7 legends. Yes, seven.
Gunston (161) – This monster score got someone over the 1010 point mark in Match Day! Gunston as captain? I initially laughed, then remembered my ranking. Surely earned himself a Christmas card!
Hodge (140) – I had to gather in my troops for an emergency meeting. It lasted 10 seconds. "This boys, is what a real legend looks like. That'll be all." This score is his fourth game in a row over 120, giving him a 3 round average of 140. A few years ago, if a bloke was averaging 116 we'd be locking them away in the Dream Team hall of fame. The fact that Hodge gets mentioned so little proves we're spoilt if anything, perhaps the Gods are handing out some deserved karma. If you're being serious about Fantasy, you have Hodge.
Dangerfield (138) – BEAST. It would've been nice if Danger had his breakout season during the previous 3 years I'd owned him, but he's awesome to watch. His tackle numbers allow him to score consistently, we all knew he could go huge! An uber premium for years to come, you get the feeling he will decide some Fantasy finals as a unique this season.
Lambert (94) – Bit of self promotion here, but I saw this coming! Sort of. He has been slowly building up to AFL standards, most importantly Hardwick rates him enough to start him every week. He even runs on the ball! I had him on my field this week in anticipation of this 90, can't understand how no one else was onto it. (It was complete ass.)
Picken (136) – Are you prepared to be blown away? Picken has average 116 since moving into the midfield in Round 4. That is the second most of any player (Behind Jack Steven). Yes, more than Goldstein. He hasn't just had a breakout season, he has blown it out of the water. Sadly I opted for Boyd a few weeks back, as good as he as been this season I'd much rather be a Picken owner coming into finals.
Sidebottom (130) – Ok Steele, you've earned my faith back. Perhaps we'll put his poor month down to building his fitness base. That or he was just diseased by my squad, either way he looks cured now. The Man of Steele (Still a better name than Ant-Man) was ripe for the picking last week, and still is.
Priddis (142) – This bloke is a legend if there has ever been one. He won't be the biggest scorer between Round 18-23, but you know what you will get. I can't say that about most 'premiums' these days! An awesome unique to have.
Boyd can sit out this week and have a good hard think about last weeks actions.
Losers
14 losers. Yes, fourteen.
Docherty (56) – I heard Docherty and premium in the same sentence this weekend. I know there's been some shocking scoring this season but come on…
Ablett (22) – Christ. What is there to say? Yes I traded him in, yes I made him captain and yes I had a semi when he was on 22 in just 10 minutes. Gaz was going head to head with Danger and was on track for 140+. Jesus was finally back to his best, it's just cruel. Hopefully he returns next season 100% fit, at this stage he will be priced at an average of 95!!!
Pearce (37) – It's good to have you back Clancee. Who kept him? Too much of a good thing is never a good thing!
Deledio (72) – I feel awkward for putting a score of 70 into the losers, but we can't get soft. Deledio isn't quite in the top premium bracket for this exact reason, his role will mean he has quiet days. He'll average 95, nothing more nothing less.
Gray (67) – I actually passed up on Gray as I thought Port would move him up forward too often for him to break the 100 average barrier. I was made to look like an idiot at the start of the season, and now I have been made to look like even more of an idiot after getting him in for Buddy.
Ziebell (61) – As soon as you think Ziebell could be coming into Fantasy contention, he'll shove that optimism where the sun doesn't shine. Potential should not be mistaken for reality. How's this for a stat, Ziebell hasn't hit 30 disposals in his last 71 home and away games. That dates back to Round 17, 2011. You can't expect massive fantasy returns based on that!
Rockliff (53) – This… Wasn't great. I don't want to be too harsh on the superstar, but 30 possessions in 2 weeks isn't a good look. Sure he got tagged, but that's not the Rocky we know and love. Are his ribs still hurting him? We'll find out soon enough. Don't do anything drastic!
Oxley (38) – I hate this game. Oxley's head was right on the chopping block, then he goes and pumps out a 110. I didn't mean to be greedy by holding him, a 70 would do. What happened left me apoplectic. How can a player be so irresistibly good one week, then become a human crab the next. He deserved his vest and has seen his last action at my club. Forever.
Paul Roos – Sometimes I truly believe Roos is trying on purpose to make the game look bad. Melbourne are a trainwreck, it turns out crap football stopped winning you Premierships 10 years ago.
Armitage (73) – Has the bubble burst? I can't say if he was tagged or not, but recent scores suggest that Armo's short days as an uber premium are over. He has gone over 120 just once in his past 10 games, which now includes 3 scores below 85. Ripe for finals selection, or no longer a top 8 mid? I'm willing to say the former, so pen him down as a no go zone.
Vandenberg (27) – Thank god this wasn't earlier in the season…
Hogan (43) – He's a key forward, don't test your luck or the Gods will rightly punish you.
McVeigh (66) – Sydney could not handle the Eagle's forward pressure, which ended up hurting McVeigh's scoring. Sydney have an easy run home and face Adelaide next week, I'm going to switch up my tactics and pick a player on the fall. It can't do any worse than my trades this week so why not. He's great value as a POD going into finals. Better than Oxley anyway…
Mitchell (41) – Ok, stop right there and put down whatever your doing. Do we need to start a petition? #FreeTitch? Surprise surprise Mitchell comes on in the final quarter (Why did it take so long?) and lays 5 tackles, has 10 disposals (3 clearances and 7 contested) and Sydney level up the game. Probably co-incidental, even so Mitchell should not be in a vest. Can another club please go and rescue him from Longmire's wrath! Perhaps Mitchell's a cat man, that can get under any man's nerves…
Steele JUST avoided a bake thanks to his previous 2 weeks… And his last quarter.
The Mark Stevens
There wasn't too much that caught my eye this weekend. Aside from the fact that there was 37 goals in 1 game of football! Was there any Essendon or Port Adelaide staff at the game? How can we have 2 teams scoring over 100 points in the same match. The game is in disarray!!! A few more and we might have to consider changing the rules to reduce scoring… OR, we could acknowledge how great it is to have such an even competition and enjoy the rest of the season. Worry about drastic rule adjustments in the off season.
I should probably touch on the 'Boo-gate'. I was there, and there is no way these boos are intended to be racist. To be honest, the only reason they exist is because we make such a big deal out of it. Most just boo'd to join in, others did it for a laugh. Some remember back to 05′ when he put the Eagles to the sword. Of course it's a terrible look, but nothing to do with racism! The sooner we move on the better.
Nominations time, thankfully there was some shining lights this weekend. Get voting!
Picken – Picken owners, don't let him down. He has you all in his backpack! A stubby could lessen the load.
Hodge – How do you bounce back from a 52? 120, 148, 133, 140, that's how. Winner of my vote this week, daylight second.
Dangerfield – He is a captaincy lock when playing at the Adelaide oval, what a pick for those who took a massive risk on him. Would be a worthy winner.
There is only 3 nominees this week, these three blokes are carrying the weight of Fantasy addicts around Australia. It would be nice to see some other faces step up!
Who will get your vote?
This Game Sh*ts Me
The Other Bits and Pieces
So… There isn't much I need to say. I thought about losing my collective sh*t, but what's the point? I was catching bullets left, right and centre and I wasn't even the worst hit. The Gods have taken no pity this season, and it's becoming crippling. I managed 1936, which was actually acceptable in comparison. I think I'll leave it at that. Or with this.