The Friday Scramble: Round 17
So… did you bring in the big names in last week. Gazza went nuts and Rocky got to the ton. But the big question around the leagues at the moment is… Do You Have GOLDY?!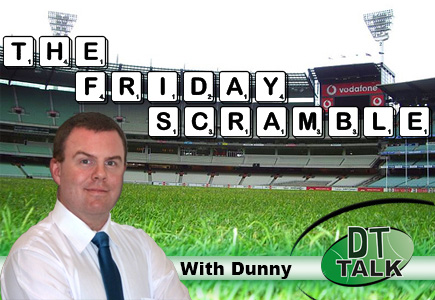 So… did you bring in the big names in last week. Gazza went nuts and Rocky got to the ton.  But the big question around the leagues at the moment is… Do You Have GOLDY! I am in the lucky position to be an owner of Goldy and I followed the advice of the Irish Pirate last week and put a C on him, I hope you did too! This week we have a couple of other things to look at and one player that is now cheap enough that if you need a trade, he could be your guy.  As always there is the curveballs that are thrown to us on the selection table, so let's not waste anymore time!
Player Pick Up
So if you didn't get Gazza last week you clearly missed out on a boat load of points.  If you can afford him this week then he should be your target. He has shown us that his shoulder is fine by laying those 17 tackles last week. His price is now $592k AF, $629k RDT and $700k SC. This obviously makes him a little harder to bring in, but he is worth the cash. Rocky didn't have as great a week but still rose in value. He didn't get much of it but also had 17 tackles.
This week we have another fallen premium on the menu. Jimmy Bartel has fallen about as far as he will go and is now the man to pick up. He has fallen to $487k with a BE of 82 in AF, $493k with a BE of 44 in RDT and $466k with a BE of 59 in SC. He won't get any cheaper so pounce now if you need a forward. He could be a good upgrade if you still have someone like Cam McCarthy who has been dropped this week or if you have Jesse Hogan sitting there.
Selection Table Madness
Here I was thinking that selection would be fairly boring this week with nothing much to see. Well how wrong was I!
The first one that jumped off the page at me and surprised me was Tom Fields being omitted! Everything I had heard and read in the media told me that Barker was going to play the kids and loved what Fields brought to the team… so why did you drop him!! He did bring back in Blaine Boekhorst for another game though, but this doesn't help those of us that traded Fields in over the last week or two. Carrazzo is out with a foot injury as well, but he doesn't have the high level of ownership he has had in the past.
I had heard some rumours about Rory Sloane returning early. He has been named with Matt Crouch being omitted.  Rory is $471k with a BE of 101 in AF and $462,700 with a BE of 87 in RDT. I would be a little nervous about selecting him. Not sure if he could still be a late withdrawal, and even if he does play, who knows how he will go this time with the thought of having done the injury twice this season already. In for the Suns we see Henry Schade and Harley Bennell. These guys have been held by some teams and those teams will be more than keen to see them back again.
Omitted seems to be scattered across the teams page a little too much for my liking this week. Cam McCarthy finally succumbed to his poor form and has been dropped after his red vest last week. Speaking of omitted, Matthew Stokes has been dropped too, making way for Joel Selwood to return. Clancee Pearce has also returned for the Dockers taking the place of Hayden Ballantine. Pearce was in quite a few teams and I know of a few relieved coaches tonight
Port Adelaide once again provide a great deal of the movement in teams. Nathan Krakouer is out again with a hamstring injury this time, he did it with the last kick of the day in the Showdown. Word from Darren Burgess at Port is that he will miss approximately two weeks with the injury. Roy will be happy with Sam Colquhoun returning this week and Power fans will be happy with Matt White back, however, he shouldn't be in any Fantasy sides.
The last of the ins this week is Isaac Heeney. He returns for the Swans after a long time out. Once again I doubt he is in any regular teams, however, I wouldn't be surprised to see him in some draft teams still. I certainly wouldn't be looking to bring him in and I will be far from surprised if he doesn't wear a vest, my prediction is a green one.
#AskDunny
https://twitter.com/joebishopatc/status/624079282780831745
If you are a big gambler then yes, but for me, no. Selwood has struggled this year. We all know that he usually comes home flying, but this year I don't think that we have seen enough to say that he can do it again. Beams isn't out yet of course! But even if he is, then I can only see that you would do this if you needed cash! From Beams it is only (in RDT) $23k to Ablett and you could make money by going to Sidebottom who are both definitely far better options than Selwood!
https://twitter.com/AidanTheaker/status/624050026134679552
I love Cripps to Bartel, that is a fantastic trade to make. As for the Rich to Birchall trade, I am not as sold on this but it really depends on the state of your team and also the amount of available cash you have. I agree that it is time for Rich to go. As for Birchall, he has only had two games over 100 in a row once, but that has come in the last two weeks. If you were looking around his price the only other players that are scoring similarly are Bachar Houli and Clancee Pearce. So the choice of Birchall is probably the safest one if you are struggling for money and can't get to one of the big names.
Things To Remember.
Never doubt the Gaz! As we have said, if you don't have him, do everything you can to get him.
Trust the Irish Pirate! Check out Calvin's Captains and do what the man says.
Never trust a coach! Just when you think a guy is out for 4 weeks he is back in 2 or a guy the coach loves gets somehow dropped the next week.
Trust Jeppa! He predicted the return of Sam Colquhoun and he delivered.
There were some great scores last week, particularly in Supercoach, hopefully this is a result of all of your teams now being near full premium. In terms of trades, in SC and RDT I still would be reluctant to be going below 4 trades at the moment, and until finals really if you can avoid it.
Keep an eye and ear out during the day for late outs. The one that worries most of us is that of Dayne Beams. But if you don't hear anything during Friday then I would just make sure that you have some good bench cover like Jack Steele in place in case he is a late out.
Best of luck for the weekend and I will catch you on twitter @pkd73.