Lampe's Price Watch – Round 17
Round 17, means that there are only three more league matches (this weekend included) until finals commence. It is imperative that you begin to complete your sides, and get 22 premium players on the park, as soon as possible.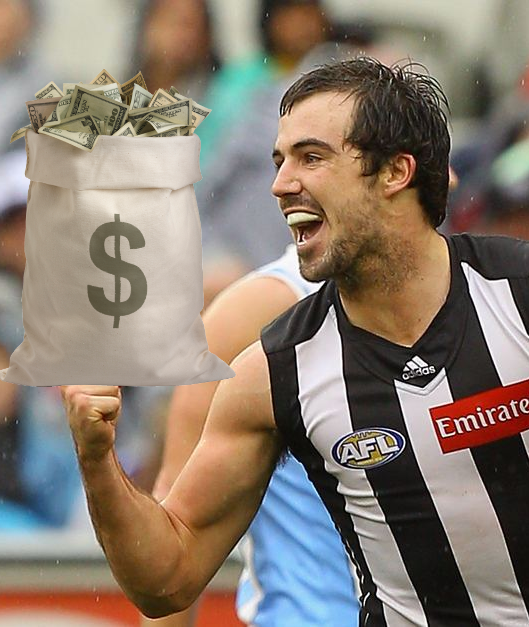 Round 17, means that there are only three more league matches (this weekend included) until finals commence. It is imperative that you begin to complete your sides, and get 22 premium players on the park, as soon as possible.
Here is a look at some of the best and worst trade options available to you this week, when upgrading the final few positions in your team.
Defenders:
Buy:
James Kelly ($396,000): Kelly is massively under-priced, and is a player that should be seriously considered when completing your defence. He is only under 400k due to a sickening injury in the worst area a bloke can imagine. His break-even is down to 64, and for a player who has averaged 94 or higher in four of the last five seasons, he is terrific value. Kelly comes up against GWS this week, a team he managed only 54 on in his last dig, but had monster scores of 124 and 131 against them before that.
If you are looking for an under-priced premium in your backline, I would nail it down to Kelly or Malceski. I would personally go with Malceski, just! But both are fantastic options given their prices.
Jarrad McVeigh ($490,000): At just 490k, McVeigh is significantly cheaper than when he first gained defender status a little over a month ago. He has actually been solid enough in three of his four matches since that point, but his well over par score of 55, has resulted in a big price drop. Personally, I still rate McVeigh as one of the top six defenders in the competition and consider him a bargain right now. Do be aware however, that he has a relatively tough month ahead against West Coast, Adelaide, Geelong and Collingwood.
His break-even is still 99 and although he may get slightly cheaper, I would advise you to take the discount on offer, before it is gone.
*Again* Nick Malceski ($374,000) provides great value. His break-even is only 45 and he is coming off his two best score of the year in 90 and 93.
*Of the big four* Hodge ($584,000) and Mundy ($534,000) are the best two trade-in targets this week. Both are under-priced and have break-even's of 76 and 85 respectively.
Avoid:
Michael Hibberd ($435,000): Unfortunately, the Hibberd experiment hasn't worked. At times, he has been able to put a few good weeks together, but the consistency that he was renowned for has deserted him. Imo, this is almost certainly due to the disastrous predicament Essendon are still faced with. Both on and off the field. Hibberd has a three round average of only 70, and with a break-even of 104, he is likely to lose you money and points, in the coming weeks.
I still believe he has the ability to be a top-rung fantasy defender at some point in the future, but not this year. He's still in 10% of teams, and you may want to look elsewhere as finals approach.
Midfielders:
Buy:
Gary Ablett ($592,000) and Tom Rockliff ($529,000): The only reason why I'm putting both of these guys together, is because I mentioned them last week. They are absolute must haves! Ablett pumped out the highest score of the year to date (176) last weekend. This included 30 touches, 3 goals and an astonishing 17 tackles. Tom Rockliff also managed an incredible 17 tackles, and while only gathering 14 possessions, still managed 111 points. I'm looking at this in a positive way, as it shows that Rocky can pump out a big score even in a very quiet game. Both players have low break-even's (60 for Gaz and 72 for Rocky), so get them before they are even more expensive next week.
There is every chance these will be the two best fantasy players for the rest of the year. Get them as soon as you can!
Steele Sidebottom ($521,000): I've been watching Sidebottom closely over the last three weeks, to see if he could get back to the form that made him a top eight Mid. Luckily for us, he has been able to achieve just that. Sidebottom has conjured up three straight hundreds over this period, with an average of 113.7. He has a break-even of just 73, and is my number one trade-in target for the Mids, behind Rocky and Ablett.
Sidey has hit back after a couple of down weeks, and is severely under-priced based on his potential. He and Rocky are easily the best two options under 530k.
Jordan Lewis ($552,000): I think that Lewis may have finally reached his basement price. He still has a break-even of 102, but much like Sidebottom, has hit back after a period of poor form. He has averaged just over 110 during this time. Although Lewis may not be able to reach the lofty heights of late last season and the first five weeks of this year, at just over 550k, he is still a fantastic addition to your midfield.
At his best, he is capable of averaging 125+ for the rest of the year. Something like 105-110 is more realistic, but that still makes him an attractive proposition given his current price.
Avoid:
Dyson Heppell ($536,000): Heppell would be in my top three midfielders to avoid right now. This is along with beams and Fyfe, who are unfortunately suffering from injuries and have high break-even's. The primary reason I would avoid Heppell, is due to Jobe Watson's season ending injury. This has led to Dyson copping all the extra attention that his skipper used to deal with. I personally gave Heppell one more chance last week, against one of his best teams to score against (North), but he was completely shut down to register only 58. He comes up against Port this week, a team whom he has a poor history against (74, 87 and 87 in his last three), and there is every chance of another underwhelming score this weekend.
Without Jobe, he is likely to be tightly tagged most weeks. A sideways trade to Rocky, could be a sneaky manoeuvre for many owners.
Rucks:
Buy:
Sam Jacobs ($503,000): Last week I said to avoid him, this week to trade him in. Things can change quickly in Fantasy Land. Although the tragedy remains, Jacobs break-even is down to 98 and he comes up against Gold this week. He scored 108 on them earlier this year, and players have cut loose against the hapless Suns many times this season. Jacobs could be in line for 120+ this weekend.
I rate Jacobs as the third best ruckmen in the competition, behind Goldstein and Martin. He is an absolute steal at just over 500k, and don't wait any longer to trade him in, if you can't afford the North Melbourne big man.
25/75:
Max Gawn ($468,000): You couldn't possibly, could you? I almost put him down last week, and it probably would have been more feasible at that point. The primary reason for Gawn's marked improvement, is due to him taking over as the sole ruckmen at Melbourne. He is playing a large percentage of time on the ball, and at 208cm and 111kg, he monsters many big men he comes up against. Gawn has three hundreds in his last four matches (including massive scores of 139 and 146) and is easily in the top five rucks over this period. However, even with all that being said, I can't bring myself to go anywhere near him.
It is a massive risk in picking Gawn, as he could return to 60 odd scores at any moment. A few coaches have him and have been cashing in lately, but I would advise you to stay well away, unless you are looking for a unique point of difference.
Forwards:
Buy:
Jimmy Bartel ($487,000): If you are looking to trade in a forward this week, Jimmy should be at the top of your list. He has played two huge games in his return from injury, scoring 116 and 122. His break-even is only 85, and this could be the cheapest you see the Brownlow medalist for a very long time.
Don't pass up the opportunity to get one of the best forwards in the game, ridiculously under-valued. The only reason he is this cheap, is due to an injury affected 8 earlier in the year.
50/50:
Luke Dahlhaus ($480,000): Was last week the round where Dahlhaus got his fantasy season back on track? He is well under 500k, due to a poor month between rounds 10-14. He had three scores of 70 or lower during this period. On the bright side, Dahl has hit back in his last two, posting 94 and a season high 132. He looks to have reached his basement price last week, and with a break-even of just 73, he could be back above 500k if his good form continues.
The primary worry I have with Dahlhaus, is his susceptibility to a tag. He hasn't yet been able to break free of serious attention and his scores suffer as a result. You must ask yourself: can he begin to break free, or avoid the tag? Because if he can, he is a worthy pick-up.
Avoid:
Nick Riewoldt ($519,000): Unfortunately, Riewoldt has to be the forward to avoid right now. He has been so good for the vast majority of the season, and has provided his owners with one 100+ score after another. However, his chronic knee looks to be severely affecting him, and it looks like only a matter of time until he breaks down. He has had two of his lowest three (non-injury affected) scores in the last two rounds, and it is sad to see the champ playing hurt once again.
Look at a significantly under-priced Bartel or Goddard, instead of Riewoldt right now. He can probably still average 90, even on one leg, but you don't want to take a wounded player into finals.
My top three trade-in targets this week:
1) Tom Rockliff: I'm giving the nod ever so slightly to Rocky over Gaz. This is only due to him being 63k cheaper, which will come in very handy when upgrading in the next few weeks.
2) Gary Ablett: The GOAT is a steal at under 600k. He is coming off three straight hundreds, looks rejuvenated and back to full fitness after his extended layoff. Don't be the one to miss the boat.
3) Jimmy Bartel: A superstar of the game. He is extremely cheap and won't stay that way for long. Get him before the sale ends.
Final Thoughts:
Lampshade's Lads managed 2065 in round 16. This was a descent effort, given that I don't own Goldstein and didn't have the C on Ablett. However, (primarily due to not owning Goldy) I dropped another 714 places in the rankings to 2378th overall. In regards to my trades this round, I am looking at completing my backline by trading in either Malceski or Kelly. The second trade will be a downgrade in the Mids, generating the cash needed to upgrade in the forwards next week.
If you have any questions, I will be more than happy to answer them in the comments below, or on twitter @David_Lampe1.
Good luck to everyone this weekend, hopefully round 17 brings you another league win and a big jump in the rankings.