Jeppa's Juniors – Round 16
Jeppa is back from holidays and ready to give us more rookie analysis. There are plenty of fresh faces to choose from this week so this is a must read. Enjoy.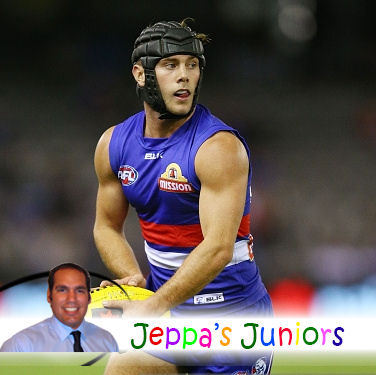 After a well-deserved boys trip filled with sand, surf, fishing and footy, I'm in a good space to bring you some important rookie updates.
An abundance of new comers have hit the field recently but making the right choice is critical as we approach Fantasy finals. Check out my comments below for all your rookie needs and feel free to leave a question for me to answer.
Three Gamers

KEEPERS
He wasn't the highest scoring rook of the round but he was arguably the busiest. I have a huge appreciation for Caleb Daniel (Fwd. $223,000, 1 be AF. $175,000, -37 be DT) and his work rate. Against Geelong at Skilled Stadium, the pocket dynamo had 9 kicks, 10 handballs, 3 marks, 2 tackles and 65 Fantasy points but he is always moving and always around the action forward of centre. If he can eliminate a few quiet periods out of his game and have a consistent four-quarter match, he'll score big. You could still bring Daniel in but he will cop a vest or two before season's end. A great rookie option nonetheless.
As we approach Fantasy finals, Jack Steele (Fwd/Mid. $332,000, 26 be AF. $254,100, -24 be DT) is proving to be a legitimate back up forward. Steele scored 81 Fantasy points against the Suns, his third 80+ score from four games and I see no reason why he can't continue his current form. Owners rejoice.
Someone at Richmond must have put the heat on Kane Lambert (Fwd/Mid. $176,000, -8 be AF. $179,200, -20 be DT) recently because the bloke is playing with far more intent for the footy. Playing at half forward, Lambo won 19 possessions, kicked a goal and scored a respectable 66 Fantasy points. You can't ask much more from a dual position cash cow that is still affordable!
Ruck / forwards Jack Redpath, 81 (Fwd. $217,000, -6 be AF. $246,000, 3 be DT) and Rory Lobb, 72 (Ruc. $228,000, 10 be AF. $229,500, 10 be DT) played the best game of their short careers. Even though they're in good form, both are fringe players at their clubs so buyers beware. If you already own them, obviously hold for their healthy earnings.
Nick O'Brien, 72 (Mid. $224,000, -9 be AF. $222,700, -20 be DT), Nick Holman, 64 (Def. $208,000, 14 be AF. $215,000, 21 be DT) and Tom Downie, 58 (Ruc. $181,000, -3 be AF. $166,500, -15 be DT) round out the keepers this week basically for their interim cash injection. With better options out there, I wouldn't trade in O'Brien and Holman however, McKernan to Downie is a smart trade. Downie should play for a few weeks yet but it is unlikely that he'll suit up in all remaining games this season.
Note that Sam Colquhoun (Def. $279,000, 9 be AF. $248,100, -23 be DT) dominated in the SANFL on the weekend with 31 possessions and 2 goals and is likely to be recalled to the senior side as a result. I for one hope he plays as he is on my Dreamteam bench collecting dust.
DON'T PANIC
Shaun McKernan, 49 (Ruc/Fwd. $311,000, 45 be AF. $330,400, 73 be DT), Nathan Krakouer, 48 (Fwd/Mid. $285,000, 42 be AF. $282,700, 28 be DT), Alex Pearce, 47 (Def. $196,000, 36 be AF. $194,200, 54 be DT), Billy Stretch, 47 (Mid. $230,000, 42 be AF. $217,000, 43 be DT) and Brayden Maynard, 43 (Def/Mid. $235,000, 26 be AF. $163,900, -17 be DT) are not setting any scoring records but their breakevens are lower than / close to their averages so you shouldn't lose out if you hold them.
Don't give up on vested quartet Josh Glenn, 35 (Mid. $192,000, 19 be AF. $166,900, 32 be DT), Zac Jones, 30 (Def. $178,000, 19 be AF. $191,600, 23 be DT), Alex Neal-Bullen, 19 (Mid. $213,000, 45 be AF. $195,400, 51be DT) and Brendon Ah Chee (Mid. $188,000, 29 be AF. $206,600, 60 be DT). Their breakevens are still reasonable assuming they play a full game.
TRADE, TRADE, TRADE
If I haven't categorised a player from Round 16 under 'Keepers' or 'Don't Panic' then trade them out as soon as you can but when appropriate.
Two Gamers

Riley Knight (Fwd/Mid. $168,000, -6 be AF. $124,600, -50 be DT) was quieter in his second game of AFL footy but he is still very much relevant for Fantasy and Dreamteam coaches looking for a handy downgrade. 10 touches and 48 Fantasy points in a big game like the Showdown can be forgiven and I expect far more against a young Suns team this week. Don't forget Knight is a dual position forward / mid. Get him in.
Injuries at the Swans gave Brandon Jack (Fwd. $203,000, 14 be AF. $201,800, 10 be DT) a greater playing role last week. He had 18 possessions, 5 marks, 3 tackles and 73 Fantasy points in a vestless game dominated by the opposition. No McGlynn, Rohan and now Bird should see more opportunities come Jack's way but Heeney is expected to return this week. Not for the faint hearted given his vest risk and current price.
Don't write off Tom Fields (Def. $160,000, 1 be AF. $102,900, -47 be DT) just yet. Scoring 37 Fantasy points against the Dockers isn't ideal but he still offers plenty. Fields job security is strong and he's a designated kicker in the Blues back six. If you're happy with an average of 60 Fantasy points per game at the D7 or D8 position then consider trading him in. At this stage, Fields will make his way into my Dreamteam this week.
Toby Nankervis, 59 (Ruc. $159,000, -7 be AF. $124,600, -42 be DT), Jake Kolodjashnij, 53 (Def. $143,000, 2 be AF. $124,600, -17 be DT), Josh Prudden, 52 (Mid. $154,000, -2 be AF. $124,600, -32 be DT), James Harmes, 46 (Mid. $136,000, 5 be AF. $124,600, -6 be DT) and Taylor Garner, 34 (Fwd. $146,000, 7 be AF. $124,600, -15 be DT) were all reasonable in their games but they will be on the cusp of selection every week. You could pick Nankervis in Fantasy with Tippett out for the next two matches but those that don't mind a punt should consider Garner….the kid can play and North have an easy draw coming up.
Based on their performances to date, I'd stay away from Ben Lennon, 50 (Fwd. $178,000, 32 be AF. $207,200, 54 be DT), Jayden Laverde, 43 (Fwd/Mid. $229,000, 49 be AF. $127,900, -3 be DT) and Matt McDonough, 35 (Def. $216,000, 49 be AF. $250,800, 75 be DT). I can't see these three playing consistent footy relevant for Fantasy.
One Gamers
Hugh Goddard (Def/Fwd. $232,000, 49 be AF. $122,900 DT) wasn't great from a Fantasy point of view but I still thought he competed well for the Saints. Scrapping and doing the one percenters is his strength and he used the ball well on debut. He finished with just 13 possessions (92% disposal efficiency) and 37 Fantasy points, which rules him out for Fantasy at $232,000, but pending his performance this week, he could become Dreamteam relevant. Watch this space.
Ruckman Tom Campbell (Ruc/Fwd. $250,000, 17 be AF. $254,800 DT) played his first game of the season with Big Will out injured. He battled hard for his 11 possessions, 5 marks, 32 hitouts, 3 tackles and 85 Fantasy points before being subbed out at three quarter time. Unfortunately, Campbell is too expensive to consider for Fantasy and Dreamteam especially with Minson due back this week or next. Pass.
Jon Griffin (Ruc. $155,000, 5 be AF. $248,200 DT) surprisingly teamed up with Sandi against the Blues. The big fella did ok and finished with 7 touches, 3 marks, 12 hitouts, 5 tackles, 1 goal and 59 Fantasy points but as a matter of team balance, expect Freo to drop him for their Round 17 match against Richmond.
Rory Atkins, 20 (Mid. $120,000, 27 be AF. $124,600 DT) and Brad Walsh, 11 (Mid. $120,000, 42 be AF. $102,900 DT) donned the green vest for their clubs on the weekend with neither having much time to impress. Hold off picking these two this week.
Please note that if I haven't mentioned a rookie priced player above, it means they're not relevant. Remember rooks are classified as players under $250,000 in Fantasy and/or Dreamteam.
Keep Your Eye On
It appears that West Coast's Tom Barrass (Def. $120,000, 22 be AF. $124,600 DT) will come in for the injured Jeremy McGovern this week. The tall defender won't win a heap of the ball and he'll likely average less than 50 Fantasy points per game as a result. Not for me but he could suit a few coaches at D8 given his short-term job security.
Ross Lyon doesn't typically play the youngsters however, Ed Langdon's (Fwd. $142,000, 28 be AF. $117,900 DT) recent WAFL form is hard to ignore. Brother of Collingwood's Tom, Ed comes from good pedigree but plays as a hard running half forward / midfielder. He has averaged an impressive 32 possessions, 11 marks, 2 tackles and 128 Fantasy points for Peel in the last two weeks and was named as an emergency for Freo in Round 16. With Ballantyne injured, Langdon moves up the pecking order. Put him on your watchlist!
The previously mentioned Matt Scharenberg (Def. $182,000, 34 be AF. $124,600 DT) remains a good chance to debut this week. I'm a big fan!
Feel free to ask me a question below and don't forget to add me on Twitter @JeppaDT for all things Fantasy and more. Happy trading!