Roy's Trade Talk – Round 17
Gaz and Goldy have raised the bar for our premium expectations and it's fair to say a few aren't cutting it.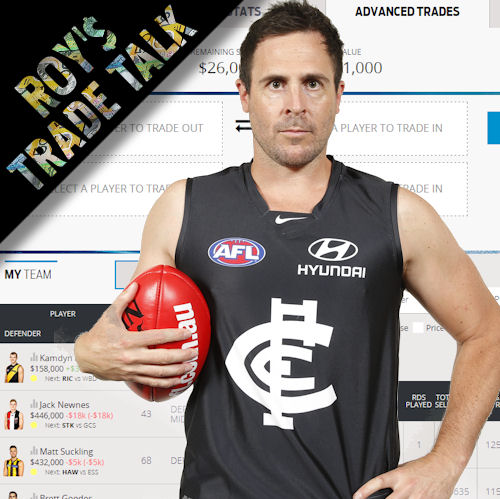 Todd Goldstein and Gary Ablett set a new standard of expectation for premium players after their mammoth efforts on the weekend. This has left many coaches with an itchy trigger finger with the likes of Nathan Fyfe and Dyson Heppell basically being outscored by 100 points… yes 100. Here are some guys who I think are worth a look this week:
Bargain Bart
After coming back from his round three injury, Jimmy Bartel (FWD, $487,000) has been on fire with scores of 116 and 122. He is carrying a break-even of 85 leading into his game against the Giants and the Cats have a Fantasy friendly run home with makes him an attractive prospect. He has dropped $75K since the start of the year and is ripe for the picking.
Who's House?
Luke Dahlhaus (FWD/MID, $480,000) has overcome a mid-season slump to score 94 and a season high 132 against the Cats where he collected 37 possessions and kicked a goal. This has dropped his break-even to just 73 leading into his game against the Pies who are renown for leaking points through the midfield. He is a bargain for under 500K.
Must Have
It is official, if you do not have Luke Hodge (DEF/MID, $584,000) in your back line, he needs to become a top priority. He is statistically having a career best year and that is being reflected by his huge Fantasy numbers. He has dropped under 100 on only three occasions and in the last three weeks he has not fallen below 120, giving him a three game average of 134. He has a break-even of just 76 leading into this week's game against the Blues.
Sidebottom moves to the forefront
On the back a huge performance against the Eagles where Steele Sidebottom (MID, $521,000) collected 37 possessions and scored 128, he has to be on the radar as an under-priced premium. He has dropped 91K since the start of the season but has found form with three tons in a row to give him an average of 114 in that time and a low break-even of just 73. My slight concern is he seems to get increased opportunity to rack up when Taylor Adams is out and he is set to return following next weeks game.
Gawn But Not Forgotten
It can't be ignored anymore, Big Max Gawn (FWD/RUC, $468,000) is getting it done. Finally given number one ruck duties, his form leaves many of us questioning why this didn't happen a long time ago. In the last four weeks he has three tons including 139 and 146 which shows he has a ceiling with the best of them. The next two weeks he plays the Pies and Saints who leak plenty of points to opposition ruckmen and with a break-even of just 46, Maxy is under-priced.

Click here to subscribe on iTunes.
Twitter Time
@RoyDT @DTTALK #RTT
Ablett and bartel in for fyfe and Isaac smith?
Via DPP
Performing premo and cheap for underperforming premos! #luxury

— Jamie Hunter (@jimmyhunts) July 20, 2015
As it is a Luxury trade… Risk it to get the biscuit!
https://twitter.com/TEckst/status/623044214268362753
Although I don't trust him at times, Birch is a bargain
https://twitter.com/aaroncondick/status/623043622011736064
Say goodbye to Rich
@RoyDT time for Mitch Wallis to go (thanks @WarnieDT ) would you get Armitage or Lewis? #RTT

— Ken Kaneko (@K_Kaneko10) July 20, 2015
Might be a tough into with the Dees taggers but Armo
@RoyDT @DTTALK Hibbo to Malceski for cash. Good or bad trade #RTT

— Jack Mackenzie (@jakksynn) July 20, 2015
Good trade
@RoyDT @DTTALK wanting gaz & bartell this week. Can only get 1. Have Nroo, Ebert & Cripps facing axes. Cripps – Gaz is best right? #RTT

— Bertie (@shadzinator) July 20, 2015
Great work, correct answer
https://twitter.com/ScottyG_Bball/status/623048692589707264
Yep, dropped nearly 100K and in good form. I have slight concerns that Adams steals a bit of his thunder upon return though.
@RoyDT Are players like McVeigh and Hodge prone to be rested near finals? Which makes the likes of Picken/Yeo better prem options ? #RTT

— Abhishek Behl (@Abba_Behl) July 20, 2015
Rest option yes, but can you really watch Hodge continue to dominate and not have him in your team due to a rest risk? I say no
@RoyDT field knights or lambert #RTT

— Ariel Zelwer (@AZelwer) July 20, 2015
Knights vs Suns
Hope that helps!
Good luck,
Roy