The Weekend Wash-Up – Round 16
We saw the absolute best and worst of our great game… Let's be honest there was a lot more of the worst. In terms of Fantasy however, there was some ridiculous scores posted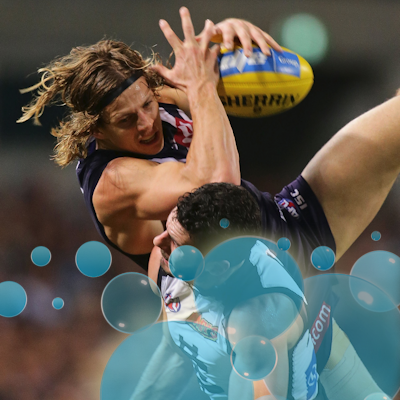 There's plenty to discuss after the weekends action. We saw the absolute best and worst of our great game… Let's be honest there was a lot more of the worst. In terms of Fantasy however, there was some ridiculous scores posted. In the words of just about every AFL player and coach ever, "Let's take things one week at a time". This week happened to be a great one! Unfortunately we like to get greedy, that's why I'm here. It's time for the weekend wash-up!
Legends
Goldstein (175) – I was actually working for the majority of this game. I wasn't really sure what to expect when I checked the scores. Another 130? I couldn't conciously make a ruckman captain on a Friday, so I hoped that Essendon shut him down as they usually do. I don't think the outcome could have been worse. The dream is that one day someone scores ONE HUNDRED AND EIGHHHHTY. Not bad though Goldy, not bad. Let's take this moment to appreciate the fact that a ruck man has a 5 round average of over 140. Insanity. Oink.
Caddy (145) – We all saw this breakout season coming for Caddy, unfortunately it came a year late. Since Round 7 he hasn't gone under 90 (I'm allowed to round 89 up) and has a 5 round average of 109. Mark this game down when he becomes a Fantasy star!
Bartel (122) – Bartel is a gift. 41 disposals in his first game back, now he backs it up with a 122. The best part? He costs under $500k and his average is still poor. He has scores of 96, 8, 116 and 122. Do everything in your power to get him in his week!
Ablett (176) – Ok, fair play Gary. I thought waiting a week to get the little master wouldn't hurt. I can deal with a 110-120 was the thought process. Then 17 tackles happened. Sorry for ever doubting you, never hesitate when you're talking about Fantasy royalty! Must have this week, plain and simple.
Ward (138) – Ward has been awesome all season and continues to pump out monster scores. A 105 average seems to be his ceiling, but still a great POD going into finals.
Shaw (125) – Heater has been incredible. Funny thing is I'm still not even considering him, and it shall stay that way! Maybe there's some hints here as to why I'm struggling so bad…
Sidebottom (125) – Sidey returns to the legends! Just… I'm still sore from what he delivered me when I stuck my neck out for him, however he is a bargain pickup heading into finals. You have to have him high on your radar.
Hodge (133) – I can put aside the fact that he scored a 50 on debut, I guess a 3 round average of 134 usually does that. I don't think anyone saw a season this dominant coming, he is a freak. LEGEND!
Mundy (120) – Mundy is under-priced for what he can produce, and looks to be back in solid form. A must have for your defence by the end of the season.
Zorko (124) – It has got to the point when I can't avoid him any longer. He has had an awesome few weeks, there I said it. Dayne and I have had a rollercoaster relationship over the years. More downs than ups it has to be said. Would I suggest you trade him in? I'd be more inclined to watch a replay of Melbourne vs Brisbane.
Riewoldt (89) – Legend…
Dahlhaus' form has been terrible, but he looks to have bottomed out in price. One more big score and he's back in the legend category! It seems harsh to not call Jacobs a legend due to last week. If it wasn't for Lobbe's eye gauge (Sort of… As an owner that's how I sort it) he could have gone 130+. He has bottomed out in price and if you can't reach Stef, he's the next best option as far as value for money is concerned.
Losers
Heppell (58) – It seems some teams have a threatening case of Hepatitis D… I've already shown myself out so don't bother.
Higgins (60) – Sometimes, we need to take a moment and look at the names in our squad. Higgo had a good run, but too much of a good thing is never a good thing if your name is Higgins! Be done with it.
Boyd (49) – WTF! You don't have to be a rocket scientist to figure out that I traded Boyd in recently, instead of Picken if you don't mind! That's not bad form even by my standards. Where this came from I have no idea, I didn't think he was tagged but someone will have to help me out there. As long as it doesn't lead to a rest next week, he'll be back.
Glenn (35) – Glenn Glenn was subbed on at the start of the second term. Sadly, he might as well have come on in the fourth term. He went unsighted for the whole third term, I actually forgot about him completely. That was worth the 10 week wait!
Yeo (77) – His form has been average at best lately. Yeo seems to have settled around an average of 85. Sadly his move into the midfield hasn't been made permanent, yet! However there is some bad news… With McGovern's hamstring injury he may be required to play down back. That would be ugly for his scores.
Selwood (35) – The Selwood's are having a downright shocking season, this week it's the Scott variety. He has been woeful since returning from injury, and that's being kind. Perhaps I used to put his skill errors down to us being a young team, because he looks so out of place for us at the moment. It's sad, because I used to be a huge fan. Every time he touches the ball I lose total confidence. He is slow. He can't nail a set shot from 20 metres out. He fumbles. Geelong can have him as far as I'm concerned, sorry Scooter.
Jones (30) – A long time ago, in a Galaxy far far away… A defensive rookie actually came through mid-season and scored half reasonably.
Fyfe (76) – He escaped a bake last week thanks to my absence, no such luck this time. Who am I kidding, I'm probably the only sane person in the comp who doesn't own him. I'm loving this! $500k Fyfe coming my way. I knew this would happen all along, can't believe everyone owns him.
Cripps (68) – He has been awesome for those who held him… But his time was up last week. Patrick, you are the weakest link. Goodbye. No room for softness in this game!
Leuenberger (55) – Not only is Leuey now once again a deadweight for Fantasy coaches, he's bringing down Stef Martin's scores as well! He had 26 hitouts to Stef's 18, not good signs…
Lumumba (18) – HAHAHAHAHA. Classic. Gold. Anything you want it to be.
Smith (46) – I'm not sure how we ever thought this was going to be a good idea. Brodie Smith has never really been known for his great consistency, and his form is not what it was last season. Sometimes, you get what you pay for.
The Mark Stevens
This weeks Mark Stevens is shared by journos around the country. They have completely lost it with negativity at the moment. A day doesn't go by where the game isn't trashed. I'm sorry, but the "Footy was better in my day" romance died a long time ago. There will be good games of footy, and not such good games of footy. You may love the enjoyment of an occasional high scoring thriller, we all do. But learn to appreciate the immense pressure of a tight game of AFL footy. The tactical battle is enthralling, between both players and coaches. Even if that doesn't appeal to you, think about this…
The competition is as even as it has ever been. Do you want to know why that is? I'm no expert, but I'd make a confident guess that is has a lot to do with the fact lesser teams can structure up and put pressure on those with better foot skills. If a team shows up with a solid game plan, solid structure and high intensity, you're going to get a great contest. I'd put money that those same people wanting 100+ points kicked every week also want close contests and a close competition. You can't always have it both ways… Love the game for what it is people!
Here are your nominations this week! Fairly straight forward…
Goldstein – Are you team Goldzilla?
Ablett – Or Gazzilla?
I don't really need to expand on their games do I? Make your decision! Goldy for me.
This Game Sh*ts Me
My season is perfectly encapsulated in the image above. I feel like I'm being blown to wherever the Fantasy Gods take me, it certainly doesn't seem like I'm in control. That was deep. In other words, picture tumbleweeds blowing across the screen when you look at my team. That's all you need to know. It can get dry late in the season when you're slipping down the rankings, and sadly there's no quick fix. The position us lonely bastards are in is mostly our own problem… That doesn't take away from the fact that Fantasy can be a cruel mistress. She's ruthless. And that's why this game sh*ts me!
The Other Bits and Pieces
*Ok.*
2254. My late change of plans to not knee-jerk Neale to Gaz and give the armband to Swanny cost me a measly 125 points. I swear some of the 50/50 calls this season have cost people HUGE point differentials. Congratulations to those who make the right ones! You're not required here, however. Let me know about your own sob stories in the comments, I feel you! Roll on next weeks pain…
On a side note, the FPL (Fantasy Premier League) season has kicked off again. I've been busy getting that sorted and along with the fact I hadn't seen any of last weeks games and me being seated on a plane, I couldn't get the wash-up out last week. My apologies! Anyway, if anyone is interested in getting their fantasy fix during the off-season come check us out. We have a great community building, with a lot of names from this site!
I hope to see a few of you guys there! Cheers.