The Friday Scramble: Round 16
No loop hole action this week, however, we have two of the biggest names in Fantasy Footy back in this week so there is plenty of Scrambling to do to get them back in!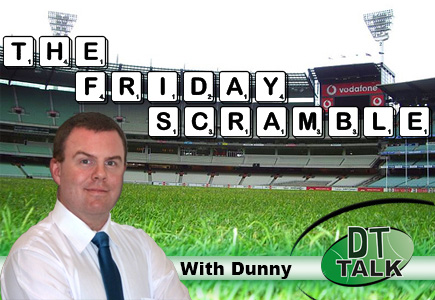 Well things are back to normal, no Thursday night footy, but that also means that in RDT and AFL Fantasy we have no more Loophole VC action, so the Pirate is getting a rest from all the twitter messages asking him how the Loophole works.  It is back to the same old set and forget once lockout hits. What a huge round it was last week too, many of our guns went big which certainly helped us all get to some great scores, particularly in Supercoach where a heap of the guns went massive. Clearly what has been on everyone's mind this week has been how the heck do we get Rocky and Ablett back in our teams? Well I will give you a bit of an insight into some of my thoughts on this matter and a few other random notes as we Scramble!
GAZ AND ROCKY
Seriously, this is all we have been focussing on this week, and with bloody good reason too.  These two guys are proven stars of all forms of the game and we all should be trying to get at least one, if not both in.  Some of you may have brought one of them in last week, if you did, good work… now the tricky bit getting the other one in.  The table below is a bit of a ready reckoner for these boys as you try and get them into your sides.
I think that the time for waiting for them to drop further in price is over. Definitely for Rocky. And let's be honest with ourselves. The likelihood of Gaz missing those BE's is very slim. Even if he does, I can't see him missing by much so he won't drop much in price (*Disclaimer: obviously if the boys get an injury all bets are off).
Clearly you will all have different guys that you can trade out to get them in and I am not going to go through all of them, but to be honest, the most obvious one if you have him is Joel Selwood. He has one week off thanks to thinking he was at KFC last week and he hasn't been performing anyway so if you can use him to upgrade then I would say don't hesitate.
In SC and RDT obviously you have to take the number of trades into account.  After this weekend we have 7 rounds of footy left. Now here is where it gets interesting. Not all competitions and not all leagues in all competitions play to the same round. So if you are going for a league win you need to look at what week your grand final is in and then work out your trades to that week. If you are going for overall then obviously you are playing until the end. My personal thought is that I would like to still have at least 5 trades left at this point in the season. But once again this depends on the strength of your squad.  If you have really solid guys as your bench cover in each position you can probably afford to be a little lighter on in trades.
Selection Table
Well it was an interesting night at the selection table. No massive dramas from what I saw, but there was some rookie action that might just make things interesting.
Very interesting to see Mitch Duncan named. He is still on the injury list as 2 weeks away with his foot injury. We also see Jake Kolodjashnij listed again for what would be his second game of the season. He is last on the bench and looking at that Cats lineup I think he would be a certainty for the vest (watch them prove me wrong). In that same game we see Baily Dale make his return which is awesome for those of us relying on him for some bench cover. We also see Will Minson missing with a shoulder injury. If you do still have him then I would be certainly moving him on (he shouldn't be in your side still though).
GLENN GLENN is back! Wow we have been waiting on this for a while! He finally gets to play his third game. He has juicy negative break evens in all forms of the game (well except for AFL Fantasy where it is zero). But the excitement level from his owners is undeniable. Unfortunately though we see David Swallow go out again after just the two games back. Sam Docherty is back
Jamie Elliott is out with a back injury, no news that I have seen on how long he is out as he didn't appear on the Collingwood official injury report this week. On the other hand though we see Clancee Pearce being dropped from the Dockers lineup after his quiet game 7 possession and red vesting last week, this is an interesting one if you have him, at this stage I would suggest holding.  Paul Duffield was also a victim of Ross Lyon's axe, but I doubt if many of you have him in anything other than draft leagues.
Great to see Jarryd Roughead back from his cancer scare. I wish him all the best in his return.  Speaking of returns, a big in for the Lions is Stefan Martin. Interestingly he is named in the forward pocket with Leuenberger as the first ruck. However, I think that Martin will still score back at the standard he was previous to his suspension.
Big night at selection for the Showdown in Adelaide this week.  We see Nathan Krakouer come back to the lineup, but just remember that this is only a squad at this stage so he may still miss out on the final cut. You need to check the final team tomorrow. In that same game we saw Cam Ellis-Yolmen and Nathan Van Berlo dropped from the team. So if you are still holding these guys there are no excuses now, you can trade them out.  The game also sees Rory Atkins and Jesse Palmer in line to make their debut this week.
Oh and speaking of debut's we see Hugh Goddard named this week, and there was word from St Kilda that he would play this week. Keep him on the radar, and don't trade him in just yet, let's wait and see how he goes and if he holds his spot.
Bench Cover
Most of you will now have complete or near complete teams. So one of the things you should be making sure of is that you have good bench cover to get you through the rest of the year. Obvioulsy this is more important in RDT and SC given that we can make a couple of trades a week in AFL Fantasy. Now these guys don't need to be uber premiums of course as we can't afford to do that. But you want to try and have someone that plays every week and is likely to score you something over 60 at least.
However, one thing that I would say is, in RDT and SC don't blow trades on getting bench cover, just try and work it into your other trades that you are making each week.
Things To Remember
No Loop Hole! – So make sure your Captain is on who you want to be your Captain this week!
Did I mention that Gaz and Rocky are back – Do your best to get them in.
Not every week will be like last week. – Don't get too depressed if you aren't getting scores like last week!
Good luck this week in your efforts to bring one or both of the two guys back into your teams. Also it would be great to see another week of scoring like last week, but knowing the Fantasy gods like we do, I won't be one bit surprised to see this week be a complete disaster!  Catch you all on twitter @pkd73 across the weekend.