Benjo's PODs – Round 16
The finals are almost upon us. Uniques are needed, and Benjo is here to help! This week's article is jam-packed full of 10 POD choices!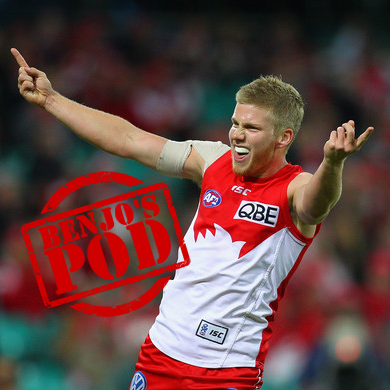 With 'big boy month' fast approaching, how are you going to make the finals? Are you going to crack the top 500 by the end of the season? Well, how are you going to do that? Uniques are so important! Are you going to risk it for the biscuit? Yes, you are!
This week, I'll choose three interesting PODs from the back, midfield, and forward lines, while also talking about the returning Lion's ruck.
DEFENCE
Grant Birchall
Birchall had a whopping 116 DT points in Hawthorn's massacre against the Dockers. Hawthorn love playing at Aurora, so don't expect this every week!
On the weekend he recorded 31 disposals and 7 marks!
Birchall is renowned for his fast starts to the season, especially in the 2011 season, where he averaged 120 in his first four games!
Birchall has strung three games together, after missing three weeks with an ankle injury, so he is nearing full fitness.
Birchall has averaged over 80 four years in a row now, so he's a good safety pick.
He's only owned by 2.8%! This could be pretty risky though, especially if he knocks out a low score.
Birchall averages 14 kicks this year, and 4 marks as well.
Birchall is only priced at 414k! He's got a break even of 65, so this is the week to jump on!
Verdict:
Despite facing Sydney this week, Birchall must be considered as a D4/5/6 option. Birchall has the security behind him, and I expect him to average 85+. Expect a total roller coaster ride though!
Rory Laird
Laird is only owned by 2.87% of DT coaches!
Laird has three scores below 70 this year. Two of these scores, a 54 and 49, have both been injury affected. He had a PPM rate of 0.96 in these two games!
Laird averages 98 in his last five games.
Laird averages 23 disposals a game, and he has only gone under this three times, once again twice in those injury affected matches.
He averages 5 marks a game as well, and 4 tackles.
Laird also has a relatively easy run home, facing the leaky Suns, Essendon, Brisbane and the Eagles.
Verdict:
Despite costing 483k, Rory Laird isn't slowing down. Get him now!
Nick Malceski
Malceski recorded a season high 90 against the Bulldogs on Saturday.
He is currently priced at 359k, and is 162k cheaper than his starting price.
Malceski has a break even of 56, so he should sky rocket in price over the coming weeks.
He averaged a career high 92 last season with the Swans.
Verdict:
Malceski is now 162k cheaper than his starting price, and cannot be ignored. He is more than capable of averaging 80+ from now until season's end.
MIDFIELD
Sam Mitchell
Mitchell is only owned by 5.2% of the competition!
Sam Mitchell hasn't gone under 90 since round 4!

He averages 109 against Sydney in his last five games against them.

He averages 106 against Carlton in his last five games against them.

He averages 113 against Richmond in his last five games against them.

Above are Mitchell's next three opponents!
When Mitchell goes above 100, he averages 118 this season!
Mitchell has recorded 8 tons, 3 scores in the 90s, and 2 scores under 90!
Mitchell averages 25 disposals this year, but has only gone under this number twice, with many games tallying in at 30+ disposals!
Verdict:
If your looking for a midfield POD, then Sammy is definitely your man! P.S. Last week, the number one ranked team in AFL Fantasy, Kyms Klan, traded in Mitchell, to be rewarded with a handy 142! Great stuff!
Andrew Gaff
Gaff has only went under 90 once this year!
Gaff has recorded seven consecutive hundreds!
Gaff put up a massive 152 against the Crows on the weekend.
He averages 31 disposals a game this year, and 6 marks.
Gaff loves his role on the wing, and loves uncontested marks!
He's only owned by 1.3% of DT coaches!
Verdict:
It's simple. Gaff has been enjoying his new role, and has been producing outstanding numbers. He comes at a hefty price though.
Daniel Hannebery
Hannebery is only owned by 4.6% of the competition.
Hannebery has scored under 90 points twice this year!
When Hannebery 'goes big', he goes big. He averages 126 when he goes above the hundred mark.
Hannebery averages 31 disposals a game this year!
Hannebery averages 4 marks and 5 tackles a game.
He's recorded 8 tons this year.
Verdict:
Hannebery is in fine form, and looks to continue. He is very pricey and may break your bank, but he is a great POD.
RUCK
Stefan Martin
Martin averaged 112 last season from 12 games, and is currently sitting on an average of 108.
Stef's lowest score this year is 87, which came in round one against the Pies.
Martin has notched up 7 tons this season, including a monster 136 against Adelaide two weeks ago.
Stef is only owned by 8.3%* of the competition.
Stef ranks number one in the competition, for rucks, for disposals, tallying in at an average of 20 possessions a game.
Martin also ranks number one, for rucks, for marks, tallying in at an average of 5 marks a game.
Martin also enjoys a hit out average of 32 a game.
Verdict:
Martin is a great player to have in your team, because he is a 'consistent koala' (Thanks Warnie). Martin also has a high ceiling, and is a force to be reckoned with. Try and fit him into your side ASAP.
FORWARD
Jimmy Bartel
Bartel scored a massive 116 on the weekend, and notched up 41 possessions, his career best. I'm sure not many players have done that after returning from a ten week injury!
Bartel scored 114 in the VFL two weeks ago, so he is at full fitness!
Last year, Bartel scored 155 and 148, so he has a massive ceiling! Both of these games were played at Simonds Stadium, where Geelong play half of their remaining games at.
In fact, last year Jimmy averaged 121 at Simonds Stadium!
Bartel averages 6 marks a game, and roughly 25 disposals as well.
Bartel has not gone under 95 in a season in the last 9 years! Only 8 forwards are averaging above 95. Bartel has the potential to average 110!
Jimmy is priced at 489k! Your paying this for someone who shouldn't average under 95!
Verdict:
Despite having a break even of 121, he must be considered this week at Simonds Stadium, against the Bulldogs! Your paying 489k for a certain 95+ average. You'd take that in a heartbeat! Absolute lock.
Jack Crisp
Crisp is only owned by 2.8% of the competition!
Crisp has scored 124 and 99 against Hawthorn and Fremantle respectively, proving that he isn't a fluke.
Crisp averages 110 in the last month of footy, where his club, Collingwood, have lost three of their last four matches.
Collingwood face, West Coast, Bulldogs and Melbourne in their next three games.
Crisp averages 22 disposals, 4 marks and 6 tackles a game this year.
Verdict:
Greenwood is coming back this week, so Crisp's role may change.
Crisp is priced at 529k, but he cannot be ignored any longer. Not really a risk anymore, so get him in!
Dayne 'The Magician' Zorko
Zorko has not been very impressive this year, but I feel any minute now he's going to go bang!
The Magician averages 110 in his last three games! These were played against, Adelaide, Fremantle and Sydney!
Zorko should not get the tag by any means now. Rocky is back in, and Hanley's joined him, while Beams is in stunning form.
Zorko has averaged 95, 74 and 88, so he can easily average 90 from now until season's end.
He's averaged 20 disposals, 5 marks and 4 tackles this year, as well as a goal a game.
Zorko has a massive ceiling as well, recording five scores over 130 last year.
Verdict:
At 460k, and with a break even of 40, this will be the week that you have to jump on Zorko. He's a great player, but he does occasionally get the odd 50.
AROUND THE GROUNDS
My team scored 2219 in Fantasy. This week, I get Docherty back from injury, but unfortunately Jelwood was reported for his chicken wing on Wright. Riewoldt could also be a late withdrawal for Maddie's Match.
I'm looking at bringing in Bartel and Knight this week, for Sinclair and Jelwood.
Important:
Gazza and Rocky are cheap! There is almost no risk in this in AF, but in the limited trade formats, you should be careful, because one little bump, and their season is over.
The rookies that you pick up now should remain in the positions you pick them up in. For example, Steele should stay in F6, if you buy him in F6. Knight should stay in M10, if you pick him up in M10.
Don't be fooled by Hawthorn's DT scores across the board on Sunday. It's not going to happen every week!
Good luck this week! I hope you enjoyed the eighth edition of Benjo's PODs.
Comment your trade ideas down below and I'll try to get to as many as possible! Also, my Twitter handle is @Benjodt, so feel free to ask me any questions!