Throwback Thursday, Rd.16 – Cats'n'Dogs
A look back at the Dogs v Cats rilvary, specifically the 1994 qualifying final.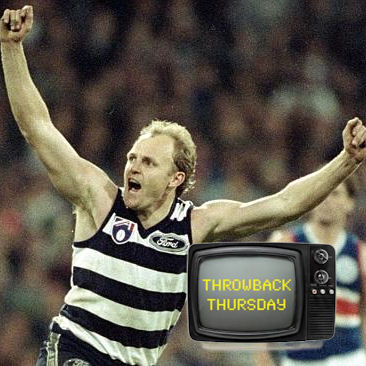 "Billy you are the king of Geelong!" and "the monkey's off the back Billy!" were the words that rung out of the analogue TV at the time. It was the 1994 Qualifying Final of Geelong v Western Bulldogs and Bill Brownless had just kicked the match-winning goal after the siren. As the Cats and Dogs prepare to do battle again this week, I can still remember exactly where I was when this epic battle took place over twenty years ago (it was the front bar of a then very seedy Great Britain Hotel in Richmond, with the game so engrossing it even captivated the pub's half-cut punks).
BILLY, GARY AND THE MONKEY
Why Billy had a 'monkey on his back' at all I'm not sure, as he'd just kicked 8 goals from 8 kicks the week before. Maybe it was because up until that career-defining, match-winning moment he wasn't having a really big game. By its completion he'd scored 2 goals from 13 disposals for what would've been just 67 DT points.
His main cohort up forward Gary Ablett Sr, with 6 goals 6 behinds (game-high 105 DT) was not only inaccurate but absolutely invaluable.
RUCK YEAH
In a golden age when stoppages occurred every couple of minutes instead of seconds, these particular ruck contests were mostly won by Geelong's John Barnes (18 possessions, 24 hitouts, 85 DT), although both ruckmen won a fair bit of the ball. The Dogs' Barry Standfield finished with 19P, 10 HO and 101 DT.
THE PLAYMAKERS
For Geelong, the main disposal getters were Mark Bairstow (25P, 85 DT) and Peter Riccardi (20P, 65 DT) whilst for the losing team it was the ever-reliable Simon Atkins with 26P and 93 DT. Of course this was before the days of over-possessing with bendy banana kicks, round-the-corner snaps, grubbers and soforth. Not that there's anything wrong with that…??
SUPPORT STAFF
For this game, many were perhaps 'quiet' on paper but on the field they were 'resilient'. The following well knowns 'played their roles' without lighting up the morning newspapers, including The Cats' Paul Couch (16P, 51 DT); Garry Hocking (13, 50); Liam Pickering (13, 56); Leigh Colbert (11, 34); and The Dogs' Scott West (14, 48); Rohan Smith (13, 47); Brad Johnson (12, 42); Chris Grant (10, 54 and 2 goals) and Daniel Southern (9, 34).
DAGGY DOGGY DADS
Fathers of current-day Bulldog players were Steve Wallis who had 21 possessions for 96 DT, Tony Liberatore (22P, 79 DT) and Mark Hunter (17, 66). They also told 16 cheesy jokes, wore 3 Kmart tracksuits and had trouble finding the remote.
ONCE WERE WARRIORS
Current-day coaches who played in this game include the now GWS coach Leon Cameron with 20 disposals, 2 goals and 79 DT, plus the The Dogs' current coach Luke Beveridge who – just quietly – had 5 kicks for 33 DT. For the winning Catters the current Port coach Ken Hinkley had 11 touches for 35 DT.
SUMMARY
This wasn't an era for high disposals, tackles, hitouts, or indeed Fantasy points except for the occasional ruckman or power forward. And if this match was famous for anything, it was that you can not only eke out a career highlight but also apparently shake a monkey off your back with just one good kick. That's good to know for all of us.