Lampe's Price Watch – Round 16
There are plenty of under-priced guns in every line, write Lampe.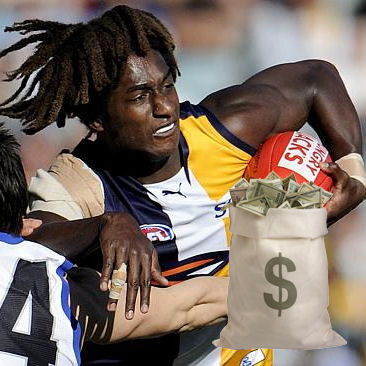 The lead up to round 16, has personally been one of the most enjoyable of the year to date. This is due to many of the stars who we assumed would be walk up players in our sides, suddenly being back on the radar. Since these underpriced guns are in every line of the ground, choosing which ones to pick-up is the tough part.
Here is a look of some of the best on offer:
Defenders:
Buy:
Luke Hodge ($567,000): Hodge pumped out a massive 148 on the weekend, the third highest score of the round. As a result, his break-even is down to 89, and he could very easily be up above 600k in a few weeks' time. If you were to take out his aberration from a few weeks ago (52), his average jumps to an astounding 118.1. Hodgey comes up against Sydney this week, a team he posted an enormous 157 against, in his Norm Smith winning performance last year. This is one of four hundreds in his last five matches against the Swans, so another 100+ score could easily be on the cards.
In my opinion, he will be the number one defender from here on (just edging out Boyd and Picken). Every fantasy team is better with Hodge in it.
Grant Birchall ($414,000): Another Hawk who should be seriously considered. Birchall is underpriced based on potential and previous year's performances. In what is becoming something of a trend, he started the year with a bang, but dropped off considerably after that. This year, it was predominantly due to an ankle injury. He has now played three matches since his return, including a 31 touch, 116 point game last weekend. He looks back near full fitness, and with a break-even of just 65, this could be the optimal week to trade him in.
Birchall is an option you should strongly consider when completing your backline. He has the potential to average 85+ for the rest of the year.
*Side note* The Hawks boys love it down in Tasmania, dismantling virtually every side that goes down there. In the process, they rack up huge fantasy numbers. This is important, as they play Brisbane in the week of the Dream Team Grand Final down in Launceston. If you have a few Hawks in your team, and Clarko doesn't given anyone the week off, it could pay massive dividends.
50/50:
Nick Malceski ($359,000): After a score of 90 on the weekend (his highest of the year), Malceski's growing on me with each passing week. Things look to be finally coming together for him, improving as the Suns continue to get better. The obvious reason to pick him up, is due to his extremely low price. He is down over 160k from the beginning of the year, and was a player that averaged 92 last season. He currently has a break-even of 56, so each week you wait, his value decreases slightly.
I am personally looking at bringing in Malceski next week, with the hope he can average 80+. It is a classic, high risk-high reward scenario.
Brodie Smith ($352,000): Another to keep on your radar, simply due to the value and potential he holds. Smith looks to have bottomed out last week, and is on the way back up. He has been solid in his last three, with scores of 80, 71 and 80, enough to keep you interested at his price. Smith's situation is very similar to Malceski's. He has a low break-even (45), and it is a case of risk vs reward.
I don't think you should be getting both Malceski and Smith, as the odds of both coming off are probably to low. If you manage to pick the right one, it could be a masterstroke.
Midfielders:
Buy:
Gary Ablett ($566,000): Gary has done more than enough to prove that he is back. It is a pleasure to watch him running around again, with the Suns and the entire competition better off for it. In terms of fantasy, he has come back with two scores of 119. He is down to 566k, and with a break-even of 112, there is every chance he has reached his basement price. Ablett comes up against GWS this week, and like most teams, has played them well in the past. He has scores of 122, 131, 132, 99 and 106 in his five career matches against them.
If his shoulder stays strong and he continues to gain match fitness, he should improve as the year goes on. A fit Ablett can easily average 115+
Tom Rockliff ($510,000): The Pig didn't take any time getting back into the swing of things, racking up a huge 128 against the Swans. As a result, Rocky has already increased 25k from last week and with a break-even of just 63, there is much more to come. Quickly! He comes up against Melbourne this week, and with the tight tag almost certain to go Beams way, he could be left to post something very big.
He was easily the standout fantasy player last year, and should go close to reclaiming that mantle by years end. Every fantasy team should have a full fit Rocky come finals time.
Avoid:
Nat Fyfe ($574,000): Fyfe is one player who should be avoided this week. This is due to his very high break-even of 147. He is coming off easily his worst score (59) for the year, in a match in which Freo was demolished. He also suffered a cork from another raised knee from Sam Mitchell (hmmm…but that's a different story). Before last week, Fyfe had been a measure of consistency, only dropping under 100 two times (97 and 95) for the year. As a result, don't write him off due to one poor game, but there are significantly better options to choose from this week.
When he bottoms out in about two rounds, he could be a bargain. He is a walk-up start for between 100-115 in most matches, so don't hesitate in trading him in then.
Rucks:
Buy:
Nic Naitanui ($483,000): I was (and still am) a strong advocate of trading in two of the top four ruckmen. This is due to the smaller number of spots available in this position. However, with Goldstein (618k, B/E 78) and Martin (582k, B/E 93) becoming more unattainable with each passing week, Naitanui becomes more of a relevant option. About a month ago, I said to pass on Naitanui as I didn't think he was good enough to mix it with the big boys. In that time he has easily surpassed my expectations, averaging 95.2 in his last five matches.
With a break-even of 78, he could be up above 500k in a few weeks' time. I would still get one of the top guys if you can afford it (in particular Goldstein, who has been in unreal form) but that might not be a valid option for many coaches. Nic Nat could be a middleman along the way.
*Side note* One of the other reasons I put up Naitanui this week, is the fact that Carlton take on Fremantle. This means that Kreuzer will be taking on Sandilands, who has been monstering everyone he plays. Consequently, a significantly lower score compared to the last few rounds is a real possibility, and his cash generation may be slowed in the short term.
Avoid:
Sam Jacobs ($506,000): Out of the top four ruckmen, Jacobs is the one I would be avoiding this week. In his last five matches, he hasn't been able to reach the form he began the season with. This includes three scores under 100 during this period. Obviously no one can blame him for his performance last week, in the most trying of circumstances. Everyone simply wishes him and all the Adelaide players the best, both on and off the field. In regards to this week though, he does have a break-even of 122 and with scores of 62 and 67 in two of his last three encounters against Port, there is a lot going against him right now.
In my opinion, there's too much risk in getting Jacobs this week. He could however, be a steal at about 485k in a few rounds time.
Forwards:
Buy:
Toby Greene ($465,000): One that is definitely worth considering, when completing your forward line. Greene has been in impressive form lately, with eight scores of 91 or higher in his last ten matches. If you take out his sub affected 38, his average increases from 88 to a healthier 92. This one poor score, is also the reason Greene is significantly undervalued right now. Further adding to Greene's stock, is the fact that Dylan Shiel has been ruled out for the remainder of the season. If he can gain more midfield time in his absence, he may be able to reproduce the massive numbers he finished last year with (116, 127, 126, 165 and 125 in his last five).
Greene comes with some risk, but could easily be worth a shot at F6. He never attracts a tag due to the wealth of talent around him, and is a ball magnet when allowed to play a free flowing role.
50/50:
Jimmy Bartel ($489,000): 41 touches in his first match back in over three months. Seriously, who does that!? We all know that Jimmy is a superstar, and at under 500k, I'm already tempted to pick him up. The big question is when? Despite his amazing return on the weekend, he still has a break-even of 121, and there is some doubt about his role going forward. With Duncan out for the year and Stevie J playing almost exclusively in the forward half, there should be plenty of midfield time and subsequent fantasy points, for Bartel to feast on.
If you want to play it safe, give Jimmy one more week. On the flip side, he comes up against the Doggies this week, a team he has five hundreds against in his last six meetings.
Avoid:
Lance Franklin ($469,000): I'm not quite sure what's happened to big Bud. It looks like he's just struggling for a bit of touch, with things not falling his way. He has four scores of 77 or lower in his last six, however that does include a monster 141, which more than highlights what he's capable of. Franklin comes up against Hawthorn this week, and hasn't been able to produce his absolute best against his old team. He has managed only 46 and 79 in his last two meetings, and was held scoreless for one of the first times in his career earlier this year.
We all know that he can explode at any second, but timing it correctly is the key to picking him up. With a break-even of 119 and a tough match this week, I'd give Buddy a miss right now. If he nears 450k in a few rounds time, he will be incredibly hard to ignore.
My Top 3 trade-in targets this week:
1) Tom Rockliff: An absolute gun, and incredibly you can get him at just over 500k. It's a no brainer!
2) Gary Ablett: He's been the best player in the AFL for half a decade. He is even more of a must have at his current price.
3) Luke Hodge: The number one fantasy defender in the game. Your team feels so much better having Hodgey back there. Pick him up and enjoy the points.
My pick of the 50/50's:
Nick Malceski: It's something of a gut feel, but I think Malceski is the slightly better option when compared to Smith. I am backing him in for an 80+ average from here on out, and will be trading him in next week if all goes according to plan.
Final Thoughts:
Lampshade's Lads managed 2155 in round 15. Unfortunately, in a high scoring round, this resulted in me dropping 162 places to 1664th overall. I'm looking at sideways trading my worst performing midfielder to Ablett this week, as I can't pass him up any longer. My second trade will likely be a downgrade (cheers Jeppa for the effort and commitment even when away) in order to free up some cash. This will hopefully allow me to trade in Malceski or Bartel next week.
If you have any questions I will be more than happy to answer them in the comments below, or if you add me @ David_Lampe1 on Twitter, I will respond to you there.
Good luck to everyone in round 16, hopefully a big league win and a spike in the rankings is headed your way.