Jeppa's Juniors – Round 15
Jeppa's on the road this week, but the Juniors show must go on. Enjoy a special Twitter-fied edition.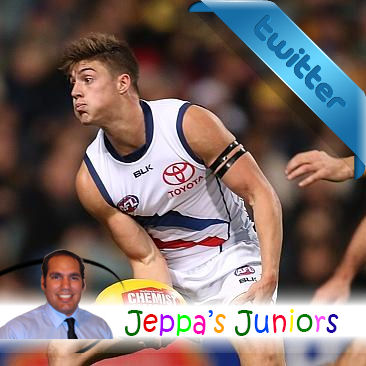 I'm off on a boys trip chasing some sun, beer and plenty of golf balls so there is no Juniors this week – well not in the traditional form. Instead, I took to Twitter to answer some questions and post my insight for the best of the rooks this week. The lowest breakevens are shown in the table below.
@JeppaDT #JeppasJuniors best rookie downgrade for any position?

— Bradley Noske (@bradnoske) July 13, 2015
Caleb Daniel. The bloke is a dead set workhorse and Luke Beveridge loves him for it. Daniel is not immune to the vest but in his two matches, he's played his role really well and contributed to the team winning. The more games he plays, the better he'll get. A great back up forward for the second half of the season.
@JeppaDT @DTTALK #JeppasJuniors Riley Knight or Kane Lambert for bench cover?

— Josh Cannata (@cannata_josh) July 13, 2015
Knight just. He's a dual position forward / mid and in his first game the work ethic and skills were definitely there. I admired his gut running versus West Coast and he knows where the goals are. Pick Knight up as a short term cash grab only…he may not feature at the business end of the season given that the Crows will look to experience in their push for September action.
@JeppaDT #JeppasJuniors Riley Knight over Tom Fields? I can downgrade to any of them using Kav or hamling

— Inactive (@JakePizzuto) July 13, 2015
Interesting one. Fields has the best job security but Knight will likely average a little more. Barker had plenty of praise for 'sueprboot' after the game on the weekend which should see him play a bit in over the next few weeks. If steady scores are enough for you, play it safe and get Fields. Get rid of Hamling.
@JeppaDT Alex Browne, if he plays, is he worth a crack? #JeppasJuniors

— Abhishek Behl (@Abba_Behl) July 14, 2015
Risky at the minute. Essendon can't make the finals so they'll play the kids eventually. I'd hold off Browne until the later rounds,  if he's named of course. Scoring 30 Fantasy points in 30% time on ground did catch my eye!
https://twitter.com/anthonyd107/status/620469024535674880
Not wise. Maynard has been good on field but hasn't scored over 70 Fantasy points and that trend will likely continue given the role he plays for the Pies. He's an excellent D7 or D8 especially as a dual position defender / mid. I'm considering picking him up in Dreamteam this week but I'll probably bring in Fields.
https://twitter.com/Aaron_Stevo1/status/620469414559809536
As a D6 Colquhoun is a waste. You need to get a premo in that position asap. Colq wasn't named in the bests in the SANFL on Saturday so I doubt he'll play at AFL level for a couple of weeks yet. That's good news for Amon owners though.
@DTTALK @JeppaDT job security on Riley and Maynard and ave scores in fantasy/SC in your opinion ??? #JeppasJuniors article

— Luis Orgaz (@Stuckin1au) July 14, 2015
Job security is pretty shaky for both. Maynard has plenty of teammates desperate for his spot as does Knight. Their form on the field will dictate whether or not they stay in the seniors. This is a risk that could be outweighed by their dual position status with some careful planning. Both will average around 60 to 65 Fantasy points per game.
@JeppaDT thoughts on the new boys? Prudent, laverde and harmes? #JeppasJuniors

— Michael Foster (@BamBamGolf) July 14, 2015
Laverde and Prudden did little for their clubs in Round 15 and they don't look capable of a big score. Harmes also had a quiet debut but I hold hope for this tackling machine. Let's see what all three do in their second game before trading them in.
@JeppaDT Any "must have" rookies this week? I've taken Daniel at this stage. Anyone better? #JeppasJuniors

— Nick McKinnon (@njmckinnon) July 13, 2015
Yep so I've spoken about Daniel and my next favourite is Fields. Considering job security and scoring potential these are the best two options at the minute in Fantasy and Dreamteam. Nick O'Brien is up there for me this week too!
@JeppaDT money aside, is it worth a mini upgrade from a non playing rookie to J.Steele for my single on field rookie? #JeppasJuniors

— Victor Yin (@victoryin97) July 14, 2015
Money aside, yes. Steele is a jet and he should continue to score 75+ in every game he plays. He is due for a vest though so you could spend the cash far better!
| Player | Club | Pos | Gm | Ave | AF$ | AFBE | DT$ | DTBE |
| --- | --- | --- | --- | --- | --- | --- | --- | --- |
| Fantasia, Orazio | ESS | FWD | 2 | 74.5 | 195000 | -19 | 156200 | -61 |
| O'Brien, Nick | ESS | MID | 3 | 59 | 187000 | -14 | 174000 | -35 |
| Knight, Riley | ADE | FWD/MID | 1 | 73 | 143000 | -9 | 124600 | NA |
| Fields, Tom | CAR | DEF | 1 | 69 | 141000 | -7 | 102900 | NA |
| Brooksby, Keegan | GC | RUC | 3 | 59 | 192000 | -6 | 157800 | -28 |
| Leuenberger, Matthew | BL | RUC/FWD | 11 | 55.4 | 316000 | -4 | 340900 | -15 |
| Downie, Thomas | GWS | RUC | 2 | 52 | 155000 | -3 | 124600 | -34 |
| Daniel, Caleb | WB | FWD | 2 | 63 | 194000 | -2 | 117900 | -59 |
| Glenn, Josh | GC | MID | 2 | 62 | 177000 | 0 | 126900 | -52 |
| Lambert, Kane | RICH | FWD/MID | 4 | 35.5 | 148000 | 1 | 140500 | -19 |
| Maynard, Brayden | COLL | DEF | 2 | 62 | 222000 | 12 | 117900 | -32 |
| Steele, Jack | GWS | FWD/MID | 3 | 81 | 304000 | 15 | 199600 | -38 |