Roy's Trade Talk – Round 16
If you snoozed last week, make sure you get your act together and get the Pig in the pen.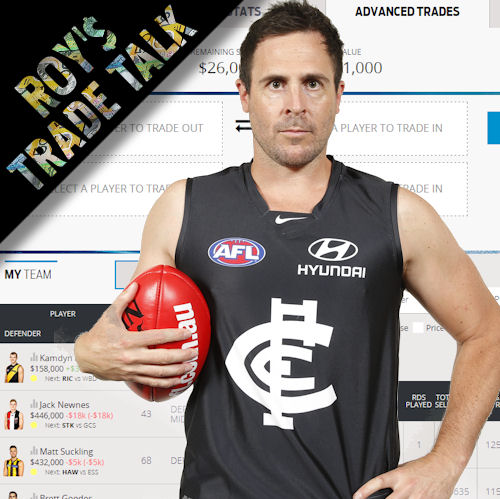 There were some massive scores, some massive flops and some huge suspensions this week which leave our trade options wide open. I still think the best strategy is to hold under-performing premiums in order to remove all 'rookie' players, but I understand why some coaches are pulling the trigger and sending a message to the likes of Ebert. As we coming off a cash cow drought, upgrading our teams with under-priced players is vital, here a few I budget upgrades to consider.
Attack Dog
Ryan Griffen (MID, $446,000) has finally found his feet at the Giants and unexpectedly it is in a role across half back, commonly playing loose. He has a three round average of 108, with two impressive scores over 110 and a low of 103 in that time leading into his game against the Suns. He has dropped 39K since the start of the season and his price is well and truly on the way back up with a break-even of 43. The beauty of this trade will be Griff is a huge chance to gain defender status.
Pig GOAT
If you ignored me last week, Tom Rockliff (MID, $510,000) has to be your highest priority. The Pig was back last week and certainly took no time getting back to his dominant best with a score of 128. He is easily the biggest bargain of the year after dropping $253K since the start of the year, despite rising $25K this week. He has a break-even of just 63, so if you snooze on this one you will lose because he will be top dollar again in no time.

Click here to subscribe on iTunes.
Stop! Gazza Time
While discussing bargains, it's hard to ignore one of the best players ever in Gary Ablett (MID, $566,000). Gaz is an absolute bargain after dropping $109K since the start of the year due to an attempt to return before his body was ready. By the look of things, it is ready now after watching Gaz dominate the last two weeks with back to back scores of 119. This gives him a break-even of 112 leading into his game against the Giants who he has scores of 131, 132 and 122 in his last three.
KK
Ok, I feel like I am beating my head against a brick wall. If you continue to ignore how good Kolo is, you missed out on another massive game. That is all.
Twitter Time
@CalvinDT @RoyDT @WarnieDT Trade out Isaac smith or Lachie Neale for Ablett

— Jack Everett (@DIRTYJEV14) July 13, 2015
I would be reluctant to trade either of them, but if they are your biggest issues I would trade Neale as I think Smith is more consistent.
@AFLFantasy @WarnieDT @CalvinDT @RoyDT Should I go Selwood to Lewis or hold and field Knight. My other trade is Adams to Ablett.

— Jack Reemst (@JackReemst) July 13, 2015
Yes, bring in Lewis, at their best Lewis is superior.
@RoyDT @WarnieDT @CalvinDT Big question: could bring in Montagia, Stevens, Ablett, Pickens, Boyd, Rockliff who is a must have now!

— louise lawrie (@BrcoloLawrie) July 13, 2015
The best player and best value is Rockliff. Oink.
@RoyDT @CalvinDT @WarnieDT you lads rate trading in B Smith? Especially going into the very emotional showdown this weekend?

— Domenic Tripodi (@DomenicTripodi) July 13, 2015
I think he is great value and a worthy selection for that price.
https://twitter.com/lukeharback/status/620742089249153024
The trade in question was Luke offering his Scotty Thompson for my Bont. It just so happened, the minute the offer came through, I had just verbally agreed to trade Bont to Ryan Griffen. My reason is because my elite team is only weak in one position, I have one weak defender spot up for grabs. My thoughts are Griff will be a defender by Elite finals. My verbal agreements are stronger than Deandre Jordan.
#RTT would you hold Taylor adams or trade him out? I do have Lever their to cover whilst he rest on the pine?

— MrTequila (@MrTequila84) July 13, 2015
I would trade him into a superstar like Ablett or Rocky.
@RoyDT Get Bartel a week early? Best option I've got for Ox (Via DPP). #AFLFantasy #RTT

— Luke Crisafulli (@DarthNoctis) July 13, 2015
Yep, get him early!
https://twitter.com/AidanTheaker/status/620743315722350592
I would trade Cripps
Rocky and Picken or Ablett and Kolo? #RTT

— Jaidyn Carter (@c_jaidyn) July 13, 2015
Great question and both awesome options. Rocky and Picken for me because they are both capable of 150.
Cheers,
Roy