The Friday Scramble: Round 15
Round 15 is upon us, we have some royalty returning to our teams and plenty of other trade issues to consider! Let's get scrambling!!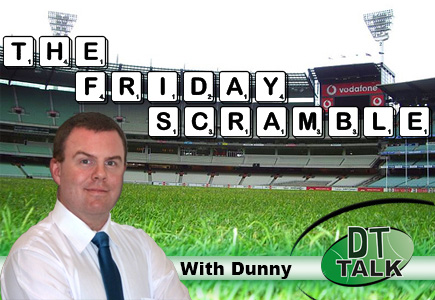 Can you believe that we are at round 15 already?  It seems as though the season has flown by.  There are only 9 more rounds to go (including this one) and our teams in the limited trade games should be basically complete, and in AFL Fantasy it could be too.  But there is plenty still to do.  There are always things that we need to look at changing up in our sides.  So let's get to it!
Royalty Returns!
Last week we had Gary Ablett return and he was back to his magnificent best.  He scored beautifully and brought his BE down, but his BE is still high enough that he should drop in price after another week in all forms of the game.  Do you take the risk and go early?  Well the main thing that you have to consider is how much cash do you have and what trades are you planning on making next week.
We got news early in the week that Rocky was back…. again!  This time he has had longer out to repair those ribs and he will hopefully be good to go for the rest of the season!  The best thing about him is that in all forms of the game he is nice and cheap and has a low BE so it is time to bring him in this week!  Thanks to his low price there are plenty of options in terms of ways to get him in.  I know a few people that are looking to go straight from Mitch Wallis to Rocky, that is the plan that I am currently planning on taking in SC.  Just to make things even better for the Lions we also see prolific scorer Pearce Hanley return to the team this week as well!
Selection Table
Not many of our stars missing this week, basically the outs were all rookies and fringe players in our teams, so hopefully they were all on the bench and you didn't have to rely on any of them.
Well on Wednesday night we were shocked with some of the selections made by Ken Hinkley when he left out Sam Colquhoun and Nathan Krakouer. As a Power fan myself I was quite surprised to see them out, particularly Sam.  However, that is just what the Fantasy Footy Gods like to do to us! We did see Tom Clurey come back in and score us a 34.  He is a lock down type player and won't score big.
We all knew that Jobe Watson was out for the rest of the year.  Elliott Kavanagh has been omitted which doesn't help a great deal though. I won't be pulling the pin on him just yet though. We did hear during the day yesterday that Joel Hamling didn't get the plane to Cairns and it turns out he has a back injury.  So does Honeychurch and McLean is out with a shoulder.  It is a bit of a carnage game that one with Saad out with a groin, Schade with a hip and Boston and Brooksby both omitted.  Surprised to see Boston omitted.  I think this is all we need to get rid of Saad now.  As for Boston and Brooksby, I would be holding them if you can.  Hamling is one that I would hold if you can since he still has money to make.
Watch for Riley Knight from Adelaide playing his first game.  From all reports this kid can play and could be a handy downgrade for us.  However, keep and eye on Jeppa's Juniors for his thoughts on Wednesday. Speaking of ins we see Aaron Vandenberg return for the Dee's this week along with Heritier Lumumba if you are still holding him (I would still be looking to move him on though).
I don't think it was a surprise that Trent Dumont has been omitted from the Roos and if you still have him (like me) then try and get rid of him if you can, as he had a high BE anyway, but if you have more pressing issues, the fact that he isn't playing is a saving grace meaning you can hold him til next week if you must. Jake Kolodjashnij has been dropped from the Cats line up after just the one game.
Last Loophole of the Year
Well I think it is the last one as this is our last Thurs night game of the season.
How did you go with your loophole selection last night?  Well as usual let's have a look at how Calvin's top 5 loophole options went.
Pendles – 112 which doesn't meet the line that Calvin set of 115.  I would probably look elsewhere if yo can.
Ebert – 75 from just 20 touches, he seems to have really stalled at the moment.  Certainly don't take this.
Swan – OINK OINK 132.  The original pig loved the wet conditions collecting 33 touches, definitely take this to the bank!
Adams – Well he outdid the pig with 139.  Lock it in Eddie!
Gray – Still no ton for Robbie against Collingwood with his 86 from only 23 touches.  Certainly not enough.
If you didn't go any of those guys, the only others that you would consider taking would be Ollie Wines who was magnificent for 136 points with 33 touches and 10 tackles.  Justin Westhoff would be the only other one that I would be looking for with 128, but I seriously doubt you had him as captain. I saw on twitter last night some people asking if they should take Swanny's VC score.  If you asked that give yourself a good hard look in the mirror.
So if you need a captain, don't forget to have a look at Calvin's article and he can get you a captain ready for the rest of the weekend.
Things To Remember
Remember that SC and RDT trades are NOT reversible today.  Don't get caught out!
In SC and RDT just watch your trades.  Once you have a 'complete' team don't trade unless you need to. I like to keep about 5 or 6 trades at least from here on out for injuries and suspensions once my team is completed.
Of course Power and Pies players are locked out.
When trading look to open up more DPP action if you have lost some of your links during the bye period.
Enjoy the rest of the weekend of footy (I know I will enjoy it more after a Power win).  Keep an ear out today for final Sunday teams as well as any late outs before lockout.  I just get that feeling that since no big names other than Watson are out so far there is just something still coming for us!  Stay tuned to the AFL Fantasy twitter account and I will let people know from mine @pkd73 if I hear anything.