Throwback Thursday – Tribute
Muttley pays tribute to the late Phil Walsh.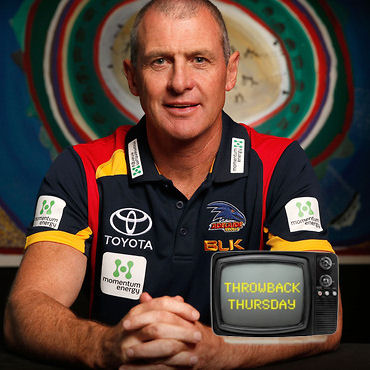 We hear a lot about coaches and also commentators who played the game decades ago, back when the AFL was still known as the VFL and full strength beer was sold in big fat cans. Today's former footy stars might be called anything from legends, to dinosaurs, or fossils or worse. The 1980's alone contained names often bigger than their owners' bodies – those oft-seen luminaries like Tony Shaw, Tim Watson, Terry Wallace, Mark Harvey, Paul Roos, Robert Dipierdomenico, Leigh Matthews, Kevin Bartlett and Gerard Healy and that's just some of the roaming mids. No wonder the Big V was so powerful. But there were also the so-called lesser lights in terms of fame and household name status, the 'support-staff' type of players whose teamwork, effort and dedication to the game were perennial. One of those players – long before he was a coach – was Phil Walsh.
In his first season in 1983 for Collingwood, playing as a 23 year old in just his 5th game alongside some of those big names ala Shaw, Peter Daicos, Billy Picken and David Cloke and versus the likes of Hawthorn's Matthews, Dipper, Wallace and Michael Tuck at Victoria Park, Phil Walsh was the highest possession-getter with 33 disposals… although the Pies inaccuracy cost them the game just as it did again only last week.
Walsh played every round in that debut year '83, which in a team's win-loss sense would also be his most successful as a player. A few weeks after his Round 19 tally of 3 goals and 31 disposals against Richmond (again as the leading possession-getter), he departed The Magpies in controversial circumstances to join The Tigers for the next three years.
Whilst his average possessions dropped slightly along with the amount of games per year, his consistency somewhat improved. Also by 1985 he was starting to gain the umpire's attention for all the right reasons, as he registered 32 free kicks for the season and only 13 against, a pattern that bloomed in later years.
It was 1987 when he joined The Brisbane Bears and back to playing his best footy, chalking up another 22 games to earn the club's B&F award. He had 30+ possessions in 3 of the first 5 matches and registered a PB of 34 touches in Round 21 versus Footscray (a virtual 126 DT points), despite The Doggies' Simon Beasley kicking 10 goals in a big win against the lowly Bears at Carrara.
In Round 4 of 1988 at the MCG he trumped his PB with 35 touches against Melbourne (123 DT) despite this being another big loss for the struggling new Queensland team which became known as the 'Bad News Bears'. But Phil Walsh was doing good things, including another 20 game season and a free kick count of 41 for and 13 against.
As he approached the trifecta of aging into his thirties with newfound fatherhood and career-ending injuries, his final game in Round 22 1990 was typically solid with 28 possessions and 2 goals (109 DT) against Footscray at the Western Oval.
Phil Walsh may not have been the most iridescent or flashy of shining lights, but he was almost as reliable a player as he was a coach.
Was he a Dream Team legend? Not when compared to the glitterati of his halcyon days.
Was he a football legend? Those who knew him might say he was, in his own special way.
What would Phil Walsh say? Maybe he just "got the job done".