Lampe's Price Watch- Round 15
Round 15 is another important round, as we get towards the last month before finals. The players we trade in now will be more and more likely to stay in our teams until the end, therefore it is imperative we choose wisely from here on out.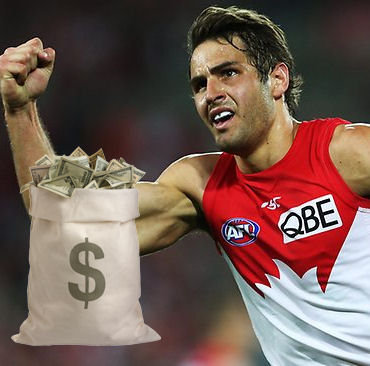 After a truly tragic and heartbreaking week in the footy world, the other seven games did go ahead as planned. The respectful and touching tributes to Phil Walsh were very well done, and the AFL should be applauded for the way the terrible situation was handled.
Although fantasy seems insignificant, the scores and matches still went on, with a large number of teams doing very well last weekend.
Round 15 is another important round, as we get towards the last month before finals. The players we trade in now will be more and more likely to stay in our teams until the end, therefore it is imperative we choose wisely from here on out.
Here is a look at some of the best and worst options this week.
Defenders:
Buy:
Jack Newnes ($462,000): For those of you that didn't buy into the preseason hype and start with Newnes, he is worth a sneaky look right now. He is beginning to repay the faith, with two hundreds and a 99 on the trot. Since round five, Newnes has averaged over 87 points per game, very solid numbers from a fantasy defender. With a break-even of just 59, he is set for further price rises if his good form continues.
His fortunes are definitely linked with the team, being a player who has significantly improved as the Saints have gotten better. With matches against GWS, Richmond, Melbourne and Port in the next month, he could be worth a look at D6.
The Bulldog Boys: Boyd ($567,000) and Picken ($552,000): I gave Boyd a mention last week and he didn't let me down, pumping out a massive 143 points. I was up and about until Goddard's Sunday shocker! Picken also smashed Carlton on the weekend, finishing with 127. This was his fourth 120+ score in his last nine matches. Massive!
There is every chance both will go huge against Gold Coast again this weekend. Boyd scored two hundreds in two meetings against the Suns last year, while Picken's numbers are largely irrelevant due to his different role. Both have low break-even's (85 for Boyd and 87 for Picken) and are unique options, with Boyd coming in with 9.46%, and Picken just 4.52% ownership. Crazy low, for two players who have been as good as they have! The other bonus of these two, is that they are big accumulators of the ball, but just average users of it. As a result, opposition coaches allow them to rack up the numbers with limited attention, while Bontempelli and Dahlhaus cop the tag.
*A small side note* There is a chance that Picken MAY tag Gary Ablett this week. He did a fantastic job on him last year, keeping him to just 24 touches and little influence on the game. Hopefully with a new role and coach, this will be left to another player this time around!
25/75:
Nick Malceski ($356,000): I can't justify giving him a 50/50, so this is the best I can do right now. Malceski has had an horrendous year since joining the Suns, and has not yet lived up to high expectations. However, he has dropped 165k from his starting price, and should be looked at due to his potential value and form of years gone by. If you look deeper into his scores of the last few weeks, you find that there are more positives then there initially seems. He scored 72 from 23 touches last round, a number that could easily have been much higher with a few extra marks and tackles. In his two games preceding that, he scored 44 and 64, but came on as the sub on both occasions. Again, this significantly lowered his average and price.
I think he will be better in the second half of the year, but the question is by how much and is he worth the risk? He still has a break-even of 83, so another week spent looking at him might be the right way to go.
Midfielders:
Buy:
Scott Pendlebury ($598,000): Mr Reliable. As simple as that. It's hard to see why he's not in more than just over 30% of teams. Once again, Pendlebury is in the top five averaging players in the comp, and has been underrated again this year. Perhaps it is because he isn't renowned with going massive, but scores of 152, 141, 135 and 121 show that he can easily do that on his day. The other attractive thing about Pendlebury, is that he seems to have freshened up over his bye and gotten over the calf niggle that hampered him (relatively) in the first half of the year. As a result, I am predicting him to be even better in the second half of the season.
With a break-even of 90, he could easily be up around 630k in a few weeks time. If you don't have confidence in picking a captain any given week, put the C on Pendles and guarantee yourself a good score.
Josh Kennedy ($531,000): Definitely one worth considering. Although he reached his basement price last week, he is still down 64k from his starting value. With a break-even of just 60, he will be up above 550k in the near future. Kennedy plays Brisbane this week, a team he scored 116 on in his last attempt, and plays Hawthorn the round after. He loves playing his ex team the Hawks, and it seems like he has a very obvious point to prove every time they meet. He has scores of 102, 100, 101, 139, 108, 93 and 121 against them in his last seven.
He is underpriced and worth a shot at M7 or 8.
50/50:
Tom Rockliff ($485,000): It Feels like we've been down this path before right? Some might even say this years been a Rocky Road…
Now that's out of the way and hopefully never used by anyone ever again, we can get back to fantasy. Virtually none of his issues this year have been his own fault, except for possibly being too courageous for his own good. With many coaches looking to upgrade the final spots in their midfield, Rockliff should be on everyone's radar. It is just a question of when.
With a break-even of 71 and at such a low price, I'm going to trade him in this week and hope he can get back to his best right away. There is significant risk in picking him straight up, so if you prefer the conservative route, give it at least one week.
Avoid:
Gary Ablett ($576,000): It feels good just to be talking about the GOAT again. He got better as he went along against the Kangas, culminating in a final quarter that was back to his very best. That being said, I'd still be giving Gary one more week. He has a massive break-even (141), which is reachable for him, but unlikely in his second game back from his shoulder injury. Ablett comes up against the Bulldogs this week, a team he scored only 78 on last year (as I said, due to a very tight Picken tag).
If he can stay fit, he will be a must have in one or two weeks. The main reason I'm going Rocky over him this week, is due to his significantly lower price and break-even.
Rucks:
As I've said numerous times, I would only go with the top four guys or right down to a cash cow, given the limited spots available in this position.
This week, I'll quickly rate the top guys in order of who i'd choose from first to last.
Goldstein: Most expensive at $588,000, but well worth it. He has a break-even of 71 and a five round average of 126.2, making him the best player in the comp over the last month.
Jacobs: 58k cheaper than Goldy and should average 100 for the rest of the year. Has a break-even of 99, but a slightly underwhelming five round average of 93.
Blicavs: Rounds out the top three this week at 533k. He has a break-even of 83, and has been in sensational form with a five round average of 103.6
Stefan Martin: Suspended for one more week, so wait until then.
50/50:
Matthew Leuenberger ($271,000): The reason you would be trading in Leuenberger is for a quick cash grab, not as a keeper. He has the lowest break-even in the competition (-18) and has some serious coin to make in the next few rounds. With Martin out for another week, there is every chance he could go big again this weekend. When Stefan returns, hopefully he can fare a little better than when they played together previously, but don't expect much more than a 60 odd average.
If you need cash, grab Leuenberger for a month and run. If things turn out well, he will be up near 400k in a month or so.
*Once again* Kreuzer ($330,000, break-even of 17) and McKernan ($267,000, break-even of -3) both have cash to make. I would rate Mckernan as the better of the two, given his significantly lower price, break-even and that he is the sole ruckmen.

Click here to subscribe on iTunes.
Forwards:
Buy:
Jack Crisp ($513,000): An interesting one, who has flown very much under the radar. He is turning out to be everything Collingwood hoped, when they secured him as part of the Dayne Beams trade. His fantasy form has been exceptional of late, with a three round average of 111.3 and a five round average of 103.4. You will now be paying over 500k for him, which is a big increase from the start of the year, but he hasn't reached his ceiling yet.
If you are looking to take a punt on a unique forward (2.45%), Crisp could be your man. He is a big risk – big reward type prospect, but he hasn't put a foot wrong so far.
*Quickly* Nick Riewoldt is again good value at 523k and with a break-even of 68. His five round average is now over 110.
50/50:
Steven Motlop ($453,000): I have probably been a bit harsh on Motlop this year, but for various reasons, I haven't believed he was a good buy at those specific times. At just over 450k, Motlop is now at a price and a break-even (69) that makes him well worth considering. This is especially true for those shopping around for an underpriced premium. He is coming in with some form, scoring two hundreds in his last three matches.
If he can average 95 for the rest of the year, it more than justifies the selection. Personally, I would give him a miss, but he has the potential to pull it off.
Avoid:
Brendon Goddard ($531,000): I have to put my hand up for this one and apologise. Sorry to anyone who picked him up last week, at least partly due to my advice! He had an absolute stinker and I did not see a performance like that coming. It was actually his worst fantasy score since 2007, only just beating his 17 when he ruptured his ACL in the first quarter in a match against the Swans. As a result, his break-even has ballooned out to a massive 139, and it is hard to bring in any Essendon players given the miserable state they are in right now.
I am still backing him in to be a top six forward, and I think he will strike back. However, avoid for now, and hopefully he will be a bargain at close to 500k in a few weeks' time.
*A small shout out* to Luke Dahlhaus who can't be justified once again this week. With scores of 56, 69 and 70 in three of his last four, and a break-even of 132, this is not the time to pick him up. If he can hit form in the coming weeks, he could be massively underpriced nearing 450k.
Round 15 advice: Go with your gut and your team structure, when deciding how much risk you are willing to take with your trades this week. If you have team with a number of risky picks already, it might be best to stick to a Pendlebury type option. If on the other hand, you are looking for something to set yourself apart from the pack, going with a unique player may give you the rankings boost you desire.
Final Thoughts: Lampshade's Lads managed 2204 in round 14, improving my ranking 56 places to 1502. The vast majority of my team was superb on the weekend, but unfortunately my rookies let me down badly. Scores of 10, 21, 41 and 45 from Schade, McCarthy, Kavanagh and Hamling, further highlighted the need to fully upgrade my team as soon as possible.
If you have any questions or queries I will be more than happy to answer them in the comments below, or if you follow me on Twitter @David_Lampe1  I will answer them there. If I get some interesting questions during the week, or some common themes, I will include them in my article for Round 16.
Good luck this round, hopefully a league win and a jump in the rankings is coming your way.