Roy's Trade Talk – Round 15
We are on the run home and our trades are as important as ever as we get closer to finals action!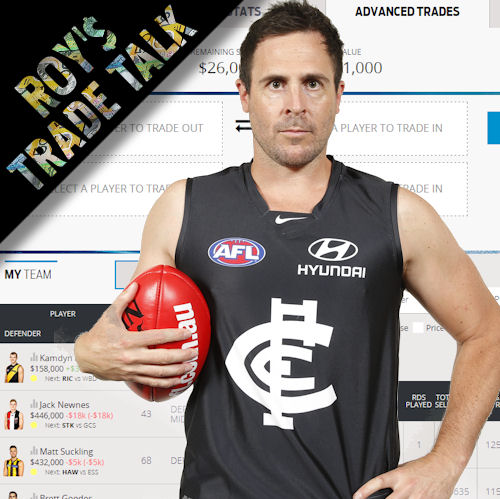 On the back of some good trading last week I enjoyed the fruits of bringing in David Armitage and his contribution helped me to 2362 and an overall rank of 108. So, I am keen to crack the top 100 and that means I have been working extra hard to look for the best trades available and the good news for you is that (unlike Warnie) I share the gold I find.
King Kolo
I will actually start with the reason I am ranked so well rather than someone I am looking to bring in. My best selection at the start of season is one of DTTALK's favourite players Kade Kolodjashnij (DEF, $477,000). After a slow start to the year that had many coaches crying 'second year blues', Kolo rewarded the faithful by turning it on since round five to elevate himself into the 'must have' defender category. Now it hurts me to write this because I love the fact he is currently owned by less than 10% of the comp but sharing is caring. Over the last four weeks he has scored three tons, with a lowest score of 85 in that time. The kid is a gun, he has a break-even of just 74 and as much as I don't want you to trade him in… Do it.
Under-priced Star
Josh Kennedy (MID, $531,000) is an absolute star! If it wasn't for a score of 16 after an early injury last year, Kennedy would have elevated his game to the elite bracket of averaging 110 for the year. Due to a couple of uncharacteristically quiet games four weeks ago, he is available for a bargain price. If you need convincing that Kennedy has the star power required to justify one of your valuable midfield positions for the run home, his form over the last two weeks should be enough to get it done. He is coming off scores of 114 and 151 which leaves him with a break-even of just 60. He is a ball magnet and tackling machine which is a great combo in every coaches eyes and the icing for me is that he is still unique, owned by less than 7% of the competition.

Click here to subscribe on iTunes.
Food For Thought
Cash generation and viable downgrade options are going through a lean spell, so it may be time to get creative. Here is an idea that Warnie and I are throwing around in regard to trading out Oxley for in a double upgrade cash grab. Our thoughts are that there are better players than the Ox for up to 50K less, and that could be the money required to upgrade the likes of Cam Ellis-Yolman to a keeper like Tom Rockliff, arguably upgrading your team in both positions. The guys we are looking at:
Nick Malceski (DEF, $356,000) has had a rough start to his time at the Suns but things look to be on the improve. The temptation with this selection is the undeniable upside for such a small outlay. Although he has not hit his straps yet this season, Malceski is coming off a career high average of 92 and is playing what should be a Fantasy friendly role off half back/wing which saw him score over 30 in the first quarter last week before finishing the game on 72. He has dropped $165,000 since the start of the season and looks to have the vests behind him.
Brodie Smith (DEF/MID, $343,000) had a brilliant start to the season with scores of 93 and 111 (injured) before injuries continued to take their toll on the 2014 All Australian, hindering his ability to get back to his best. After putting his injuries behind him, Smith has since strung four games together where he has manage to score 70 or over on all occasions, with a top score of 81 in that time. He has dropped 122k since the start of the year and has a good run over the coming weeks including games against the Eagles and Suns who leak plenty of points. He has a break-even of 49 and at worst could serve as a stepping stone to the like of Mundy or Boyd in the coming weeks.
Twitter Time
https://twitter.com/deanospilkin/status/618213464880721920
I have him in elite. Not worth trading because no one will want him. I'll bench in the hope he gets it together.
@CalvinDT @RoyDT @WarnieDT best trade out ibbo 2 colq Malceski Cripps to rocky or Brodie smith or Gawn to mckernan. Great podcast

— Kate Fennell (@FennellKate) July 6, 2015
Take a punt getting Colq to save the $$$ and Yep, get Rocky.
Thoughts on David swallow? @RoyDT @WarnieDT @CalvinDT @DT_Expert @JeppaDT

— Ariel Zelwer (@AZelwer) July 6, 2015
Far better options available IMO.
https://twitter.com/Mitch_Rosario/status/618054078371737604
I would hold Smith unless he is out through injury. The trade certainly has merit though… it is similar to the Oxley debate, only on Peptides.
@RoyDT @CalvinDT @WarnieDT thoughts on stretch + bont > caleb daniel + armitage (playing mckearnen in the fwd line

— luke pirozzi (@rozwiztips) July 6, 2015
Yep, that works although Bont beware… He plays the Suns this week and might be worth holding for the week.
Ok guys,
Cheers and good luck
@RoyDT