The Weekend Wash-Up – Round 14
It was meant to be an exciting week with the return of 9 games per Round. Sadly, it began with a horrific tragedy. There's not much I can say that hasn't been said, but I will mention this… Football brings communities together.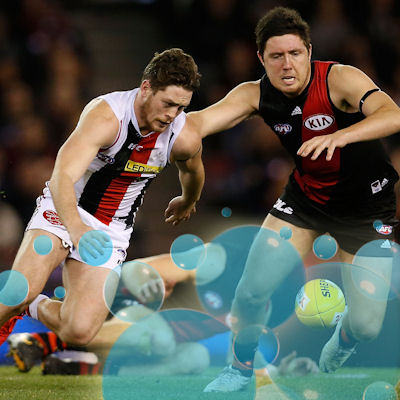 It was meant to be an exciting week with the return of 9 games per Round. Sadly, it began with a horrific tragedy. There's not much I can say that hasn't been said, but I will mention this… Football brings communities together. This is why we all feel deeply saddened by Thursday's events, even though none of us directly knew Phil Walsh. It's what makes sport so great, and should remind us that at the end of the day arguments aside, we're all brought together by a love for our great game. We can remember 'Walshy' for the joker he was, and after a horrid season so far we need to take on his attitude to frustration. "Great art comes out of a level of frustration." "There are still masterpieces to be created this year." That's the theme this week, fits me perfectly. Let's wash-up the weekend!
Legends
Goldstein (135) – Oh captain my captain! I refuse to take Stefan Martin's suspension as a slice of luck, but at least my best position on the ground remained that way. He just feasts on opposition ruckman who can't run out the full 4 quarters, it's a joy to watch. Rucks who go huge are few and far between, Goldy has turned me into a believer.
Hannebery (146) – I was totally shocked to see Hannebery has averaged 110 this season. I knew he was amazing on his day, but I missed the memo about his newfound consistency! He is sneaking under the radar to become a top 8 mid and remain a POD. Get on board!
Pendlebury (152) – Pendles doesn't go big often, but when he does he makes it count. This is his second 150+ score this season, you can't go wrong with him. Lock and load this legend if you haven't already.
Martin (132) – When did he learn to tackle?! After his Round 1 exploits, Dusty has averaged 110. I don't need to say much more, he has pumped out 3×130+ scores in his last 4 outings and is finally justifying the pre-season hype.
Ablett (119) – That last quarter. It wasn't just the 56 fantasy points he scored, it was the confidence you saw return to him with every possession. Gary finally remembered that he was the GOAT, and lying down against Ben Jacobs wasn't an option. Get him in your plans ASAP!
Boyd (143) – Sure he may get the odd rest, but gaining a defender capable of averaging 105-110 is worth it! Boydy is thriving in his new role and doesn't look like slowing. Make him a priority.
Picken (127) – As fantastic a score this was for his owners, this hurt me. A LOT. 3 weeks in a row I had him for most possessions in group 2. THREE! What did I do this week? Curnow looked great value, and he backed that up by racking up 28 disposals. Step up Picken, who decides to rack up 33 possies. Moral is, get Picken in your defence and don't gamble kids.
Murphy (108) – I keep leaving Murph out, this is for you who keeps reminding me! He has admittedly been fantastic since Mick got the boot, yet to drop under the ton. His value has passed the point where I'd consider getting him though.
Steven (142) – I was away for the Sunday games, but it wasn't a surprise to see the Saints rack up as usual. Steven, Armitage (140) and Montagna (120) all get legend status after another huge performance. There's no logical reason not to have all 3. I said seeing those 3 rack up wasn't a surprise, the score line however? Slightly bigger shock.
Riewoldt (121) – Just do yourself a favour and go check out Roos recent form. I had him in my team until Stef's blunder, but he still provides value at just over 500k. He is as consistent as forwards come, a great POD to have going into finals.
Heppell (124) – I didn't witness the massacre, but thanks to what must've been an almighty 2nd quarter (67 points) Heppell can hold his head high. I still wouldn't want Bombers in my team.
Beams (133) – Now that we've established Beamer is back, it's about time we all jumped on board. Everyone has realized Brisbane isn't much of a threat, allowing Beams to get off the chain. Helped by the death of the hard tag, Beams is a player you'd hate to come up against come finals time. Piglet.
Leuenberger (124) – I didn't get a chance to pump him up last week as I didn't realize Martin would miss, but he was prime for the picking. Nabbing the Brisbane ruck handcuff was easily my draft move of the year. Leuey will thrive again next week without Stef in the team, however take the quick cash and run. It could all fall apart with Martin's return.
For those wondering, Lewis still owes another big score before he returns to legend status! Hodge and I still aren't getting along either. Both are beasts and shouldn't be doubted. Cotchin burnt me so bad this year after pumping him up, I don't even want to think about him. JPK has been below par all season, however he is one more ton away from getting back on track!
Losers
Yeo (69) – The bad news is that Yeo's midfield role has been reduced since Selwood's return. The good news is that Selwood is playing like an amputated cat and surely can't keep his place in the squad with such a high level of competition. If Simpson does drop Scooter, who they replace him with will be key. As things stand Yeo won't be a top 6 defender, role being the primary issue. Don't pick him up but hold the faith for a couple more weeks if you're an owner like myself.
McVeigh (55) – This is how Fantasy works. A bloke can look as safe as anything all season, but the week you bring him in it all goes to pot. Hodge did it last week, McVeigh chimed in with a mare this week. Hold him if you're an owner, lick your lips if you aren't!
Oxley (52) – It's time for the Ox to go. He will almost definitely pump out a 120 the week you trade him, but long term it will be worth it. He's averaging just over 70, don't let him overstay his welcome.
McCarthy (21) – McCarthy will be F7/8 for many teams, to which I say hold. If cash is an issue, cull him this week as there are some decent rookie options coming through. If you played him, rest in peace.
Lambert (42) – There came a point on Saturday where I honestly didn't see Lambert on my TV for over 20 minutes. Many thoughts crossed my mind. Am I an idiot? Is he subbed? Both? Turns out he was actually out there, I had to check I wasn't hallucinating every time he touched it. Unless he turns it around quickly he could rot at F8 earning no cash, F7 for Byrne owners like me. Jesus… Fresh meat please!
McIntosh (23) – I was left with no choice but to hold Kmac last week. Yep, after announcing him as my most anticipated rage trade of the season, he avoided the cull thanks to my squad's ill discipline. I'll be taking a donut before I give him another chance.
Dumont (40) – Sickening. He scored well as always, just in the green vest… As always. North deserve every bit of bad luck they get for this cruelty!
Saad (53) – My chopping block is overflowing, and Saad has joined the list. He is a fantastic player and has been a brilliant servant all year, but his time is well and truly up. Trade him before you trade Ox.
Brayshaw (4) – It turns out being one of the best tacklers at your club doesn't leave you immune from Ziebell's self harm antics. He was a nice POD for those willing to splash the extra cash, in RDT especially. These scores burn this late in the season, not only is it ground lost but huge amounts of $$$$ also.
Selwood (25) – As I said, amputee. Within 30 seconds of coming on the ground he had 2 kicks. 0% efficiency, butchering one 20m kick under NO pressure. Geelong can have him.
Goddard (29) – MY GOD. I'm so disappointed to have missed the Essendon slaughter fest, almost as much as I missed hearing Hird's excuses. Goddard has been an awesome trade and was a legitimate option to bring in this week. In fact if I had an extra 3k I guarantee I would've gone Buddy to Goddard. Praise the lord. Oh, you had him? Sorry, bad thoughts… Damn it Brendon.
The Mark Stevens
Journalism stood up fairly well in one of the AFL's toughest weeks, but look no further than Fantasy forums for your weekly tools. Captain hindsight is a regular contributor. "I can't believe people actually got in McVeigh ahead of Boyd." Why of course, who couldn't have predicted the magnitude of their score differential! Then you have the know it all. "I can't understand why people have Yeo, he's not a premium defender." Do they realize that he's averaging 87, and has averaged 99 since Round 5. Cut out the arrogance people!
Here are this weeks nominations…
Goldstein – My only player up for nomination this week, anyone who followed Calvin's advice won't be hesitating to give the big man a well deserved vote!
Pendlebury – A lazy 150 this week for Pendles. He is poetry in motion when in form, Pendles would make a worthy winner.
Boyd – It's about time Boyd earned some reward for his hard work! A golden stubby is the least he deserves after years of service.
Steven – He has become a Fantasy freak show, worthy of your votes yet again!
Armitage – Finally Armo returned to his ruthless form, delivering 38 touches and 140. Many would have had the armband on him, absolute gold.
This Game Sh*ts Me
I'm astounded as to the amount of forced trades we've had to deal with this season, its been unprecedented. Just when I can start to look to fill out my side, Buddy goes and gets a week. I can cop that. Why is it then that my lunch is rudely interrupted by the news that Stefan Martin has now been served with 2 weeks?! Once again I (and many others) were left with no choice but to sideways trade and fail to strengthen our squads. Just think about this, imagine if we were back in the days of 24 trades? I reckon I'd be out already with 3 or 4 rookies still on my ground… And that's why this game sh*ts me.
The Other Bits and Pieces
2184… Not bad. Not good either. The sad tale is my team is so far from completed that even if I manage to have a clean run from now on, I still might not finish my squad with 22 premiums! It's hard to stuff up that bad with 46 trades. I maintain there are masterpieces to come for me this season, another league win has me striving for finals! You only need to peak come Round 20 if things go your way, hold onto that hope! How did you guys fare? Let me know in the comments! I expect we'll see some monster scores.