The Friday Scramble: Round 14
One game down, but thankfully this week we still have 8 to go! Plenty of team changes and injuries still to deal with, so come on in and scramble!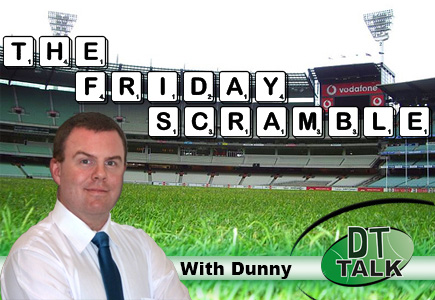 So the Byes are over.  But that doesn't mean things get instantly easier! There are always injuries and suspensions to deal with.  And geez have we had a few of them this week.  We will go over all of these for you and I will give you my thoughts on them.  As well as all of the usual fun and frivolity that goes along with a Friday before lockout.  Also, since we had another game last night, we will have a quick look at your VC choices.
Team Troubles!
So even before we had team selections we knew that we had Buddy Franklin, Kurt Tippett and Stefan Martin out suspended and we had Rory Sloane out injured. So what do we do about this?
So for Buddy and Kurt it is a little late since the Swans played last night, so hopefully you checked out the early edition of the Scramble yesterday.
Stefan Martin is a problem.  His two weeks on the sidelines is very awkward.  If you are playing AFL Fantasy then I would say trade him out, no hesitation.  Given that he is the most expensive ruckman at this point, I would be trading him down to Todd Goldstein who has a great run to the end of the season.
If you are playing SC or RDT then you have to seriously look at your level of cover.  If you can save a trade by relying on your bench cover then that is what I would be looking at.  You might have someone like Shaun McKernan in your forward line bench and then if you can swing him to your rucks via DPP then that would be a great solution to the problem.  He will score ok, but most importantly it will save you a trade.
With Rory Sloane he isn't the highest price which makes straight trading him a little hard if you don't have any cash. Given the number of variables in terms of who you have in your team and how much cash you have I won't go through replacement players.  But there is an option you could take which is to trade him out and then swap a forward into the midfield and pick up a forward. They don't cost quite as much as midfielders.  Or you could do what I have done and actually do a third change which is once I moved a forward into the midfield I flipped a back up forward (Shaun Higgins) and then brought in a defender who are even cheaper.
But our issues didn't finish there.  Then we had Thursday night selections!
Jarryd Roughead is out for a couple of weeks after having a melanoma removed from his lip, hopefully he is all good and back playing soon, all the best to him.  The big news story all week has been the Gold Coast and we see Harley Bennell out for this week, don't be surprised if this is longer (this may have been announced, I haven't found the story if it has so sorry).
I see that Heritier Lumumba is out with a foot injury, could it be that his foot is cold after not seeing the ball this year?  Anyway I am sure that most people have traded him out already. The biggest news comes from the Dogs v Carlton game.  Bailey Dale has been omitted!  Thankfully the byes are over and we aren't relying on him playing any more.  But it does mean that we aren't making cash from him. Sam Docherty is the other one that will affect teams.  He is out with a hamstring injury.  He isn't on the injury list so no idea how long this could be.
We already knew that Hanley was out with his hammy, I doubt many of you have him yet, we were waiting to get him cheap.  And sorry Calvin but surprisingly after having a 4 point game last week, Jake Kelly has been dropped.
On the In side the biggest name is back!  Gary Ablett is back.  However, don't get too excited. He has only played two games so hasn't changed price in SC and RDT yet, wait til he is really cheap if you want to bring him in. Jimmy Bartel is also back this week which is great news, he will also get cheaper!  From a rookie point of view we see Hugh Goddard in this week for his first game.  Will be a vest risk of course if he survives the cut tomorrow.  Also watch for Caleb Daniel, he is only a short guy, but can play.  Comes from South Adelaide and hence I have seen him play a bit (also comes from my son's club team Edwardstown), he is a real pocket rocket.
Great to see Jesse Hogan return this week too.  If you didn't trade him out in the bye's he should score well for you still.  And if you have him on the bench even better as bench cover he is a great option.  David Swallow also returns for the Suns but so too does Keegan Brooksby (another South Adelaide boy, no wonder they can't win a flag, no players left).  If you brought him in a few weeks ago he should now be on track to make some money for you finally!  But most importantly, be really cheap bench cover in the rucks.
#AskDunny
@pkd73 @DTTALK Docherty with a late hammy.. Hold or Fold??

— Jai Aspinall 🏳️‍🌈 (@ProtoType_47) July 2, 2015
I think Fold.  He hasn't scored over 100 since round 2 and his last 7 games have only netted two games over 83 points. He simply isn't delivering and hence he can't be relied upon.  Also we simply don't know how long he is going to be out for.  Would be an easy decision (AFL Fantasy).  In RDT it would depend on trades, but I would still seriously consider it.
https://twitter.com/deanospilkin/status/616582341641703425
I would be going Beams v Freo as your captain.  I worry about Sauce v Blicavs.  I think that Blicavs athleticism will count against Jacobs.  He will score well, but I don't think massively.  I think Beams will be fine without Stefan Martin.  Berger will have to step up.
@WarnieDT @RoyDT @Benji_DT @CalvinDT @pkd73 @JeppaDT
Best at M7 for the long run to get this week, Jelwood,Barlow,JPK,Swallow,Redden?

— Alec Mckenzie (@bigwilfried) July 2, 2015
Personally I go JPK here.  I think that he is the better chance to go big and have a good average.  I usually would say Jelwood and Barlow, but they have been too inconsistent this year so far. Obviously JPK has played already this week, so you could bring him in next week.  If you still need someone to bring in this week of that crew I think I would run with Barlow then Jelwood.  I don't like the idea of Swallow at this stage as he is just coming back and Redden in a team with Beams and Rocky to come back shortly is also a bit of an unknown for me.
Loop De Loop
So, another Thurs game and another loophole opportunity.  Let's see how Calvin went with his Loophole top 5.
Brad Ebert – Very quiet night for just 77 points, his second lowest score for the year.  Only 18 touches and 11 of them handballs.
Luke Parker – had 112, Calvin had the line at 115, he could be worth taking if you don't have any of Calvin's top couple for captain.
Dan Hannebery – 146. Take this and don't hesitate.
Robbie Gray – Came good late for 112, just like Parker, could be a good option, but it is your call.
Tom Mitchell – 105 after following Boak for most of the night.  Not enough.
If you had JPK then bloody well done with his 151.  Bank those suckers and enjoy the rest of the weekend! I looked at him as VC in Supercoach, but decided not to take anyone from this game.  Big mistake! The only other guy I would take is Kieren Jack with 121.
Things to Remember
Trades are NON REVERSIBLE today in RDT and SC, however, I think you can still in AF.  Don't get caught out.
If you want to use your VC score, make sure you fully understand how the Loophole works!
Hopefully you have moved all your premo's back on field after the byes.
Most of our players had a good start on a Thurs night, so just be prepared for the absolute carnage for the rest of the week #FantasyGods
Good luck for the rest of the weekend!  I will be in a rubbish mood now since Port have lost on a Thursday night.  However, looking forward to next Thurs night at Adelaide Oval.  Even if we lose, I win since my son and I are playing AFL9's at half time!  Keep an eye out down the northern end for an absolute spud of a player, that will be me!
Also, don't forget to check if you are still in the Eliminator and SC Cup in RDT and SC respectively, they had a hiatus over the byes but are back this week!  Catch you all on twitter @pkd73 over the weekend.