The Thursday Scramble…. R14 early edition
Here's a quick scramble from Dunny looking at what to do with Buddy.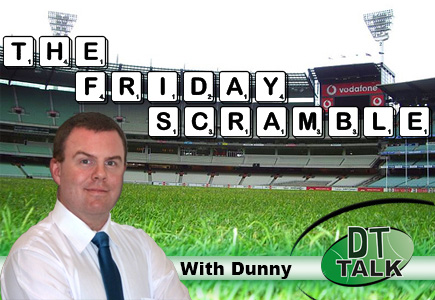 Hi guys, this is just a quick one given that the Swans are playing tonight.  I thought I would put my thoughts up in regards to the suspension for Kurt and Buddy.
If you have them in your side I would suggest that you hold them if you have bench cover.  This is particularly true if you are playing RDT or SC.  Hopefully you have adequate bench cover left over from the bye rounds.  You don't want to be burning a trade at this point. One week is not enough to worry about blowing a trade.
Even in AFL Fantasy if you trade them out it can be tough to get them back in again.  I would be trading them out only if you have absolutely no other issues to deal with or you were going to trade them out anyway and you are planning to keep the replacement for the rest of the year. If you downgrade to someone and then use the cash on another trade it is nearly impossible to get that cash back to bring Buddy back in (let's be serious no one has Kurt do they?)
So there you have it.  I would probably hold Buddy this week if I had him (seriously guys, you don't have Kurt do you?  really?)
Check back tomorrow for the full Friday Scramble.