The Next Step: Mid-Season Review
This pre-season, I tasked myself to run the gauntlet and try to predict those who were every chance of rising up; of climbing the ladder to fantasy relevance; and telling the football universe "I am here". Who's fired; who's fizzled; and who's made me look like a genius in The Next Step?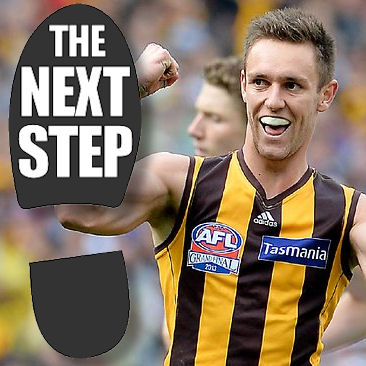 Recent AFL history is littered with remarkable stories of players both young and mature proving themselves on the big stage; of seizing the responsibility for their team and taking their game to new heights – often in the span of just 12 months. The Next Step was a pre-season series that I rolled out in January/February this year that moved the spotlight over each club to find one player who was ready to show the footballing world that they're ready to stand up and deliver for their teams and us as fantasy coaches.
I tasked myself to run the gauntlet and try to predict those who were every chance of rising up; of climbing the ladder to fantasy relevance; and telling the football universe "I am here". Now sitting at Round 14 of the AFL Season, with over three months of exposed form to look back on – let's take a look back to see who I stuck my neck out for – who's fired; who's fizzled; and who's made me look like a genius?
In Week One, I looked at Crouch, Lynch, Neale, Bird and Docherty – resulting in mixed results from the first half of 2015.
Brad Crouch has had a remarkably tough time so far this season, failing to play a senior game following a recurring, crippling foot injury. He was set to return in the next week or two; however recent news has impeded his chances with the young midfielder expected to miss another two months, meaning his season could well be over.
Result: Miss
Tom Lynch has continued his steady rise as one of the best young key position players in the competition. Due to the Suns' incredible injury problems, Lynch has been forced to push back more often than he'd like – resulting in less goals per game (1.8) and a lower fantasy average than expected (76.9). With troops returning, I expect Lynch to storm home and prove me right.
Result: Hit
Lachie Neale has been one of the big success stories of the season, and one that I'm proud to say that I backed in from the get go. Well done if you managed to grab the breakout star in draft leagues, as you'll no doubt (like me) be loving his current average of over 104 fantasy points and 27 disposals per game. Relishing more responsibility in the Freo engine room, he's had some massive games in 2015, including 162 and 151. He could well be the most improved player this season should he continue.
Result: Hit
Craig Bird has largely been irrelevant this season to date, however for the most part it hasn't been his fault. After being forced to the reserves, he's hit back by averaging a ridiculous 135 points across four matches in the NEAFL – proving that he clearly belongs at AFL level. Unfortunately for him, there's just too much competition and depth at the Swans right now. I hold out hope that he may yet come good should he get his chance again.
Result: Miss
One of my favourite players rounded out Week One in Sam Docherty. He's met my expectations thus far in 2015 by raising his fantasy average by five points to stand at 83.2 heading into Round 14. He may spend a short time hamstrung by a minor strain, however will return to be a core component of a building Blues team buoyed by recent success.
Result: Hit
In Week Two, I previewed Gunston, Cunnington, Hurn, Hrovat and Tyson, with even less success.
Jack Gunston has been outstanding this season. Aside from a poor game in Round 12, he has been extremely impressive, with 10 out of his 12 games at 75 or above and 5 of 100+. He's sitting on 2.1 goals per game and 16.5 touches to own a career-best average of 89.3 heading into the second half of the season.
Result: Hit
Ben Cunnington has slightly digressed so far in 2015, lowering his average by six points per game. He's been remarkably consistent of late, however has still only managed to top the ton on one occasion. There's every chance he charges forward and storms home to give me credit here, but at this stage he's failed to meet my expectation.
Result: Miss
Shannon Hurn has perhaps been the most disappointing of this bunch who've played every game of 2015. With a paltry fantasy average of 63.1, he's dropped his average considerably and only managed to score at 87 or above twice. Barring a huge comeback and resurgence in his fantasy role/form, Hurn will likely fade into fantasy irrelevance henceforth.
Result: Miss
Nathan Hrovat is another who has failed to make progress this season, only managing 7 games for a 54.4 average. These figures appear worse when you consider that he's only had one vest-affected game. Like a few others, there's the distinct possibility that he'll come back strong and breakout in the second half of 2015, but the likeliness of this happening is reducing by the week.
Result: Miss
Dom Tyson is another to have regressed slightly so far in 2015. Whilst he had a small injury layoff between Rounds 8-10, his figures overall aren't overly inspiring. He has, however picked up his game since a poor first month – averaging over 95 from his past four starts. Whilst he's another in the miss column, I've no doubt that he'll flip sides come the end of Season 2015.
Result: Miss
Week Three saw me put the spotlight on Shiel, Vlastuin, Armitage and Elliott – a group that steadied my belief in my own judgement, with two of these emerging as young guns of the competition.
Click here to read part three.
Dylan Shiel started the year with a bang, averaging 105 fantasy points over the first two months. He's dropped off slightly over the last few games, but should come back out refreshed post-bye and get back to his dominant best. The Judd comparisons have come thick and fast, with the young Giant becoming a key component for his – and his fantasy coaches – sides.
Result: Hit
Nick Vlastuin has also disappointed fantasy-wise in 2015, with just an average of just 15.6 disposals and 59.2 fantasy points to his name. Whilst he may be playing well in his defensive-minded role, a high score of 98 (Round 1) and nothing else close to that mark suggests that this may not be the season we get to see the best (fantasy wise) of Vlas.
Result: Miss
David Armitage… where do I start? For years he's been the equivalent of a fantasy 'tease' – never quite living up to the hype. Now 27, Armo has finally had the breakout season fans have been hoping for. After an uneventful opening game, he has since exploded – averaging over 120 between Round 2 and 10, including nine straight hundreds. Rocking a 112 average, this was one of my best calls.
Result: Hit
Jamie Elliott is in a similar bag to Lynch in that he hasn't really digressed but also hasn't quite taken the next step as yet. It seems that the small forward's priorities still lie in the forward line – netting two-thirds of his possessions in the forward half. With the Pies' doing well this season, this may continue to be the trend – however there's any chance he'll foray into the midfield more in the second half to increase his figures above his current 81 fantasy average.
Result: Hit
Finally, Week Four had me run my eye over Wines, Mayes, Bellchambers and Duncan – a foursome that left me on a down note due (largely) to external factors.
Despite only playing eight games so far, Ollie Wines has been outstanding this season. Averaging 26 disposals and a touch over 100 fantasy points, he's increased his numbers by a positive amount to deem his first half a success. Now fresh and ready to return after the bye, we can expect a fit and firing Wines to storm home and become  a strong fantasy contributor for his coaches.
Result: Hit
Sam Mayes has struggled with injury and poor form in 2015 – having just the four games and a sub-50 fantasy average to his name. Whilst this can be deemed a failure thus far, his five-goal, 150 point fantasy game in the NEAFL could see him recalled for Round 14. Should this happen, there's every chance Mayes will come home strong and sustain a good fantasy average over the remaining ten rounds.
Result: Miss
Tom Bellchambers had the weight of thousands of fantasy coaches on his shoulders in February. He was considered one of the best mid-price options and had the sole ruck job at the Bombers in his control. Fast-forward to Round 14 and he has just the 10 games to his name at a disappointing average of 63.5. To make things worse, he'll now miss two months due to injury and with that – any chance of making a meaningful fantasy contribution in 2015.
Result: Miss
Mitch Duncan started the season at odds with fantasy coaches, until he pulled his finger out and fired for two 130+ scores in Rounds 5 and 6. Unfortunately for Duncan (as so often happens in footy), he was struck down by a foot injury in Round 7 – potentially ending his season and delaying his breakout season for another year.
Result: Miss
Overall, my hit/miss ratio was below what I expected (8 x hits, 10 x misses) and becomes a valid case study in fantasy football for promising players i.e. all signs could point to an amazing year, but it's near impossible to get them all right. It's clear that factors like injury and opportunity have crippled the chances of most of those in the 'miss column' – a sign all too common in young footballers. I'm hopefully that by the end of year review, and after another 10 games down the track, I'll have a more favourable amount of 'hits' and greater success stories to tell from this year's crop of outstanding breakout talent.
Until then, cheers for reading. Feel free to leave any thoughts below, and give me some feedback on Twitter @McRathDT or help spread the word by using the hashtag #TheNextStep