Lampe's Price Watch- Round 14
With many coaches looking to upgrade the final few spots in their team, the players you choose from this point on on, will have a huge impact on how you perform come finals time.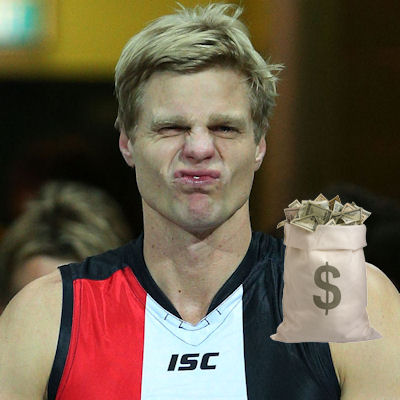 Round 13 was the best bye round for a lot of teams, with the majority of coaches able to field at least 18 players, a number of whom were premium options.
Round 14, and the return to 22 players, can't help but bring a smile to my face. This is even though, like much of this year, the carnage has already started before the round has begun (with Sloane, Franklin and Martin all out). However, just look at the bright side of things, and the realistic hope that you may finally be back to a 2000+ score.
With many coaches looking to upgrade the final few spots in their team, the players you choose from this point on, will have a huge impact on how you perform come finals time.
Here is a look at some of the best and worst options this week.
Defenders:
Buy: 
Michael Hibberd ($452,000): Over the last five weeks, Hibberd has returned to the form that made him one of the most reliable fantasy defenders of the last two years. During this period, he has scored two hundreds and has a lowest score of just 83. With a break-even of 69, and still down 54k from his starting price, you will be getting Hibberd under-priced for what he is capable of producing. If things go as planned, Hibberd is a relatively unique option (10.84% ownership), who will produce consistent 85+ scores, while other defenders have a much higher standard deviation between their best and worst matches.
Looks to be one of the few Essendon players who has actually upped his game since the news of WADA's appeal. Has a good shot at being a top 10 defender from this point onwards.
Kade Kolodjashnij ($467,000): I find it hard to include K-Kolo on the trade-in list, due to his horrendous start to the year (although not entirely his fault, after being used as a shut down player by Rocket Eade). However, his consistent run of good scores can't be ignored any longer. K-Kolo, has only one score under 85 in his last eight matches, including three hundreds in his last five outings. Although you would be getting him nowhere near as cheap as you could have a few weeks ago, he is still significantly cheaper than the top four to five defenders.
With a break-even of 76, you are getting him under-priced, if his current form continues. With more unreliability in the defenders, he may be worth a punt at D6.
Avoid: 
Luke Hodge ($570,000): It's hard to be too harsh on Hodge, because he has been an absolute fantasy gun this year. He did however, produce by far his worst fantasy performance of the season last weekend. Unfortunately, his 13 touches and 52 fantasy points, also come during the bye rounds when he was needed most. I am expecting Hodge to bounce back to his normal self against Collingwood this weekend, a team he has scored 103, 114 and 135 against in his last three matches. However, if you are playing the break-even game (and looking for value), give it at least one week to get Hodge, who may be under $550,000 in a few weeks time.
Has been fantastic all year, so you can't hang him for one off week. Still a fantastic option, but with the second highest break-even in the competition (for non-injured players) there is better value for money right now.
Midfielders:
Buy: 
Jack Macrae ($566,000): Macrae is one, who many hoped would be able to take his game to an even higher fantasy level this season. After a relatively poor start to the year, which included being dropped, he looks like he may be starting to come to the party. Macrae has been in terrific form of late, scoring 117, 120 and 130 in his last three. Although he is not as cheap as he was a month ago, you are still getting him 25k less than his starting price, and with a break-even of 81, he may be close to 600k in the near future.
A unique option (2.24% ownership), who has an incredibly high ceiling, especially for such a young player. Has the potential to be a top eight mid come finals time.
Adam Treloar ($566,000): Another young gun, exactly the same price as Macrae, who people expected big things from this year. Again, he started the year relatively underwhelmingly, but has been in sensational form of late. Treloar has scored five hundreds in his last seven games, with a low of 87 in that time. The similarities between the two continue, with Treloar also having a break-even of 81, and under-priced based on recent form. Being a unique option with just 2.98% ownership, he could help you in league matches and overall rankings alike.
The addition of Ryan Griffen, and the first tag he generally takes, has freed Treloar up even further this year. As long as he can stay clear of the first tag, he should comfortably average 100+ for the rest of the year.
Avoid:
Jordan Lewis ($580,000): After watching Jordan Lewis on AFL 360, the reason for his significantly reduced fantasy numbers may have been revealed. Lewis stated on AFL 360, that he was paying close attention to Dyson Heppell (limiting his fantasy game), while he was actually being tagged himself. This is an horrendous situation, for any player, to produce big fantasy numbers. As a result, Lewis had another score well under 100, and his break-even sits at a massive 160. With a three round average of just 79, Lewis must be avoided for now. If he can eventually get back to the blistering form of last year and early this season, he will be an absolute steal at under 550k.
Avoid for now, due to a combination of factors. Hopefully, he can bounce back to form and a more suitable fantasy role, against Collingwood this week. It is a team he has huge numbers against, in recent times.
Jobe Watson ($472,000): Another Essendon player who has been struggling of late. Watson does deserve some reprieve, given that he missed round 10 with a groin injury, at least somewhat explaining his poor form. That being said, it still doesn't change the fact Watson has scores of 55, 57 and 64 in three of his last four matches. For those who are looking to find value in an under-priced premium, I would advise to look past Watson for now. With Rockliff likely to be back soon, and Barlow hopefully getting back to his best in the second half of the year, there will be better options under 500k in the next few weeks.
Will be a steal if he can get back to his best, but you can't trade him in, based on current form. If he is close 450k in a few weeks, and shows some good signs, take a look at him then.
Rucks
Buy:
Todd Goldstein ($557,000): Out of all the ruckmen you can trade Martin to this week, Goldstein would be my number one target. With a break-even of just 63, he is likely to continue increasing in price in the coming weeks. Fortunately, this also means that you should be able to sideways trade him to Martin (when he returns), if things suddenly turn sour. That being said, I don't expect Goldstein's form to diminish, in the near future. He has been massive of late, with an average of 124 in his last four matches. He comes across Gold Coast this weekend, a team that allowed both Kreuzer and Wood to score 109 last week, and is by far the AFL's worst team, on and off the field right now.
A few weeks ago, I rated him as the fourth best ruck-men behind Martin, Jacobs and Mumford. With Mumford down and Goldstein's amazing form, he may actually be one of the top two. 130+ could be on the cards this weekend.
50/50:
Kreuzer ($297,000) and McKernan ($233,000): Both played easily their best game for the year last weekend, scoring 109 and 97 respectively. They also have plenty of coin to make, with a break-even of 12 for Kreuzer and -8 for McKernan. However, do not expect scores like this from them every week. An average somewhere between 65-75 is more realistic, IMO. Since Kreuzer has to share the ruck duties with Wood (and consequently time on the ball) I believe McKernan is the slightly better fantasy option, as long as he can keep the ruck duties to himself.
Both are solid options, but weeks like last will be more of a one-off thing. Personally, I would set and forget in the rucks, but if you are looking to save money (and get some reliable cash cows into your team) these are two of the better options right now.
Avoid:
Ivan Maric ($462,000): I have to give Maric a mention, because he is in almost 10% of teams. This is more then Martin before his suspension, and close to as many as Jacobs and Blicavs. To be fair, Maric isn't the worst option going around, and should be better than his three round average of 77. However, with only two on-field spots available to you in the ruck department, and with the top guys significantly better than him (15+ points on average), you should look to either trade in the very best or go right down to a Kreuzer/McKernan type, IMO.
Has a high break-even (106), and has had a relatively poor month. As he is in the most competitive line on your field, you should look to get yourself the very best in this position.
Forwards:
Buy:
Taylor Adams ($499,000): As hard as it is for me to say it, Adams must be looked at this week. With Monster scores of 126 and 146 in his last two, Adams is producing the kind of form many hoped he would, with increased midfield time at Collingwood. Once again, I can't help but cringe at Adams' scores over the last two rounds. Unfortunately, I traded Adams out when it was revealed he was missing round 10 with a broken toe. Another trade that has turned out horrendously, and may even trump my Clancee Pearce debacle! With a break-even of 39, Adams has some serious coin to make, if he can go 100+ again this week.
I'm not convinced he can be a top six forward, but he is definitely a chance for the top 10. He has hit career best form in the last month.
Brendon Goddard ($559,000): A fantastic option for any team. Goddard is one who I have wanted in my forward line all year, but haven't quite been able to secure. He is one of the in-form fantasy players of the competition, scoring seven hundreds in his last nine matches, with a low of 90 over this time. That is a very high basement, for any player, over such a long period. The other bonus of owning Goddard is that he is in just over 26% of teams, meaning he will be a point of difference in many league matches you play from here on out.
In my opinion, Goddard will be the second highest averaging forward behind Swan (Who hopefully every good coach has!) for the rest of the year. At under 560k, and with a break-even of 90, he still holds value for such a good player.
Nick Riewoldt ($499,000): After another strong fantasy performance, albeit failing just under 100, I would again advise coaches to strongly consider  trading in Riewoldt this week. With a break-even of 65, it is highly likely that this is the last time you will see him under 500k for a long period of time. Riewoldt comes up against Essendon this week, a team bereft of form and confidence. Roughead and Gunston managed 140 and 98 on them respectively last week, and it is also a team Nick loves to play, scoring 111, 93 and 135 in his last three against them.
There is every chance he can end up as a top six forward (on averages) by seasons end. At worst, you are getting a unique option, who is under-priced, and is almost certain to be a top 10 player in his position.
Avoid:
Luke Dahlhaus ($516,000): Unfortunately, Dahlhaus's fantastic start to the year has caught the attention of opposition coaches. After beginning the year with eight hundreds in his first nine games, Dahlhaus has struggled to break through some tight tags in the last few weeks. As a result, he has scored 69 and 70 in two of his last three. With a break-even of 119, it is likely that he will continue getting cheaper in the next few weeks. By that stage, he will have hopefully worked through the extra heat he is copping.
Still a good forward option, but should be avoided right now. Could be an interesting consideration, if he drops under 500k in a couple of weeks time.
Round 14 advice: With the byes over, you should be looking to complete your team as soon as possible. That being said, it is more important then ever, to pick players who you think will be in the top 10 in their respective lines. In order to do this, you will still need some good cash cows, but try to avoid playing as many as possible on your ground as finals approach.
Final Thoughts: Once again, a combination of players not getting up this week (Grundy, Acres) injuries (Sloane), vests (Kavanagh, Sloane and Mitchell) and underperforming premiums (Hodge, Lewis, Heppell and Martin) reduced Lampshade's Lads to 1437 in round 13. My second poor score in a row.
As a result, I dropped a further 587 places, to 1558 overall.
I am hoping, that a return to 22 players will bring a change of form, and a much needed 2000+ score this week.
Good luck to all you fantasy players out there, and I hope your team fares well this week.