Roy's Trade Talk – Round 14
The byes are a distant memory! Injuries and suspension are the latest hurdle we need to navigate!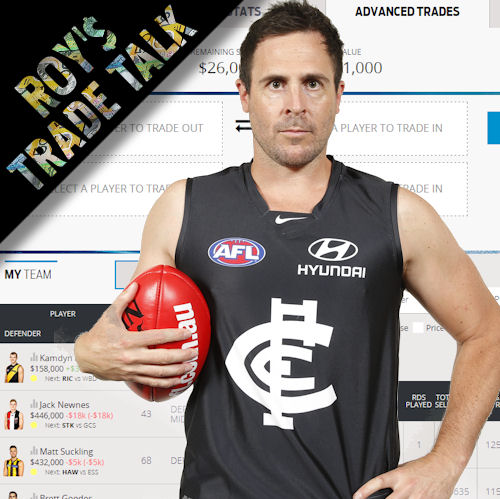 The byes are gone but the injuries and suspensions have replaced them, just to ensure we have some sort of a headache leading into what should be a celebratory round as we return to some form of normality with 22 players required on the field and all 18 teams taking the park. Here are a few blokes that I think deserve consideration to bring into your team.
Hurts Me
After trading him out to avoid a zero over the byes with a sore toe of all bloody 'injuries' Taylor Adams (FWD/MID, $499,000) has rubbed salt into my trade regret wounds with two of his career best games upon return scoring 146 and 126. It leaves him with a break-even of just 39 leading into this week's game against the Hawks. He looks in great form and looms as a great replacement of the likes of Buddy or Sloane.
Tag Dag
Living in the shadow of Chris Judd, Marc Murphy (MID, $540,000) has avoided a tag for years but with Juddy gone… never fear! Opposition teams still don't go to the former number 1 pick, they go to a second year player Patrick Cripps. Murphy seems to be flourishing under his new coach with a three game average of 119. He has four 100's in his last five games and two of them are over 120, suggesting he may finally be back to his best after a disappointing few years. He has a break-even of just 76 leading into this week's game against the Dogs.
St-Effed Up
Stef Martin owners can rightfully be pissed off that he is out for multiple weeks when other players around the league seem to be looked after. Upgrading a bench player to cover him looks a great option as Martin is too good to part with. Options include Shaun Mckernan (FWD/RUC, $229,000) who embraced his role as the number 1 ruck for the Bombers with 97. It gives him a break-even of -8 which ensures he makes some cash, while also being capable of a respectable score.
Special K is also within reach and looked great in his last outing. Matthew Kreuzer (RUC, $297,000) had a field day against the Sun's with a season high 109 from 19 possessions, 8 marks and 22 hit outs. He has a break-even of 12 and would be a handy emergency if you have cash to burn.
If you are chasing points and want instant reward, the option is an easy one! Bring in Todd Goldstein (RUC, $557,000). He is in career best form with a three game average of 121 and he has only scored under 120 on one occasion in his last four games. He has a break-even of 67 and given the Blues had 2 rucks score over 100 vs his next opponent the Suns, he is sure to smash it! Especially when one of those blokes was Cameron Wood… Yes I know!
Click here to subscribe on iTunes.
Twitter Time
https://twitter.com/NeverNotSpurs/status/615454034418208768
He is a waste of a premium spot at the moment! Upgrade if you have the opportunity.
@RoyDT @DTTALK i'm quite sure 90% of your answers will be "Trade in Goldy… he's the best ruck ever" #RTT #AFLFantasy

— Nate (@Natskis) June 29, 2015
I am so predictable these days!
https://twitter.com/chrisbobbyjones/status/615446940730310656
That cash would be handy, but I do rate Dusty a lot higher than Lids. I would grab Dusty.
@RoyDT How much of priority is it to bring back in Rocky again? #RTT #thirdtimesthecharm

— Matthew Pham (@Matty_Pham) June 29, 2015
I will try and do it within two weeks of his return.
@RoyDT @DTTALK Jack Steele and Shaun McKernan must haves? #RTT

— Abhishek Behl (@Abba_Behl) June 29, 2015
No, but both are great picks.
@RoyDT hold or dump buddy #RTT

— Matt Talbot (@Talby1234) June 29, 2015
Great chance to dump! -1 in a half of footy and a suspension…
Cheers guys,
Have a good one and be careful of those Dongrades!