The Weekend Wash-Up – Round 13
It's that magical time of year where we get to quote NSYNC and wave bye bye bye to the byes.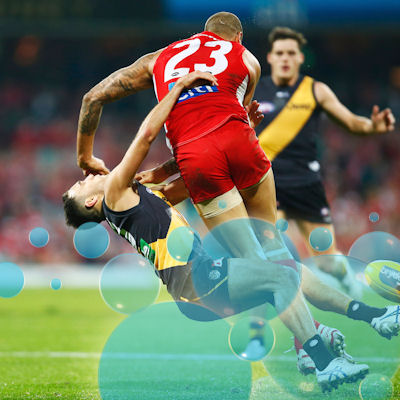 It's that magical time of year where we get to quote NSYNC and wave bye bye bye to the byes. Sadly, I waved goodbye to any slight hope of recovery with one swift Friday night fixture. Let's wrap up the weekends proceedings for a round that will forever be known and the week of the vest.
Legends
We're really short on legends this week, bring back the 9 game rounds!
Neale (120) – Oh captain my captain! Whilst every premium I bring in goes to sh*t, my riskiest pick of the season continues to defy the odds. Neale has averaged 104 this season, more importantly he has built consistency! He has notched 6 tons in his last 8 outings with just 1 score below 90. This has included 4 x 120 scores for an 8 round average of 112. Legend!
Newnes (114) – Finally we're starting to see the best of Jack Newnes! If I'm being honest, I don't think it will get much better than this. An average of just over 80 is his benchmark, however the cash he makes now could be vital! Hopefully he can squeeze out a couple more decent scores.
Macrae (117) – This kid is a jet! He is thriving in a more prominent midfield role, increasing his clearance and contested possession numbers. This should mean more consistent scoring as long as the tags stay away. I love owning him, he goes about his footy in the right way… With a perfect fantasy brand!
Adams (126) – After the pain he has put me through this season labelling him a legend hurts, but there's no denying the man is on fire! I'm not convinced as to whether this is his new standard or if another dry spell is on the way. I've been wrong with him before, I'll be avoiding. Kudos to those who jumped on board!
Roughead (140) – Lucky there weren't any league fixtures this week, Roughy was at it again! Victims were spared.
Goddard (130) – I don't really need to introduce this bloke, he's a ball magnet. BJ will average just over 100. You will feel safe owning him. I'm $2k off getting him in for Buddy, therefore he makes the perfect inclusion for your sides this week.
Martin (136) – Stef is a beast, plain and simple. At worst you are going to get a score of 95, most weeks you'll get a comfortable 110. Basically, you can't go wrong. Legend!
Losers
Of course we're not short on losers… Maybe the 9 game Rounds aren't such a great idea.
Hodge (52) – I tend to be sour when my premiums let me down, so it doesn't take much imagination to judge my reaction to Hodgey's performance. "But Matt, he had averaged 114 before this week." True! I had to watch him slut it up every single week for 10 Rounds before having no choice but to pull the trigger. Yep, I got him in this week. Now he is plummeting in value, which is exactly what I had been waiting for all year. Woeful.
McIntosh (25) – This will be my most satisfying trade of the season. I wanted nothing more than to dump Kmac last week, but I needed him as back up. Of course I didn't end up using his woeful score, even if it was due to a vest. Having just bled $30k with a BE of 97, he is a must trade. I can finally be at ease, to be fair with that hair I should have known better than to hold him.
Lambert (21) – If you thought McIntosh's recent performances were below par, Lambert decided to come out and drop the bar even further. I wasn't sure if he had been vested or not at times, it was that bad. I'll be shocked to see him in the squad next week. He can sit at F7 next to Byrne… That burns. Byrnes! Anyway…
Mitchell (48) – (-3) John Longmire. Sure this wasn't Tom's finest performance, however conditions were slippery and Sydney had 3 big talls contributing close to nothing. The benefits of the sub allow you to get more run into your side. Why then are you substituting a ball winning midfielder, when Tom Derickx is out there?! Tippet was just as worthy of being subbed, either way it seemed a clear tactical shocker and Richmond continued to run over the top of the Swans. Good on them, I suspect Mitchell will be dropped back to the 2's for no reason other than John's sick obsession. Did Mitchell do something to his daughter? I don't even know if he has a daughter, point is enough is enough. #PrayforTitch
Sidebottom (63) – My hate for Hodge is outdone by only one other, the man of no Steele. I had a plethora of options to trade in prior to Round 11. Treloar was high on my watch list as a Rd 13 candidate, while Montagna was the Rd 12 option. Even Ebert was in and out of my side. Remember Sidebottom was $580k at the time, comfortably the most expensive option of the lot. After a disastrous season I decided to take the 'safe' option. Not getting Joey alone has cost me 156 (Yes, 156) points in 2 weeks. Sidey is likely to drop below $500k this week, what's next Fantasy Gods!
Franklin (52) – … I think I feel a panic attack coming on. On Friday I had to witness the worst 60 minutes of football by a Fantasy premium of all time, not that he deserves that tag. On 50 heading towards half time his usual SCG exploits looked to be saving me from a horror DT game. Let's enter Buddy's brain for a second. There's a loose ball. Do you a) Pick the ball up, give a don't argue, dummy 4 players before slotting one home from 60. Or b) Run 20 metres beyond the ball to steamroll a Richmond player and put him into next week. To make things better, he decided to score negative in the second half. Yes, he went backwards. I've got nothing more to say.
Kavanagh (24) – As soon as you get complacent, the Fantasy Gods will strike you down. Kav is never going to be a reliable source of points, however he is solid back up on your bench. Thank Hardy for this one. Surely it couldn't get worse for the 'dongrades'?
Edwards (8) – Oh boy… That's impressive stuff. 2 handballs, 1 tackle, 1 vest. A well deserved one at that. Last week he had a negative BE, now he is at serious risk of falling in price if he even stays in the team. He won't… He's still done better than Byrne though.
Kelly (4) – Seriously. We need to see your best during the byes, but even then I'd consider 20 to be the minimum score a half co-ordinated player could manage in a full game. Four? Surely there's something else at play here… Match fixing? Either way if you own a player worth $229k with a BE of 90, you know it's probably time to get a mirror and question what you're doing playing dream team.
Sloane (68) – Oh my god I'm so sorry. Even though I've had my fair share of injury pain, I'm struggling to imagine what it would be like for people who have been burnt by Sloane twice! This is heartbreaking. I've got nothing to console you with either. At least you can't blame yourself for this one…
The Mark Stevens
Let me kick of proceedings by dealing a glancing blow to the umpires. Sometimes the game just needs to be left alone, and one free kick for Tom Lynch on Sunday summarised the men in greens weekend (Pulled by the jumper to break up a wrestle… Something that happens 30 times a game). Ray was also in fine form, paying a 50m penalty at a crucial time in the game for abuse. Seriously, just let it slide. I really don't require your face on my TV Ray.
What irked me the most this weekend was an incident on Friday night. As Deledio was lining up on goal in the third term, the Tigers trailed by 26. Suddenly a free kick was awarded in the middle of the ground, followed by possibly the worst minute in AFL history. Confusion reigned supreme (as always), before a 50m penalty was awarded and the Swans were gifted a shot on goal to make it a 12 point turnaround. Problem number 1, what was the infringement? I thought it was an interchange error, but it was later said to be a penalty for allowing the connection sub on after 18 minutes and 30 seconds. That is just wrong on SO many levels. 20 minutes is the max that a player is allowed to be temporarily subbed for, fair game. If a team goes over that 20 minutes, they should be punished for taking an unfair advantage. But less than 20 minutes? What is the gain subbing him back on after completing the concussion test 90 seconds early? The only possible solution I can imagine is that someone stands their with a timer and the player is only allowed back on at EXACTLY 20 minutes. What if it goes 20 seconds over? Dear lord what has this game come to.
Second problem, and this affects the interchange rule as well. A free kick is awarded in the middle of the ground, fair enough. Why is their a 50m penalty on top of that? It's not worth a free shot at goal! The penalty should be a free kick at the next centre bounce, simple. We make it an overcomplicated game sometimes…
Here are your nominations for this weeks stubby… Get voting!
Neale – We're short on options this week, however Neale's first 12 games are worth a vote in anyones books. He was fantastic again as a vice captain option.
Newnes – NEWNSEYYYYY! He was mighty impressive, a ton in our greatest time of need.
Martin – Absolute lock for me. Not only have I had the joy of owning him in Fantasy, many like me will have snagged him in the third round (or below) of our drafts! Long live the maligned king!
Adams – Having backed up his 140 with a 126 on return from injury, his owners must surely have him at the top of their Christmas card list.
Goddard – I feel like I haven't given Goddard enough credit this season, here is a chance for his owners to be heard! Definitely worthy of your votes.
This Game Sh*ts Me
Vests. Oh my goodness was there some sub action this weekend! When it rains it pours, and the kermits were out and about. I managed a respectable 4 vests, there were many with at least double that figure! Don't misplace the fact that I dodged the vest bullets for me having a good round, god no! On Friday night, my 6 players scored a laughable 296 points. That included 4 'premiums'! Buddy summed things up for me by running 30 metres (Yes it gets further) past the ball to k.o an opponent, before deciding to pack up shop at half time. If it wasn't vests or suspensions, it was the predictable capitulation of my $600,000 acquisition of Luke Hodge. This game just sh*ts me.
The Other Bits and Pieces
I ended up posting 1651. Solid yes, but I had 20 players available and this was the bye week I had set myself for. Macrae, Neale and Stef Martin aside my team resembled a basket case. More worryingly, league fixtures are back this week! On a positive note Kmac can see the door, and I will be in a better state of mind for it. How did you guys fare during the byes? The fact that I probably scored below par every week and went up in the rankings shows how far down I am, did you guys manage any worse? I need to hear it! As always thanks to listening to me whinge for 2000 words, I hope it helps ease the pain. See you all next week!