The Friday Scramble: Round 13
Last round of the byes. It is supposed to be the easy one, but as usual there is nothing easy about it! Jump on in and scramble your way to lockout.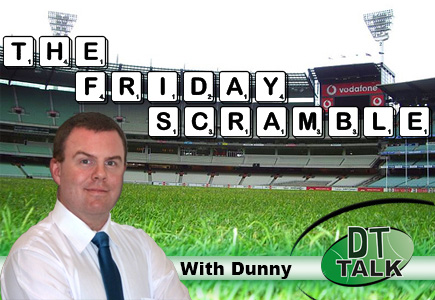 Round 13 is the easy one they said, you will  have a heap of players on field to choose from they said.  Yeah well I will tell ya what they said…. everything they said was rubbish! All the bye planning we had done in the first 10 rounds was ruined by some spuds that decided not to show up at all throughout the first two weeks and then ditch us this week for a better offer.  However, it isn't all doom and gloom. There are some good things about round 13. We now have 12 teams worth of players we can choose from for upgrades and downgrades and it is the last week of byes!
Are the byes a good thing for overall rank?
Well I am probably going a little early here as there is still one round to go, but if you are like me and you read DT Talk and listen to The Traders over at AFL Fantasy you were probably fairly well prepared for the bye rounds.  If that was the case you should be shooting up through the rankings. I have found that in the last couple of seasons it is when I have done the best. So whilst they are an absolute pain they do put some space between you and the other players who haven't been as diligent as yourselves.
Obviously the poorer your start to your year the more you will shoot up the top, the higher, the less the impact.  But if you had an absolutely shocking start (like me) you could now find yourself with a half decent platform heading into the second half of the year.
Selection Issues
Well last night didn't give us any selection issues to worry about really which was nice!  A great thing really.  And below is what we have to deal with for the remainder of the weekend.
Over at the Tigers we see Kane Lambert come back into the side. His first game scored him a 23, so it will be interesting to see how he goes this time around now that he is back from injury.  Connor Menadue was an out for the Tigers though after playing 5 games for an average of 29.4.
Many coaches were planning on bringing in Orazio Fantasia this week, or maybe they went early on him last week.  Well sadly he has picked up a groin injury and is out this week.  Perhaps he picked it up Thursday given that he hasn't been on the AFL injury list all week!  This is very frustrating when this happens.  An in for the Bombers is Shaun McKernan if you are looking for a cheapish Ruck/Fwd who scored a 54 in his only other game this year.  If he goes ok he could see himself in the side for a while with Bellchambers out.
Hrovat is out this week for Morris. But the main thing of interest here is the effect that will have on Hamling and whether he will be vested. Many thought he would be the one to make way for Morris. Acres was dropped by the Saints whilst Boekhorst has come back in for the Blues.
The one name many were hoping to see this week was that of Gary Ablett but sadly we have to wait yet another week to see him back on the field.
#AskDunny
https://twitter.com/chrisbobbyjones/status/613657240352915456
The Doggies have a great run at the moment and to be honest I think there is at least one must have which is Dahlhaus and then there are many of us with Wallis in our sides too.  If you then add in the rookies Dale  and Hamling then there are a lot of teams out there with 4.  For me that is the limit that I like to place on a side. But really in this circumstance, once we get past this week you will only be playing two of these guys on the field anyway and the other two will be bench cover.  The other Dog that would be in contention would be Boyd in AF with his defender eligibility.
Looking at Christensen v Lewie Taylor for F6 and Boston v Kavanagh for M9…. First time I've thought to reach for the coin! @DTTALK @pkd73

— Baysie Toff (@johnsthogg) June 24, 2015
With Christensen v Taylor I would lean towards Christensen. He is averaging about 8 more points than Taylor and is more experienced too. For this reason I think that I would be going with him. For the second part of your question there I turned the reigns over to Jeppa and this is what he came back with for me.
Boston ahead of kavanagh just from a job security issue. Zharakis returning will limited kav a little. Boston proved last week that his ceiling is high also. All in all, at this stage of the season it's a about job security.
So there you have it.  In those two contests I go Christensen and Boston.
@pkd73 @DTTALK who is the better trade in option for selwood this week Sloane or Mcveigh ?

— Tom Cunningham (@Tcunners4) June 24, 2015
These guys are averaging fairly close to each other so that isn't enough for you to make a call. The key for me with their scoring was how they have done it.  Sloane had some big scores early, followed by some low ones before and after his injury.  McVeigh has been very consistent all the way through. Their price is where the big difference comes with about $70k being the difference. Sloane presents a great deal more value if he can get back to his previous level of scoring and hence that is the way I would go.  If you are in AF then the only thing that may sway you to McVeigh is that he has the Defender eligibility also which could be very handy for you.
Loophole
Well we had another crack at the loophole last night, how did you fare?  Calvin suggested we loophole
Swan who scored 110. I would be taking that to the bank and leaving it there!
Fyfe who also scored 110. So go with that and take it.
Pendles scored 101, perhaps not as much as you would like.  If you have anyone from Calvin's other list for the week, perhaps try your luck there.
Mundy who only got to 91, pass on that score.
Neale was his fifth choice for a VC and he scored 120. Gold Gold Gold for Freo. Take that score.
Others that you could take would be Taylor Adams who got 126, but unless he is your brother or best mate I doubt you VC'd him. Barlow was on many people's list to trade out this week, he scored 117 which if you VC'd him, I would be taking. Just on trading him out, I have him and haven't considered it for the very reason he could now go on a run with scores like this!
Things to Remember
Freo and Collingwood players are now locked out.  Always double check, particularly with these Thursday games.  I had planned to bring in Pendles, but stuffed up and missed out on him in RDT.
Bye week 3 is meant to be the easy one.  But if you are like me, it isn't, my team seems stacked with R13 premos and the spuds I have to play in there place don't give me much hope!
If you are taking your VC score you can put your C on a player with the bye, they don't lock out until the final lockout which is tonight in RDT and AF and then the start of the last game on Sunday for SC.
Your team should be either final or only one or two trades from final at this point of the season.  Hopefully in RDT and SC you will have enough trades left to cover any injuries or issues for the rest of the season.
So there you have it, I am sure that like me you are looking forward to putting your duds on the bench and having all your premium players out on the park next week! But before then we have 5 more games of R13 to negotiate.  Best of luck and I will catch you on twitter @pkd73 and then next week here at the Friday Scramble.