Throwback Thursday (The God-awful Guernsey Edition)
Muttley looks at some shocking jumpers this week.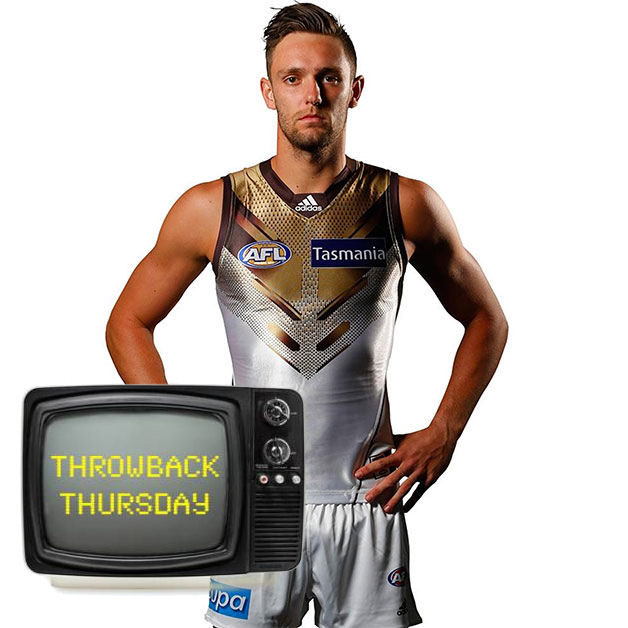 In between this week's Hawthorn v Essendon clash and last week's strikingly shiny guernsey 'clash' of a different kind, unashamedly worn by The Hawks, we thought we'd also do something completely different and pull some dusty old brown and gold skeletons from the closet. And a few red and black ones too.
---
THE FLASH GORDON:
As worn by The Hawks last week. This was 10% weirder, 50% more divisive and 33% more slippery than the average 'poos and wees'-coloured number.
---
THE JOCKEY QUILT:
The all time classic abomination of alternate strips. Last seen being trampled under a horse at Caulfield, with Johnny Platten still in it.
---
THE ABSOLUTE SHIRTSENHAUSEN:
A pre-season t-shirt experiment gone wrong AND the daggiest possible way to start a new century.
---
THE BOG STAIN:
The arrival of the internet in the '90s brought some cheap new graphics software and with it came the brief appearance of this jagged little pill. It was short and sweet. Like a kick in the groin by Sam Mitchell.
---
THE UNABOMBER:
With it's veritable printout of tiny heritage names and numbers it was all for a good cause and seemed like a good idea at the time. But if a mathematician serial killer ever did want to wear a summer pyjamas / mini tracksuit-inspired militant uniform on weekend day release in future, this could almost be it.
---
THE BALI BOMBER:
I'm not even sure if poppies are a big thing in Bali, but bugger it – this year's ANZAC Day guernsey did look a bit more troppo than trencho with its poppy-laden sash, not unlike these player models at the time. If you're wearing this, you'll need to have been on the run from ASADA with no sleep – let alone shaving – for weeks, or the ANZAC vibe just isn't the same.
---
THE ORIGINAL SLIM:
Yes it's true, even the Essendon sash has succumbed to obesity in recent years. Here we see a throwback to the original slimline sash of the early 20th Century as worn by Dinosaur Fletcher in 2003, or perhaps it was in fact 1903, considering he's been playing for 120 years.
---
This week, may the best guernsey win!
In next week's Throwback: Dreamteam's top scores from the Top End (a.k.a. Marrara, a.k.a. Darwin, a.k.a. TIO Stadium).