Lampe's Price Watch- Round 13
Here is a look at some of the best and worst options this week.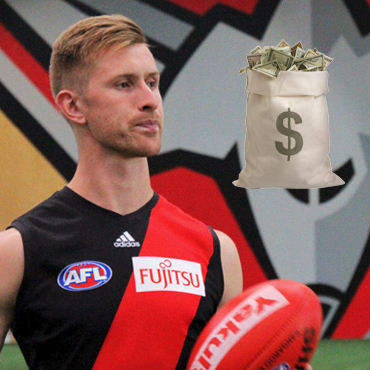 For many of us, myself included, round 12 was a stinker. Luckily, a few good coaches did manage to come out relatively unscathed and with the final bye round upon us, the game is about to become more fun as finals begin to approach.
Here is a look at some of the best and worst options this week.
Defenders:
Buy:
Jarrad McVeigh ($533,000): Last round, McVeigh gained Defender eligibility and it has significantly increased his Dream Team relevance as a result. Last year, McVeigh was a stalwart in our fantasy back-lines and was an absolute lock. Now that you can pick him as a defender again, the second half of this year should be more of the same. This season, McVeigh has actually increased his average from 97.2 to 101.5 points per game. This includes three hundreds in his last four games. He is also one of the most consistent players in the competition, dropping under 91 just once in his 10 matches so far. With a break-even of 87, McVeigh should have at least another 20 or 30k to rise in price, if his current form continues.
Should easily end up as a top 6 Defender, and he will be a must have in your defense come finals time. With ownership of just 2.92% he could play a pivotal role in league games when other popular defenders have a down week.
Rory Laird ($463,000): I am beginning to become more confident about Laird with each passing week. He is one of the in-form defenders of the competition, with five out of his last six scores 99 or higher. Laird seems to be developing an all-round fantasy game. He can get 25 touches, lays a few tackles and can take a number of marks. This combination and number of facets to his game, allow him to score highly when they all click together. With a break-even of just 60, Laird is one who still has a significant amount of money to make, if he can keep up his present form. The other bonus of picking Laird, is that you can save somewhere near 100k from the most established defenders, while also having a unique option with just 2.5% ownership.
I'm not sure he can be a top 6 defender, but he has the potential to crack the top 10. There is significant risk picking a player in only his third season, who has never truly broken out before, but the greater the risk – the greater the reward.
50/50:
Brodie Smith ($343,000): He was a 50/50 last week, and he remains so one week later. Smith's break-even has dropped to 71, indicating that he may have finally reached his basement price. Smith's last two matches have been solid, with scores of 72 and 80, and he seemed in reasonable touch against the Hawks last Thursday night. However, His five round average is an extremely low 55.4 for a player of his caliber, and as previously discussed, this is mostly due to concussions and poor form that followed. Smith is one of the players that is hardest to put a radar on what he could achieve for the rest of the year, and as such, what value he truly represents. On raw potential alone, Smith must be considered.
Must be looked at if you can put the extra 200k+ from Picken, Mundy, Boyd or Hodge to better use elsewhere. I think he can average about 80 for the rest of the year, but personally, I will be setting and forgetting (hopefully) in my defense from now on.
Midfielders:
Buy:
Rory Sloane ($483,000): Sloane did enough to convince me that he is over his injury woes last Thursday against the Hawks, and as such, he should only improve with each match he plays. It is obvious to all that at 483k Sloane is massively under-priced, and with just 4.97% ownership is one that could come in very handy when league matches begin again next week. With a break-even of 95 and playing Brisbane this week, a team he massacred for a HUGE 160 last time they met, it is time to bring in Sloane.
I will be trading Sloane into my team this week, hoping that I will be getting a top 10 midfielder at a ridiculously low price. At the worst, I would predict a 95-100 average for the rest of the year. The money you save on Sloane will also prove handy in the coming weeks.
Leigh Montagna ($571,000): Montagna is another you must consider this week, due to his brilliant form this year. Montagna has a lowest score of 112 in his last four, and comes in with a five round average of 114.2. For those of us who have played for long enough, we will remember the glory days of Montagna averaging 110+ and it seems he might be having one last hurrah. It's hard to predict exactly how Montagna will go for the rest of the year, but if his body holds up, he could be a fantastic option.
Another with a ridiculously low ownership of just over 1% and in excellent form. Montagna has the runs on the board, and the only thing I can see stopping him this year is injury, unfortunately something you must consider at his age.
50/50:
Mitch Wallis ($473,000): I can't pass up Wallis once again, because he just keeps getting it done. However, having increased in price to just over 470k, you must seriously ask yourself whether you can take the risk on him and what value he still holds. Wallis still has money to make, with a break-even of 44, but he is starting to get to a point where tried and tested premiums are near his price. That being said, he managed another hundred on the weekend, has a great fantasy run ahead and is one of the best midfielders of the last month.
*a small side note* He did bolster his score with three sausage roles on the weekend, but in some ways that just adds an extra dimension to his game.
I'm a bit torn as to whether we should be picking up Wallis this week. He is still a very good option and a lot comes down to how much risk you are willing to take. Personally, I will be setting and forgetting in my midfield from here on out, but that isn't necessarily the right way to go with an option like this.
 Avoid:
Jordan Lewis ($620,000): To be honest, I'm angry with myself and Lewis from last week. I did the classic, change my trade I had planned all week just minutes before lockout. If I could go back in time, I would definitely have got Jacobs instead of Lewis. If only I had listened to my own advice! Other than my own personal woes, there are a number of reasons to pass up Lewis this week. The coaches who have held him since his suspension have endured three games in which he hasn't played (not including his bye), his lowest two scores of the year, in 75 and 80, and just one hundred in return.  Perhaps the shoulder injury that caused him to be a late withdrawal in round 9 is worse than we all thought, maybe he is slightly down on form. Either way, it is hurting us significantly. Lewis also has the highest break-even in the competition (other than Ablett, who hasn't played since round two) of 171, and will be well under 600k in a few weeks' time.
An absolute gun at his best, and you have to back him in if you have him. Those who don't, you should be able to get him at about 570k in a few weeks' time.
Steele Sidebottom ($559,000): It has been masked due to the carnage of the byes, but Sidebottom has been one of the most disappointing players of the last few weeks. Perhaps many, myself included, were too quick to jump back on board after his return from injury. He has managed 62 and 89 in his last two, and that 62 could have been much worse, with Sidebottom virtually doubling his score in the last quarter. With the fifth highest break-even of any midfielder in the competition (130), and facing the toughest test in football against Freo in Perth, he should be just under 550k next week.
If you're playing the break-even game, avoid Sidebottom this week. I am still backing him in to be a top eight mid for the rest of the year, but he must start producing quick for that to happen.
Rucks:
Honestly, with only two on-field spots available to you, I will be giving you the advice to set and forget with one of Jacobs, Martin, Goldstein and possibly Blicavs over the coming weeks. If however, you want to do something different with your second ruck position then here is one option.
50/50:
The Bombers boys (Giles/McKernan) or Kreuzer: If you are looking to save money in your rucks, then one of these guys could be a Smokey, particularly if they are named alone in the ruck. Giles ($342,000) has averaged 82 in a season before. McKernan ($197,000) could be a good cash cow and will hopefully average 60+, and we all know the potential that Matthew Kreuzer ($266,000) has. All three have very achievable break-evens, and should increase their averages and value, if they play for the rest of the year.
Like I said, I would strongly advice to set and forget in your rucks from here on out. If you are looking to save cash and upgrade elsewhere, Kreuzer has the most upside of the lot, in my opinion.
 Forwards:
Buy:
Nick Riewoldt ($484,000): For a few weeks, I have been saying to hold off on Riewoldt until after his bye. That time has finally come. Riewoldt is once again in terrific form this year, showing why he has been one of the best fantasy forwards for a decade. Riewoldt has three hundreds on the trot, and if you take out his injury affected 26, his average increases from 92.7 to just under 104. Virtually all signs point to Riewoldt as a great forward pick-up this week. He is significantly under-priced, has a low break-even of just 61 and is a great POD in your team, with only 2.19% ownership.
The only significant concern about Riewoldt is his durability, especially after his chronic knee looked very sore in his last match. Hopefully, the extra week's rest over the bye has him allowed him to recover and he can continue his magnificent fantasy form this year.
Lance Franklin ($498,000): This one is based partly on potential, rather then what he has consistently produced this year. Despite not having his best fantasy season to date, Franklin is still averaging over 93 points per game, the eighth highest of any forward, if we exclude Max Gawn. At under 500k, and cheaper than virtually all of his rival forwards (barring Riewoldt) Franklin presents some serious value. He also has a break-even of just 80.
From round 13 onwards last year, Franklin managed a touch under 108 points per game, significantly higher then his first half of the season. The question is, can he do something similar again?
Avoid:
Jack Gunston ($488,000): Jack Gunston managed 15 points last week! That's 25% less than Kamdyn McIntosh! At one stage in the last quarter, I saw Gunston sitting on the bench shaking his head. It probably had something to do with what had just happened on the field. However, just maybe, one of the Hawks coaches had told him his fantasy score. In all seriousness, those looking at bringing in a cheaper premium should avoid Gunston this week. In fairness to the big Hawk, he has actually been in good form before his last match, averaging just under 96 points per game and with a hundred in almost every second game he played. However, with one of the worst fantasy performances all year, his break-even has jumped to a massive 147.
A few coaches did jump on board with some great fantasy form this year, unfortunately that hasn't turn out as planned if you did it recently. He is a very good player, and will bounce back, but there are better options for a bit more coin.
Round 13 advice: Once you've carefully thought about your trades (that will hopefully improve your team) stick to them! We've all done it before, and I learnt the hard way again last weekend (hopefully for the last time but probably not). Generally, the thought and effort you have put in during the week will turn out to be right, particularly in the long term, so don't let a few frothies influence your decisions.
Final Thoughts: I'm actually ashamed of my Fantasy score last week.. 1188. I guess that's what happens when you only have 15 players playing, a few injuries before the round, a couple of vests and six players scoring under 50.
In brighter news for those who struggled this week, round 13 should be the easiest of the bye rounds so far. Most coaches will be fielding 18 players, a number of whom are high end premiums, so scores will hopefully be back to around 1700 for many of us.
Lastly, I have created a twitter account, so if you have any fantasy questions you would like to ask, you can follow me at:
I will either get back to you during the week, include them in my article next week, or if you want to comment below like normal, I will get back to you on this page.
Good luck to everyone for the last of the bye rounds and hopefully your team goes well!