Roy's Trade Talk – Round 13
Two down and one to go! Here are some tasty options coming off the round 12 bye.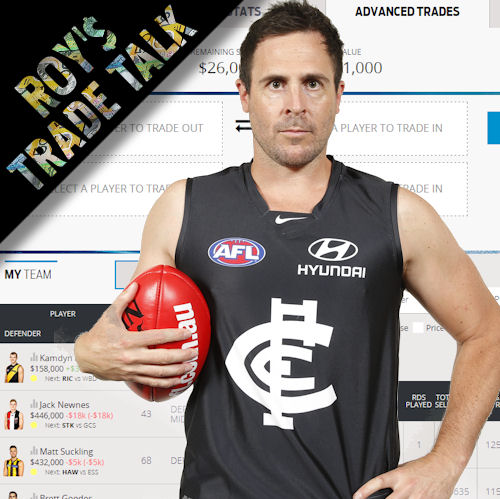 When researching some players fresh off the bye, I can't help but continually be drawn to the Saints, who despite not sitting in the top eight, they are providing a number of quality options worth considering.
Ideally this week we will be using a traditional downgrade/upgrade trade, saying goodbye to a couple of round 13 cash cows who have done their job. Personally, my plan this week will be to dump two under-performers in Harry O and Selwood.
As I was saying, I like what the Saints are doing and here are the blokes worth considering
Show Me The Money:
If you are one of the coaches out there who doesn't mind paying top dollar because 'you get what you pay for' then maybe Jack Steven (MID, $631,000) is the man. He has risen a massive 140K on the season to date and carries a 5 game average of 117 into this round. Although he has a high break-even of 128, he scored 142 against the weeks opponents the Dogs in round 6 earlier in the year. Speaking of earlier this year, next week he faces the Bombers who he had a lazy 124 on in round 5. He has a lowest score of 92 this season, yes 92, a score that Joel Selwood could only dream about and he also has a massive ceiling with scores of 133, 138, 142 and 166 so far this year.
Delayed breakout
David Armitage (MID, $595,000) is having a monster season, already increasing by 93K from the start of the season. His improvement has been significant and that has been reflected by his Fantasy numbers which are a ridiculous read. Apart from 2 quiet games in round 1 with 89 and 75 in round 11 where he was held without a mark by Bernie Vince. The beauty of that quiet game is that he dropped by 23K prior to his bye, making him available for under 600K… Not bad for a guy who has a whopping 7 games over 110 including 129, 143 and 144. Over the next two rounds he plays the Dogs and Dons for the second time this year after smashing them both for 144 and 129.
Oldies But Goodies
Nick Riewoldt (FWD, $484,000) has gone unnoticed despite having numbers that rival the games best forwards. He is having a sensational year, with only one score below 87 where he was knocked out. On the flipside, he has had 4 hundreds from his 7 games and is currently on streak of 3 straight tons, giving him an average of 111 in that time. He has a break-even of just 61, reiterating the value he provides.
Leigh Montagna (MID, $571,000) is in vintage form, averaging a massive 122 in his last 3 and 114 over his last 5. His ability to consistently pump out big scores has been outstanding this season, only dropping dropping below 110 on 2 occasions from his five games with 102 and 82 in his first 2 games of the season. Since then, 123, 114, 112 and 140 leave him arguably the form player of the competition. He has a break-even of just 71.
Sloane Ranger
If you are after a bargain this week, Rory Sloane (MID, $483,000) ticks all boxes after an injury interrupted patch of his season causing a price drop of 109K to this point. He has bottomed out in price with a break-even of 95 leading into a game against the Lions where he should have a field day. If he can regain the form of the first three weeks of the season where he scored 112, 117 and 130 he is an absolute bargain.
New DPP
Despite an outstanding season to date, Jarrad McVeigh ($533,000) has dropped 17K since the start of the season and he looks ripe for the picking if you are after a backline boost. He is coming off scores of 131 and 105, leaving him with a break-even of 87. He has shown amazing consistency, only once falling below 91 on the season.
Click here to subscribe on iTunes.
Dongrades
As far as Downgrade options go, I am leaning towards paying more money for rookies at the moment that have earned some job security, rather than chasing cash and ending up with players like Amon and Glenn Glenn riding the pine. These guys play for the Bombers, who suck, so they should be around for a while.
The forward: Orazio Fantasia (FWD, $195,000) has two impressive scores of 67 and 82. He has a break-even of -19 and is sure to make you some cash, plus provide a handy emergency.
Mid: Elliot Kavanagh (MID, $200,000) has done his time at the Bombers and seemingly earned his spot in the best 22. He has scored 83 and 66 to give him a break-even of -13.
Def: Shaun Edwards (DEF, $185,000) Has played the 1 game, but it was a good game for 79 points from 17 possessions and five marks. Let's face it, the Don's might as well play the kids.
Twitter Time
https://twitter.com/Bminissale7/status/612899816067039232
I am going to have one last look at him against the Pies. He smashed them last year.
@RoyDT @DTTALK Is Mitch Wallis a keeper? #RTT

— Daniel Collison (@dc5969) June 22, 2015
At this stage. However he will be an easy luxury upgrade if form drops.
@RoyDT @DTTALK #RTT Jack Steele worth getting as I've got enough players this week. Or a chance he will get dropped the week after.

— Inactive (@JakePizzuto) June 22, 2015
I'll grab him next week, however if it works for your team to go early… I would grab the tackling machine with confidence.
@RoyDT
Too late to jump on Andrew Boston? #RTT

— Lachlan Carter (@LachlanCarter2) June 22, 2015
No, I am a fan of paying extra for the job security.
https://twitter.com/evyn_johnson/status/612898098499727360
It is in his hands, I think he has great JS though.
Cheers,
@RoyDT