The Friday Scramble
We have already had one game, but there is still plenty to do with your teams today! Jump on in for a monster edition of the Friday Scramble!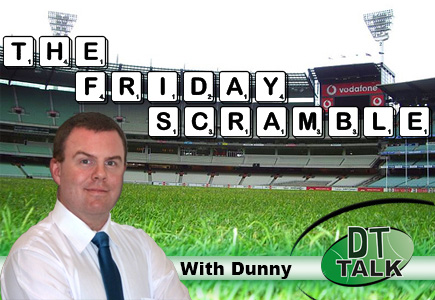 One bye round down, two left to go. Hopefully you got through last week not too badly. Last week I wasn't too bad, but any late outs this week and I will be in trouble! But I am very sure that there will be no smooth sailing happening, we know that there will be some more carnage to come!
We also have some new positional updates which happened in AFL Fantasy and there have been some more long term injuries for us to deal with too.  So let's not muck around, let's get right into it!
The Selection Table!
Earlier in the week we heard that we have lost Mumford for the rest of the season, so you need to trade here, this can actually help your bye structure (not in regards to the number of trades you need to make of course). Mumford was to have his bye in round 13. Now you should be looking to trade him out for either Jacobs or Martin who have both already had their byes.
During the week we had Nathan Krakouer upgraded to the senior list as the nominated rookie.  This wasn't much of a surprise based on what Ken Hinkley said a few weeks ago. He has come straight back into the team.  I am not convinced that he will be the sub either. With Ah Chee, Mitchell and Moore all coming in I suspect one of them would get the vest.  As I suspected Tom Clurey drops out of the side with Jackson Trengove returning from injury.
Nick Dal Santo came back in and thankfully it wasn't at the expense of Trent Dumont like we all expected. In that same game the Giants have had massive changes. We see two new ruckmen in Philips and Lobb come into the side. Philips has already played a bit but Lobb is named on the bench. I think these two are risky, see the #AskDunny question below. Coniglio out will also hurt a few sides, but we did know about this earlier in the week.
The Bont is back, but I don't expect big things from him. and for the Lions we have Jack Redden back in the side too. A key from this game is that both Bailey Dale and Joel Hamling held their positions in the side!
Great to see Jake Kolodjashnij named on the field, hopefully he will stay in the side after the cuts are made later today. Naika Cockatoo returns to the Cats lineup too.
Loophole Antics
So did you have a crack at the Loophole in AFL Fantasy or RDT last night (I will ignore SC here as we can loophole all the time here). Calvin recommended the following guys, let's see how they went and if you should keep their score.
Dangerfield – 105. There are a few (including Warnie) who are saying to take the 105 given it is a bye round. I certainly think that you would be playing it safe and would have no issues if you did that.
Lewis – 75. No, I am sure you have better options than that.
Hodge – 97. If you are really struggling for talent you could, but once again I am sure you have someone that should score more.
Smith – 103. Like Dangerfield you could be forgiven for taking it, but it is a little on the low side.
Jacobs – 107. Once again you could take this and be happy.  In a bye round it isn't a bad thing to do.
If you took someone else, the only players I would keep the score from would be Liam Shiels with his 120. Take that all day every day. The only other one to consider would be Rory Sloane with his 109. I would be taking that if I made him VC.
Now if you are going to use the Loophole, make sure you understand it.  All you need to do is put your C on someone that has the bye this week.  It shouldn't be too hard to find one of them on field with all the problems we are having!
Positional Changes
So this week we know that in AFL Fantasy there were some players who were given extra eligibility. The key ones for me were Jarrad McVeigh who gained defender eligibility and Toby Greene who gained forward eligibility. If you haven't traded out Touk Miller yet he is now able to be used in the forward line.
Have a read of the article that Warnie put together earlier in the week on the AFL Fantasy site.  You can find it here.
What this means for my team is that I will be targeting McVeigh for my backline once his bye is over. However, the key thing that it does do is opens up a fair bit of flexibility for you which makes it easier for you to swing players around when injury strikes, and to be honest, during the bye rounds it is invaluable.
#Ask Dunny
Here I have picked a selection of your questions to have a look at this week.  Hopefully I am able to help you all out!
@pkd73 @DTTALK Improve mids by going Barlow to Lewis or continue to improve side by bringing in Dahl for Vanders? #askdunny

— Punchy (@MpPunchy) June 17, 2015
Thought I would start with a fairly easy one here. Whilst Barlow has been underperforming of late, the first thing that you should be doing is trying to improve your side overall. And with Vandenberg not playing at the moment, bringing in Dahlhaus is a must. The Doggies have a dream run in the next 4 weeks playing Brisbane, St Kilda, Carlton and then Gold Coast. Once you have you team set then I would be looking at that Barlow upgrade.
https://twitter.com/tripperhead/status/611106351167619072
Hi Aaron, I think that I will say what everyone else would say too and that is that I would be going for Martin or Jacobs. Whilst Philips will now get more time of course, can he be relied upon to bring you premium level scoring just because he has the number one job? I don't think so. Lobb is an I am going for either Martin or Jacobs as they are premiums who have already had their bye. Lobb is an untried rookie and I simply don't like that.  Yes he played two games last year and averaged 39. According to the Prospectus he had the lowest hit out to advantage of all four GWS rucks and struggled as a tap ruckman. Not sure that the coach will be keen on that.
For me, you can't go past Martin and Jacobs. Otherwise you will more than likely be forced to use another trade in the rucks later on and if you have used the cash you made from Mumford to Lobb/Philips elsewhere then you will really be stuck for choices.
https://twitter.com/ThomasBennetts/status/611106207177125888
I think this is a huge question that many people will be tackling this week Thomas. To be honest it is a question that people will have to tackle with their team structure and number of trades remaining in mind. I will have a quick look at each here. With Oxley he is valued at $389k and is averaging 77. He is Defence only. A big plus for him though is that his BE is a lowly 5. He has also been pretty consistent over his last 5 rounds. In the case of Saad he is valued at $339k and has an average of 69. His BE is 63, however, he has the bonus of being Defence/Midfield eligible.
There are positives and negatives for both here. On the one hand Oxley has a low BE and is averaging more, on the other hand Saad has dual position eligibility. The key here is your team structure and what you plan on doing going forward.  Also, you need to consider your bye structures this week. How many do you have out in your mids v your defence this week then you would trade out the guy that gives you an extra player on field. The other thing though is that Saad gives you a massive amount of flexibility going forward. If you also have Daniel McKenzie in your team you can use him and Saad to swing between lines.
Personally I will be trading out Saad this week to bring in a midfielder which I feel not only improves my team for round 12 but it will improve my team going forward. However, Oxley is on my radar to be traded out either next week or the one after.  Whilst he has money to make and is scoring well, I intend to use the money from him to bring in another premium in my mids with the extra cash that I would earn.
So… a long story short, I am trading out Saad. Only for the fact that if things go pear shaped for me next week (and why is a pear shape bad anyway, but that is a question for another week) I have Oxley there who can continue to rise in value whilst Saad could drop or simply stagnate.  The other thing for me is that if I get an LTI this week to one of my keeper defenders I would be comfortable with Oxley holding the fort whereas in my mids I can't say the same for Saad.
@pkd73 @DTTALK Dunny do I spend the $631k on Danger or $606k on Beams, or is there a better pick up elsewhere?

— Seeker… (@Seekersupacoach) June 17, 2015
Ok, so clearly talking Supercoach here given your name and the prices you quoted. First I will have a quick look at these two guys. Their average is close with Danger 4pts ahead, but the real difference is in their last three games average where Danger is 24 points better.  Overall though they are very similar throughout the season. With Sloane back in the Adelaide side teams will need to give him a bit more attention but Danger will still cop the number one tag. Similarly with Rocky out, Beams will normally be the number one target. For me faced with this choice I think that I would go with Dangerfield just given the way that Adelaide are travelling at the moment.
In regard to other options? I am assuming you are only looking at round 11 players I think that Sam Mitchell is a real possibility and is only $568k as is Luke Hodge who opens up Defense for you at $544k.  Other than that There is Dusty, but I am fairly confident you would have him already.
Of all the options, for pure scoring potential I would go with Danger, but if you do want to save some cash I would take Hodge.
Note: Yes I know Adelaide and Hawks players are locked out already but I have messaged Seeker SC to let him know prior to last night's lockout. I still thought it was a good question. These guys are all still good trade in targets for pre round 13 for you.
If we are looking at the last question for a round 13 comparison with those two guys, then other players such as Fyfe could be thrown in the mix, but he is more expensive, but on the cheaper side you have Hannebery and Pendlebury that I would consider ahead of Beams in SC. Tom Mitchell is the other one that would also open up your forwards.
Things To Remember
As always, put the guys with the blue dots on your bench! They won't be playing.
If you didn't understand the loophole, re-read Calvin's article 20 times as we will be able to do it a few times in the next couple of weeks.
All of your Adelaide and Hawthorn players are currently locked out since they have already played (obviously)
Keep planning for your last bye round when doing your trades this week, obviously you don't want to be trading in someone that has a bye next week. Try and use the guys that have already had their byes.
This is probably one of the toughest weeks in the bye rounds, so if you are struggling for players and scores, don't stress too much everyone else will be too! Just try and get your 18 on the ground and hope for the best, that is what I will be doing!! Catch you all over the weekend on twitter @pkd73