Lampe's Price Watch – Round 12
Another great write-up from Lampe this week with who you should buy and avoid in each position.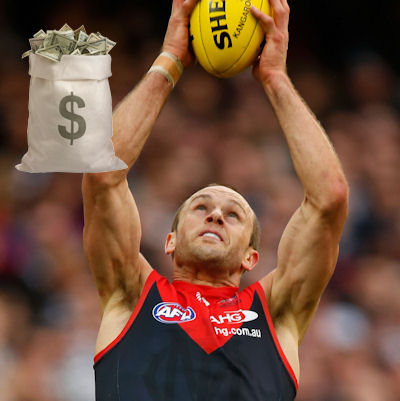 For the most part, our players managed to stand up for us when needed most in the first week of the byes. Of course, there was the odd stinker and injury affected score but there isn't much you can do about that.
Round 12 will probably be the hardest week for coaches all year, with many good teams struggling to field 18 players. Not only that, there are a significant amount of our premium options missing this week, meaning scores will be lower as a result (remember it's all relative though).
Here is a look at the best of what is available this week.
Defenders:
Buy:
Kade Simpson ($481,000): Simpson could be one of the bargains of the year, priced at just over 480k. After an underwhelming start to the year, Simpson began to hit top form in the three weeks leading up to his bye, with scores of 116, 87 and 106. This has left him with a break-even of just 72, and if his form continues he should be up above 500K within a few weeks' time.
*A quick side note* I'm not sure how many of you can remember back to round 22 last year but in one of the worst fantasy performances I have ever seen, Simpson managed a dismal 27 points against Port Adelaide. Surely, something like that can't happen again, and I'm backing him to return close to his best for the rest of the year.
Simpson is under-priced and still down 40k on his starting price. If you are looking for value in your defence, Simpson could be a great option  coming off his bye.
Liam Picken ($537,000): If you are looking for a defender who is under-priced for the monster scores he has been producing, then Liam Picken could be your man. Since his release from tagging duties into more of a free flowing, ball winning Midfielder, Picken's fantasy numbers have gone through the roof. Since round 4, Picken has averaged a shade under 114 points per game, including five of six matches over 100, three of which have been 120+. Presuming his role continues and he has gotten over the calf injury that caused him to miss the week before his bye, he should easily be a top 6 defender by seasons end.
Picken has had as big of a transformation as any player in the competition, and I'm finally convinced it's here to stay. A handy 70K is saved from him to Hodge.
Daniel Cross ($475,000): With newfound defender eligibility, Cross should be one you are considering for a place in your fantasy backline. This is particularly true if you are only concerned with league wins and not worried about the byes. Cross has been in terrific form of late, with only one score under 90 in his last six. If this continues, he should significantly increase in price with a break-even of just 73. Coaches who are interested in overall rankings should hold off until after his round 13 bye, but he should come under consideration at some stage.
Has suddenly become relevant again with the addition of new DPP's this week. At the worst, should be a top 10 defender come seasons end.
50/50:
Brodie Smith ($353,000): Brodie Smith must be considered this week, simply due to the amazing value he holds. At just over 350K, Smith is ridiculously under-priced, having lost over 100 grand from his starting price. As previously mentioned, most of this is due to the two serious concussions he suffered earlier this year and his struggle to return to full fitness as a result. Smith still has a break-even of 102 and playing the Hawks this week, I doubt he will hit his basement price until about round 14.
Terrific value for a player who is capable of an 85+ average in full flight. There is significant risk in getting Smith this week, but if you time it right, it could be one of the trades of the year.
Midfielders:
Buy:
Dayne Beams ($579,000): Beams is one of the in-form players of the competition and if you get him now, you will be paying top dollar for a player you should be keeping for the rest of the year. In the weeks leading up to his bye, it looked like Beams finally started to master his role within the side and gel with his new team mates. As a result, Beams has one of the highest five round averages in the competition of 113.4 and has actually gone 123 or higher in three of his last four matches. The main worry I have with Beams, is that he has predominantly played bottom sides and it is a bit of an unknown how he will fare against the better teams.
Beams is still down on last year's starting price and with a break-even of 80, will continue to rise in value if his form continues. At the very worst, he should be a top 10-12 Mid.
Patrick Dangerfield ($592,000): Much like Beams, if you're trading in Dangerfield it should be as a keeper. I believe that Dangerfield should be able to achieve this, seemingly having a slightly more fantasy friendly role under Walsh then he did with Sanderson. With a break-even of 89, Dangerfield should be increasing in money with some strong performances in the coming weeks. He takes on Hawthorn this week, which on the face of it looks like a tough match. He did however manage a career high 41 disposals and a huge 132 Fantasy points on them last year. Dangerfield also has a massive three round average of 121.7 and is one of the in-form players of the competition. The other bonus of trading in Dangerfield this week, that you don't normally have, is the ability to use him as a free hit with your vice-captain, due to the Thursday night partial lockout.
Could be a relatively unique POD in your midfield. He has a huge ceiling and is capable of winning you league matches. There is always the risk that he will go back to his past role of sitting in the forward line for a quarter, not getting a kick, but hopefully that is mostly behind him other than the odd rest.
Mitch Wallis ($437,000): There are very few players in the competition who hold as much value as Mitch Wallis. With a break-even of 25, one of the highest three round averages in the competition (119.7) and fresh of his bye, everything seems to be pointing his way. Wallis is another Bulldog who looks to be flourishing under Beveridge's new style of play, and with a fantasy run as easy as any team in the competition (Except possibly North Melbourne), he could be in for some massive scores if his new role and form continue.
At the very worst you would be hoping for an 85+ average and his price increasing to about 500K. The best case scenario is a 100+ average and a player who can occupy one of your final Mid spots for the rest of the year.
50/50:
Rory Sloane ($493,000): Sloane has dropped under 500k mostly on the back on injuries and subsequent poor form. After a terrific start to the year in which he posted three straight hundreds, Sloane has struggled with a calf niggle, a fractured cheekbone in round 6 and looked to be struggling to find his best form in his return before his bye. Sloane still has a break-even of 133, so it is highly likely that he still hasn't reached his basement price either. If you are willing to take the punt on Sloane a week or two early, it could be one of the trades of the year, if it comes off.
Will most likely go down another 20 grand or so in the coming weeks, but it all comes down to when you think he will turn it around.
Jordan Lewis ($659,000): Lewis is a 50/50 this week based on this conundrum: Do you pick the highest averaging Midfielder in the competition, fresh of his bye, or do you wait a couple of weeks until you (and others) can get him significantly cheaper? This is given his break-even of 165 this week. There is also some risk involved with Lewis, who is coming off a shoulder injury and a two match suspension just before his bye.
Personally, I would upgrade elsewhere this week (for most, the rucks) and wait about two weeks for Lewis to bottom out. However if you back him in, he could reward you with some monster scores, potentially as captain.
Avoid:
Joel Selwood ($481,000): Can't go past Jelwood again. As previously stated, I think it is a combination of factors that are hindering his form and fantasy scores (Hand injury, less help around him than in previous years, and generally having significantly worse starts then ends to the year). Selwood has only one score over 80 in his last five and with a Vince tag to come his way this week, it will be hard for him to produce something big.
If he can have a second half of the year similar to what he has in previous seasons, he could be an absolute steal at close to 450k. For right now though, you should stay away.
Rucks:
Buy:
Sam Jacobs ($533,000): This is perhaps the most important week of the year when considering the trade you make in your rucks. With Mumford down for the year and Bellchambers looking unlikely to play after his bye, most people will need to do something in this area of the ground. The smart move is to trade in either Jacobs or Martin. Jacobs has been in good form, scoring four hundreds in his last five games, with his low score of 63 coming against a hit-out crazy Sandilands. His break-even of 107 is fairly irrelevant in this situation, as you are spending the cash to set and forget for the rest of the year.
Stefan Martin ($574,000): Despite the temptation to go down to Kreuzer, the obvious choice is to pick up the other of the two top ruckmen. Martin has a lowest score of 97 in his last eight matches, and you can almost lock him in for a score between 95-115 each week. In fact, Martin has unmatched consistency for a ruckmen. Being in just over 7% of teams, also makes him a relatively unique option that could help you in league matches.
You can lock-in 100 from him most weeks. Set and forget him with Jacobs and you will be happy for the rest of the year.
50/50:
Matthew Kreuzer ($258,000): I mentioned Kreuzer as a risky 50/50 option last week, but with the ruck carnage at the moment he becomes even more of a consideration. At just over 250K, Kreuzer is probably the most under-priced player in the competition based on potential alone. The huge question mark is obviously where his body is at, and what he can realistically average for the rest of the year. I would predict an average of about 65-75 for Kreuzer, and with a break-even of 25, you must decide if that is enough value to go against setting and forgetting in your rucks.
Personally, I will be trading in one of Jacobs or Martin for the safety, but it depends on your appetite for risk.
Forwards:
Buy:
Brett Deledio ($517,000): It's hard to go past Deledio as the best trade in target for the forwards this week. He is still under-priced at 517K and is the best forward coming off his bye. Deledio has been in good form of late, with three straight hundreds before his last match. His 70 in round 10 did come against Fremantle, who are traditionally one of his worst teams to scores against.
Has a very gettable break-even of 94 and should go close to a top 6 forward from here on out.
Koby Stevens ($463,000): This is one for those Dream Team players who like to think outside the box. I have actually had my eye on Stevens for a number of weeks now, (admittedly in Elite) but I haven't had the guts to do it. Stevens actually has a five round average of 91.8 and seems to be another one of the Bulldogs thriving under Beverages more attacking style of play. I highly doubt he will be a top 6 forward by seasons end, but if he can continue his current form he could give the top 10 a crack.
A huge risk and definitely not for everyone. With a low break-even, his bye out of the way and a great fantasy run ahead, he could be a unique option that serves you well.
Avoid:
Robbie Gray ($557,000): This is one predominantly for players looking at overall rankings and who haven't managed to get Gray back in their sides. With a round 13 bye and more attractive targets in other areas of the ground this week, wait until after his bye if you still don't have him. He does play Carlton this week, but with a break-even of 125, he should at the very least be about the same price in two weeks' time.
An absolute gun and a must have in your forward line at some stage. However, Hold off until after his bye if you are one of the few that still don't have him.
Round 12 advice: My advice this week is to try and trade in round 11 players when possible. This is particularly important for those in search of  improving their overall ranking.
Once again, I would stress not to ruin your team for short term gain over the byes. Even those looking to reach the top will pay for it as the season progresses.
Final Thoughts: Lampshade's Lads managed 1679 from 18 players last week, dropping me to 390 in the rankings. Originally I had 21 players, but as with much of this year, injuries played a part in stopping that!
Finally- Don't get disheartened over the byes. After this week you will be 2/3 of the way through them, and the competition will be more enjoyable in the second half of the year as finals approach.