Jeppa's Juniors – Round 11
The first of the bye rounds is over but it doesn't get any easier this week with a host of premos and handy cashcows resting up. We'll all rely on some fresh faces to debut and thankfully there are a couple likely to feature.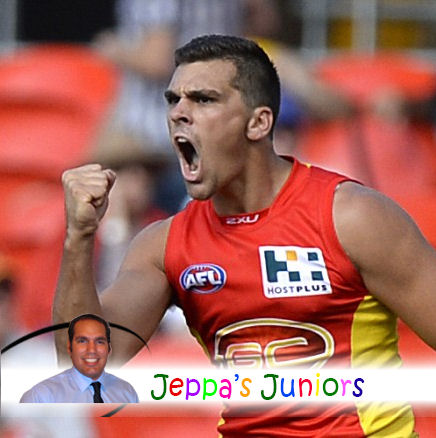 What a relief it is to have the first of the dreaded bye rounds behind us. On top of managing our scheduled bye players, many of us had to deal with injuries to Vandenberg, Amon and Clark, the omission of Bellchambers and green vests to rooks in Dumont, Acres and Robinson. I ended up with 17 players in Fantasy and Dreamteam and scored 1742 and 1644 respectively. I'll gladly take such scores, as it could have been far worse!
This week you should be looking at trading in a premo (or two) that had the Round 11 bye. Aside from the obvious, Dangerfield, Dahlhaus and Isaac Smith are a few on my radar. The must have in my opinion is dynamo Dahlhaus. Fresh from the week off, Haus faces the Lions, Saints, Blues and Suns over the next month so it's plenty of blue skies ahead!
For those needing to downgrade, our options are limited. Plenty of first choice rooks (Boston, Fantasia, Kavanagh) have this week off! Kreuzer will be a popular pick but I'd be turning to potential debutants in Jake Kolodjashnij or Andrew Phillips for the value!
Three Gamers 
KEEPERS
When a rook tons up in a bye round, it's Christmas coming early. Andrew Boston (Mid. $235,000, -18 be AF. $200,800, -33 be DT) was very active against excellent competition in the Dockers last Saturday. The Tom Selleck look alike had 17 kicks, 5 handballs, 6 marks, 6 tackles, 102 Fantasy points and was one of the Suns best. Don't get too greedy though, he's good for a score in the 70's most weeks. Boston's teammate Adam Saad (Def/Mid. $350,000, 62 be AF. $339,300, 63 be DT) was also red hot. The defender is exciting to watch with his run and carry from half back and he usually gets plenty of it. Scoring 85 Fantasy points for a defender is up there with the best of them and he'll benefit greatly with a weeks rest.
Angus Brayshaw (Mid. $405,000, 43 be AF. $410,800, 47 be DT) has now scored 96, 90, 94 and 83 from his last four games. I talked him up plenty in the preseason and he's proven his worth over the past month. If you still own him, well done. Another young Dee, Jesse Hogan (Fwd. $390,000, 66 be AF. $383,800, 82 be DT) is showing why he is being compared to Jono Brown and Wayne Carey. Five goals and 87 Fantasy points is an excellent return at this time of year.
Adam Oxley (Def. $398,000, 47 be AF. $389,400, 5 be DT) backed up his 126 in Round 10 with a solid 90 versus the Giants. When the Ox plays with confidence it usually equates to a big score and he's definitely beaming at the minute. Similar to Saad, I'd keep Oxley if your bye structure allows it.
Callum Sinclair, 82 (Ruc/Fwd. $360,000, 60 be AF. $371,800, 93 be DT) and Jackson Thurlow, 78 (Def/Mid. $399,000, 75 be AF. $393,500, 62 be DT) are a couple of Round 13 bye rooks scoring well. Obviously hold these two.
Probably the most surprising score of the week came from Alex Pearce (Def. $173,000, -10 be AF. $165,000, -15 be DT). The tall defender returned to the Dockers back six with little problem. He thoroughly enjoyed playing behind the ball and finished with 8 kicks, 8 handballs, 9 marks, 2 tackles and 75 Fantasy points (61 Fantasy points to half time). He's still cheap enough to consider after his bye this weekend.
DON'T PANIC
Blake Acres (Mid. $224,000, 19 be AF. $258,000, 44 be DT) and Trent Dumont (Mid. $207,000, 7 be AF. $231,700, 30 be DT) were green vested in their games but they still managed to have a significant impact in their short time on the field. Acres had 45 Fantasy points from 30% time on ground and Dumont 39 from 19%. They were both that good that I doubt they'll be wearing green in their next match.
Henry Schade, 57 (Def. $212,000, 29 be AF. $202,700, 14 be DT) isn't setting the world alight with his scores but he's got a little more cash to earn before he tops out. If you're looking to offload one of your Round 12 rooks, I'd get rid of Schade before Saad or Oxley for example.
Note that Karl Amon (Mid. $183,000, 8 be AF. $174,700, -9 be DT) had a 'sore' calf not an injured calf (source) so he remains a slim chance to be named this Thursday night.
TRADE, TRADE, TRADE
If I haven't categorised a player from Round 11 under 'Keepers' or 'Don't Panic' then trade them out as soon as you can but when appropriate.
Thanks for your services Touk Miller (Mid. $374,000, 74 be AF. $363,100, 66 be DT) but you've done your job. Miller has topped out in price and with the upcoming bye, it's smart to upgrade / downgrade him. Averaging 66 from his last three games means you wont miss him much.
Tom Clurey, 18 (Def. $163,000, 21 be AF. $172,000, 31 be DT) is likely to be dropped this week for Jackson Trengove. If we weren't in the bye rounds, we could probably withstand it.
Two Gamers 
There's a lot to like about Orazio Fantasia (Fwd. $195,000, -19 be AF. $156,200, -60 be DT). The forward, turned half back loves to take the game on with his run and carry and even though he made a few errors against West Coast, overall the signs are good. On face value Fantasia's 82 Fantasy points is appealing but note that he was on 20 at the half and junk time was kind to him in the last 10 minutes of the game. With that said our cheap forward options are few and far between so for Round 13, he will suit many.
Elliott Kavanagh (Mid. $200,000, -13 be AF. $148,600, -65 be DT) was a little quiet. 14 possessions, 2 marks, 6 tackles and 66 Fantasy points is a reasonable effort but I expected better. Kavanagh's midfield role and the Bombers high possession game plan suggests that he offers plenty of value for Fantasy and Dreamteam coaches alike and in my opinion; he's the perfect M9/M10 for the month after his bye.
Avoid young Peter Wright, 40 (Ruc/Fwd. $253,000, 66 be AF. $187,900, 40 be DT). He's got a lot of developing to do before he becomes Fantasy relevant.
One Gamers
Shaun Edwards (Def. $185,000, -2 be AF. $124,600 DT) is the pick of the one gamers. Against West Coast he had 17 possessions, 5 marks, 1 tackle, 2 goals and 79 Fantasy points playing as a deep forward. With a bland forward line, Essendon need a bit of x-factor and Edwards offers plenty. Like most youngsters, he'll need to work on his consistency but I will definitely consider him for Fantasy come Round 13.
After missing more than a year of senior footy with injury, Sam Colquhoun (Def. $225,000, 31 be AF. $197,700 DT) was a solid performer for Port Adelaide. The half back / wingman was busy around the ground collecting a notable 20 possessions. With just 1 mark and 1 tackle to his name however, he finished on a mere 56 Fantasy points but at least he's getting his hands on the footy. If you don't have him in Fantasy, $225,000 is a lot to spend on a rookie yet to have his bye and likely to average in the 60's. I'd rather Kreuzer.
He didn't dominate the stats but Darren Minchington (Fwd. $217,000, 22 be AF. $261,500 DT) played an important part in the Saints victory last Sunday. The small forward was active locking the ball in the Saints forward 50 and he got up the ground to link up when he had to. He finished with 9 possessions, 3 marks, an impressive 7 tackles, 1 very good goal and 63 Fantasy points. Too expensive for my liking though.
Jack Hannath, 48 (Ruc. $182,000, 23 be AF. $222,000 DT) and Alex Neal-Bullen, 34 (Mid. $176,000, 33 be AF. $117,900 DT) are fringe players that didn't impress so I'd stay away from these two for now.
Please note that if I haven't mentioned a rookie priced player above, it means I don't rate them. Remember rooks are classified as players under $250,000 in Fantasy and/or Dreamteam.
Bye Round Sleepers
Popular rooks that return from the week off include Patrick Cripps (Mid. $383,000, 54 be AF. $379,200, 38 be DT) and Kamdyn McIntosh (Def/Mid. $348,000, 52 be AF. Def. $343,200, 40 be DT). Both have respectable breakevens and I'm backing them in for a high score this week.
The big tractor, Matthew Kreuzer (Ruc. $258,000, 25 be AF. $333,000 DT) should be a consideration for your Fantasy team. Don't forget that this man mountain averaged 87 back in 2013. Assuming Kreuzer can stay injury free, he'll pay healthy dividends to his owners. No guts, no glory.
If Dale Morris returns (source), tread carefully with Joel Hamling (Def. $162,000, 0 be AF. $124,600, -38 be DT). Either he or Fletcher Roberts will need to make way for Morris and Talia is still biding his time in the VFL.
If you're desperate Corey Ellis (Mid. $218,000, 52 be AF. $173,300, 34 be DT) and Bailey Dale (Fwd. $188,000, 26 be AF. $155,700, 10 be DT) are two youngsters that you could downgrade to but they wont hit too many scores above 60 with their green vest risk.
Keep Your Eye On
Yesterday Leon Cameron announced that Jack Steele (Fwd/Mid. $227,000, 43 be AF. $117,900 DT) and Caleb Marchbank (Def. $284,000, 53 be AF. $197,900 DT) would both debut for the Giants in Round 12 (source). Cameron also mentioned both would avoid the green vest! Out of the two, Steele is the one you want. He had a very impressive 27 possessions, 10 marks, 10 tackles and 147 Fantasy points in the NEAFL on the weekend and he's been in excellent form for a while now. At $227,000 it will be a case of high risk, high reward for those that bring him in.
With Shane Mumford out for the season opportunities may arise for Andrew Phillips (Ruc. $151,000, 22 be AF. $182,900 DT). My GWS insider, @RLGriffinGWS tells me that Phillips is the one most likely to take the No. 1 ruck mantle. In his one and only game this season, the young ruckman scored 35 Fantasy points which isn't ideal but he was red vested in that match and going forward I think an average of 50-60 is achievable. Bellchambers to Phillips will pocket you $175,000 in Fantasy and $142,000 in Dreamteam. Consider.
Whispers (unconfirmed) are that Jake Kolodjashnij (Def. $120,000, 22 be AF. $124,600 DT) will finally debut this week. At $120,000 in Fantasy, the defender is hard to ignore even if he only plays a few games. Kolodjashnij should average between 50 and 60 Fantasy points. He'll be a popular pick.
Feel free to ask me a question below and don't forget to add me on Twitter @JeppaDT for all things Fantasy and more. Happy trading!