Benjo's PODs – Round 12
Benjo is back again, to navigate you through the byes, while discussing some interesting POD options!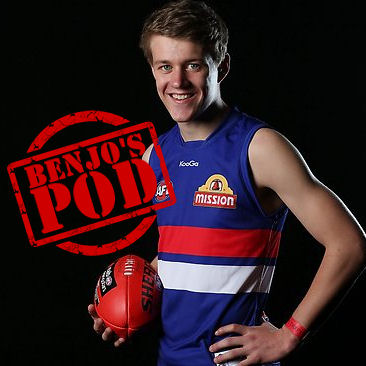 Hi guys and welcome to the Round 12 edition of Benjo's PODs. Each week I'll be having a look at PODs from each of the four positions. First, let's review last week's PODs.
DEFENCE
Shaun Higgins
Higgins only scored 78 DT points, but when you break down his stats, they were actually reasonable. Higgins had 17 disposals, 5 marks, 4 tackles and 2 goals. Made 15k as well for the owners who brought him in last week.
MIDFIELD
Jarrad McVeigh
105! McVeigh has been one of the most consistent players this year. DPP as well! I wouldn't get him in this week, as he has the bye round. He should be one of the most traded-in players in round 13.
RUCK
Shane Mumford
Mumford was on track for a monster score. He had 66 DT points by half time! Although he injured his ankle early in the final term. He finished with 94 DT points. Reports are in that Mumford is out for the season! Very unlucky if you brought him in!
FORWARD
Mitch Grigg
Now I made a mistake putting Grigg as one of my PODs last week as he had the bye. All week I needed a POD forward option, especially a round 12 forward premium. I took a punt on Roo, and it went pretty well!
Nick Riewoldt
Nick Riewoldt had an absolute monster. 124 DT points! The key to Roo's DT game is the amount of marks he takes. He has only dropped below 10 marks twice this year! One was an injury affected three marks. Even in this game he was expected to get 12 marks, based on quarter time stats. The other game against the Bulldogs, where he took nine marks.
He also kicked 4 goals as well!
On average, my four players, including Nick Riewoldt, scored 100.25. Woo! Back over the 100 mark again.
Now to this week's PODs.
DEFENCE
Daniel Cross
The DPPs are out! Cross is now a defender, and must be considered.
His ownership is at 0.26%! Only 240 people playing AFL Fantasy have him!
Cross' lowest score this year is 70, while his highest score is 112. Consistency is very important, especially for defenders this year.
Cross has averaged 100 twice in a season, and over 90 six times in his career!
Cross has averaged 22 disposals this year, and has only gone under 20 disposals twice as well.
Cross averages 6 marks this year, adapting well to his new role.
He hasn't lost his tackling ability, averaging a handy 4 tackles a game.
Verdict:
Cross is a great option this week. Just be wary of his bye round. Many will have the likes of, Shaw, Yeo, Lumumba, Clurey and more. You'll save some cash as well, if you trade Cross in over an uber premium.
MIDFIELD
Jack Macrae
He was the 'pick up of the season' for many last year, but now he is priced at 530k. Is he really worth it?
1.2% ownership! This is not really targeted towards Macrae, but here is an example of how useful low ownership numbers are. For example, you are ranked 800. The difference in points between 800 and 550 is only 100. If you have Adams, and the rest have Barlow, you would have gained 250 rankings, just from one players efforts!
Macrae averages 5 marks this year.
Macrae also averages 5 tackles a game this year. It's nice to know that a player can average solid in both of these figures.
This option is more safe in a certain way. Dylan Shiel relies on marks and disposals to crack a good score, while Matt Priddis relies on tackles and marks to get a good score.
Now this is why everyone should consider Macrae. He faces, Brisbane, St Kilda, Carlton and Gold Coast in his next four games. They actually have quite an easy run home as well.

Brisbane gave up a massive 149 to Callan Ward a fortnight ago.

St Kilda gave up five tons on the weekend. Five of these players all played predominantly midfield, which is a good sign for Macrae.

Carlton have been very hard opponents to score against this year under Mick, but now Mick has been sacked, things may change. Under their new coach, they've given up 12 tons in two weeks. 12!

And Gold Coast… Well the score line says they did very well against the Dockers, although they still gave up 8 tons!
Verdict:
Macrae has a very high ceiling, and when he's on fire, there is no stopping him! Fixture analysis is very useful in DT, and Macrae simply has the perfect run home. Lock and load!
RUCK
Matthew Kreuzer
Oh no, not Leuenberger all over again! Cheap rucks have failed us this season, so why should we head in this direction?
He's averaged above 75 four times in his career. It's a bargain getting him for only 244k!
Kreuzer has been spending more time up forward this year, recording 2 goals against the Crows two weeks ago.
Verdict:
The bottom line is that Kreuzer is cheap for what he is capable of, and with a BE of 24, could be what we are looking for in terms of a stepping stone. Great downgrade/sideways option!
FORWARD
Koby Stevens
The former Eagle is averaging 90.25 and his price has sky rocketed up to 463k! Is he worth it?
2.49%! Another massive Bulldogs POD.
Once again, the Bulldogs have an easy draw. I've listed above how many tons they've gave up.
His lowest score this year has been 58, which came in his first game of 2015.  Since then, his lowest score has been 82 and his highest score has been 114. Could be a keeper if he keeps these scores up!
Stevens could save you a lot of cash as well. He's about 100k cheaper than Goddard and Mitchell.
Stevens is averaging 7 tackles a game this year. Nice!
He's averaging 21 disposals as well.
Verdict:
This is one of the only players I've listed on Benjo's PODs to be 50/50. Remember, DT is a marathon, not a sprint. He has got a very tasty draw over the upcoming weeks, but also finishes the year off nicely as well. But are you happy with him being in your final six forwards? He could potentially average 90-100 from now until the end of the season. I personally wouldn't get him in, but I wouldn't go against anyone whose bringing him in.
AROUND THE GROUNDS
My team scored 1715 in Fantasy, which I was a bit disappointed with, considering I fielded 20 players! Captain Barlow was a delight. Joel Selwood was off with a blood rule every minute. Clurey almost beat his half time record, at full time. But the big talking point this week is Elliot Yeo. Fantasy Freako tweeted out that Yeo only had 25% midfield time on the weekend, which was his lowest amount of time since round one! People may need to consider trading him out now.
Important:
Look at Calvin's Captains this week! With so many of our round 12 bye premiums out, we need a captain that can score over 100! Also when choosing a captain, looking at the players' current form is a must. I was silly in putting Barlow as captain. Even though Fremantle still scored 8 tons against the Suns, Barlow had been in horrible form before the Suns match, and his role was still not what DT coaches wanted from the milestone man.
Consider your trades. Only trade a player out, if they have experienced a role change, impacting on their DT scores, if they are injured/suspended of course, and if they are in bad form. Bad form means that they have had three or more shocking games in a row. People were silly early in the season, to be considering trading Beams out, with only one poor score.
This round is going to be jam-packed, full of carnage! Many coaches will struggle to field 5 players in the midfield this week! Many teams, like mine, will be sweating on the availability of certain rookies. Mumford has already been ruled out for the season with an ankle injury, while other teams are hoping numerous rookies can be called in to their respective sides.
Good luck this week! I hope you enjoyed the sixth edition of Benjo's PODs.
Comment your trade ideas down below and I'll try to get to as many as possible!