Roy's Trade Talk – Round 12
Time to pick up a bargain or two off the round 11 bye list!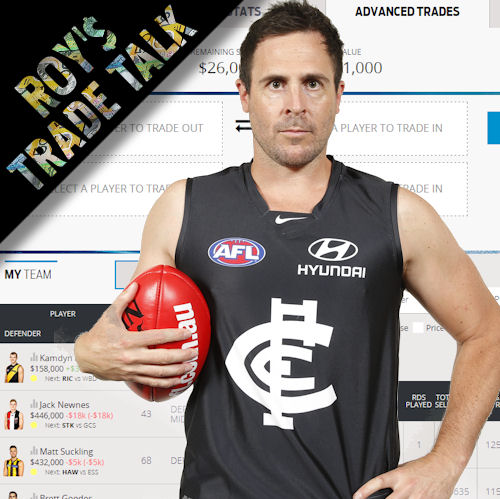 One week down, two to go. Any of us that are trying to navigate the byes should be looking at trading out some round 12 bye players for some round 11 guys who have got it out of the way. Ideally, it would be a traditional downgrade and upgrade of rookies, but injuries and poor form by the likes of Michael Barlow have caused some itchy trigger fingers.
Looking ahead, I have identified the Dogs as having the best draw so I will look at my favorite options from the kennel. Fresh off the bye, the Dogs will have a scoring frenzy against the Lions, Saints, Blues and Suns… You are welcome.

The Downgrade
Joel Hamling (DEF, $162,000) has done his job security no harm over his first two games, averaging 55 points per game and being a solid contributor in both outings. He has a break-even of 0, so he is guaranteed to make you some cash over the coming weeks.
Under-priced Guy
Mitch Wallis (MID, $437,000) has been on fire! Over the last three week he has an average of 120, which gives him a break-even of just 25. In that stretch, he has two massive scores of 121 and 147, so he shouldn't struggle to go big over the next four.
Defender
I still can't believe that Fantasy royalty, Matthew Boyd (DEF/MID, $561,000) is available as a
defender! He will be massive over the next four games making his break-even of 103 irrelevant. He has a five game average of 102 and a three game average of 110 and will finish the year as a top two defender.
Jack In The Box
Don't spend to long trying to dissect the pun behind the heading, because there is no explanation to make sense of it. What does make sense however, is trading in Jack Macrae (MID, $531,000) in. He has dropped in price by 60K since the start of the year and now has a break-even of 83, indicating he has bottomed out on the back of a three game average of 106. He is coming of a score of 130 and will flourish over the next four weeks.
Solid As A Rock
Luke Dahlhaus (FWD/MID, $531,000) is having a career best season and his Fantasy numbers are reflecting that. He is averaging over 100 per game and has only dropped under that figure of two occasions. He has gone over 110 on five occasions this season and will likely add up to three more 110+ scores over the next four weeks. His improved tackling has been a standout, only once dropping below five and he is ripe for the picking despite a reasonably high break-even of 108.
Twitter Time
https://twitter.com/Tasmaniankid/status/610361914275672064
It certainly has merit! We don't want to fall into the trap of not improving our teams long term over the byes… but I'm tempted to trade Barlow this week.
https://twitter.com/Tasmaniankid/status/610361468265984000
His form and role is too good to trade at the moment, I'll hold.
@RoyDT Too early to worry about trading out Yeo? With WCE players all slowly returning, does that affect his Mid/Fwd game? #RTT

— DLaz (@dlalli19) June 15, 2015
Was certainly back to playing some of his old role on the weekend. Slight concern, but there are not many good backs anyway. Give him a couple and upgrade if needed.
Jump on Danger, less chance of a rest and has massive numbers against the Hawks.
@RoyDT Barlow out? Lewis in? #RTT

— Matthew Pham (@Matty_Pham) June 15, 2015
I don't mind it, but Lewis has a BE of 165, so it's technically better to wait on him.
@RoyDT Bellchambers to Krezuer? #RTT

— Lachlan Carter (@LachlanCarter2) June 15, 2015
I would prefer an upgrade in the rucks… Martin and Jacobs fresh off the bye.
— Isaac Smith (@isaacsmith_89) June 15, 2015
Boyd will smash Simpson over the next four… and outscore him for the season.
Discuss you trades in the comments!
Cheers,
@RoyDT