New DPPs – Round 12
The next lot of dual position players have been added to AFL Fantasy. See the complete list now.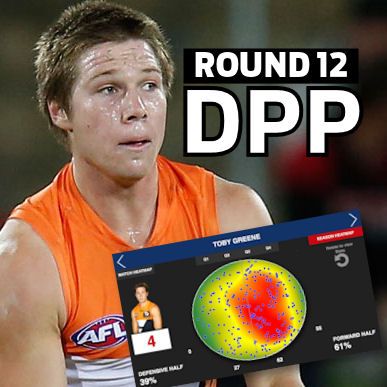 Another 18 players have been awarded DPP status. Not much else needs to be said. Head to www.afl.com.au for an article all about them.
We have worked closely with Champion Data on these and it looks like a pretty good list. Post your thoughts, comments and suggestions on who you think was close to gaining DPP and who we should be looking at for the next run in round 18.
(It is just a coincidence that 18 players were on this list again… it has fluctuated between around 15 to 25 over the last couple of weeks as we nailed down the changes).
| First Name | Surname | Club | Price | Ownership | Current | New |
| --- | --- | --- | --- | --- | --- | --- |
| Daniel | Cross | MELB | $475000 | 0.26% | MID | DEF/MID |
| Liam | Duggan | WC | $301000 | 2.32% | MID | MID/FWD |
| Martin | Gleeson | ESS | $271000 | 0.49% | MID | DEF/MID |
| Toby | Greene | GWS | $477000 | 1.49% | MID | FWD/MID |
| Matthew | Leuenberger | BL | $220000 | 19.69% | RUC | FWD/RUC |
| Jesse | Lonergan | GC | $337000 | 0.83% | MID | DEF/MID |
| David | Mackay | ADE | $377000 | 0.38% | MID | DEF/MID |
| Ben | McGlynn | SYD | $500000 | 0.24% | MID | MID/FWD |
| Jarrad | McVeigh | SYD | $533000 | 1.15% | MID | DEF/MID |
| Touk | Miller | GC | $374000 | 2.69% | MID | FWD/MID |
| Jordan | Murdoch | GEE | $408000 | 0.92% | FWD | FWD/MID |
| Jackson | Nelson | WC | $210000 | 3.64% | MID | DEF/MID |
| Liam | Picken | WB | $537000 | 3.49% | DEF | DEF/MID |
| Paul | Seedsman | COLL | $364000 | 3.33% | DEF | DEF/MID |
| Rhys | Stanley | GEE | $354000 | 0.20% | FWD | FWD/RUC |
| Kurt | Tippett | SYD | $325000 | 2.78% | FWD | RUC/FWD |
| Nathan | van Berlo | ADE | $366000 | 20.12% | MID | MID/FWD |
| Lukas | Webb | WB | $259000 | 0.26% | FWD | FWF/DEF |