The Friday Scramble: Round 11 – Bye Round 1
Well we thought last week was bad, this week we knew about the byes, but then just to rub salt into the wounds some of the guys we have been holding to hopefully get us through the byes are now out! If you can field 18 this week, good luck!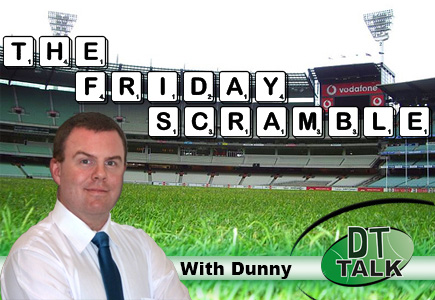 Holy hat! What the hell happened? We drum into you guys all year about having a plan for the byes and making sure you have enough coverage and then this. The guys that we are relying on all either get dropped or they get themselves injured! Well, there isn't a great deal we can do about it, we simply need to just deal with it and put the best team on the park that we can and hope like hell that none of them are late outs!
Or you can just make this your bad week and load up on players with R 11 byes and then simply hope that this doesn't happen again. Let's have a look at exactly what we are facing and what we can do to try and get through this week.
The Good, The Bad and the Ugly
Well that is a bit how selection went this week.  Let's break them down a bit.
The Good
This could be a short section! Well firstly we get Daniel McKenzie back from concussion which is a big help. Most of us were hoping for his return and we have it. He is named third last on the extended bench which does worry me a touch, but at this point, we have bigger issues to worry about, so put him on the field and wait until tomorrow afternoon to see if he gets up. Great to see Sam Colquhuon named this week.  He is a $197,700 DEF in RDT, a $188,300 DEF in SC and a $219k DEF in Fantasy. I can't vouch for his job security, but he has scored 95, 51 and 110 DT points in his last three SANFL games.
Alex Pearce and Tendai Mzungu come back in for the Dockers, I see Alex having some reasonable JS but not sure on Tendai, the interesting thing here is that Duffield has been omitted, with all of the defender woes at Freo, it is a surprise that he is out.
Hugh Goddard has been named for his first game, he is on that extended bench, so keep an eye out tomorrow.  He is a bit of a sub risk of course being his first game though.
The Bad
Tom Bellchambers has finally been omitted by the Bombers, this is a disaster for those that were hoping to hold him this week and then upgrade him next week to a R11 bye ruckman. Not much you can do here. If you can match his bye round then great, but your options there are really Grundy, Sandi, Nicholls, Longer or Mike Pyke. Your best bet may be to go to a R11 bye if you have enough this week, or similarly a R13 bye ruck if you have plenty of players there. R 13 opens up Mumford or Goldstein for you whilst if you opt to take an extra bye player this week you can pick up Jacobs or Martin. I guess you are sort of dictated to by where your other players byes fall.
The Ugly
I have put these two guys in the Ugly because they weren't omitted but have "old man" calf injuries. Amon and Brooksby have both been left out due to these injuries, this is a disaster for a lot of teams (including mine).  We can plan all we like, but we simply can't plan for injuries. Both of these guys are round 13 byes which means we only really needed them this week and next before we could upgrade them before their bye.
Aaron Vandenberg is also out for the whole of the bye period too with a hammy injury. He is yet another round 13 bye player which would have meant we could rely on him this week and next to cover a spot before we traded him out.
#AskDunny
Well, a hell of a week, but let's see if I can provide some semblance of help for you guys!
@pkd73 @DTTALK would you trade tom bc to sauce jacobs if you have 20 playing this week? (goldy other ruck) #spud. Money not an issue

— Ben Henderson (@benhendo94) June 10, 2015
Well now that we know that TBC has been omitted and is on bye next week, yes I would certainly be trading him out. If you still have 20 playing this week (or if you are down to 19 with TBC out) you can afford to trade to a ruck that is on a R11 bye. I must admit I am actually considering a move like this myself, but I may not be able to due to a lack of numbers! By doing this you certainly ensure that you have Jacobs playing for the next two weeks at least for you. So in summary, yes, if you can afford to with your numbers, then go for it.
@pkd73 @DTTALK does CEY and krakour to dumont and Fantasia??#AskDunny

— Ben Levin (@_benlevin_) June 10, 2015
I don't mind this trade strategy and before the carnage I was going a similar strategy, that is double down this week to build cash for the following two weeks. Now, to your specifics.  Yes CEY is a good one to go, he will probably be leaving my team this week. Krakouer is an interesting one. Yes he has been returned to the rookie list, but Kenny did say during the week that he is probably first on the list to be upgraded as a part of the "free upgrade" available at round 12. So he may well come back into the team.
Now your downgrade targets. I don't mind them either, however, just beware of course that they  have round 13 and round 12 bye's respectively so you will be missing them in those weeks. Ideally if you have enough guys playing this week, the idea would be to downgrade to R11 bye rooks so that they can play the following two weeks for you whilst making some cash.  The other guy that you could also be looking at is Elliot Kavanagh. Check out Jeppa's Juniors form this week for a full write up on him.
@pkd73 @DTTALK What do you think of Ibbo to S. Gilbert if he plays this week?

— Steve (@stevenpaul23) June 11, 2015
Hmm…. interesting thoughts here. Let's look at this. Ibbotson has played all 10 games for an average of about 70. He has been scoring between 60 and 80 most weeks apart from last week. He has averaged 70, 92 and 59 in the last three years, so his average of 70 isn't ideal, but he should be able to hold it at least for the rest of the year, with all the Docker outs he is stable and should get points.  Looking at Gilbert, he played only 6 and 9 games in the last two years respectively and averaged 70 and 82 in those two years.  His highest average in the last five years came in 2010 with 93 but hasn't averaged more than 70 since which he did in both 2011 and 2013.  His 6 games last year averaged 52. To be honest the more I look at this trade the less I like it. I think that Ibbo is solid, isn't coming back from injury and is in a team that should win way more than they lose. So, if I had to make a call, I wouldn't do this trade.
Only a few questions this week, as most of the ones I received were either Bellchambers related or asking about the rookies in our second question there so I think we have covered off all the questions in our three above.
Things To Remember
In case you have been living under a rock, players from ADL, BRL, CARL, HAW, RICH and WB are all on byes. They will have blue dots in your teams.
Most AFL Fantasy leagues don't play through the byes, but some will. Just check your leagues to see if you have a match up this week.
If your AFL Fantasy league isn't playing through byes, don't go to sleep you still have your two trades, use them to make your team better upon your return to league play.
Check late changes throughout Friday, something tells me our carnage isn't over just yet!
Chin up, All other coaches will be in the same position as you.
The 7.94% of coaches with Gary Ablett as captain and the 3.42% of coaches with Tom Rockliff as captain won't score as much as you probably, so be happy! Warnie is that you as a part of the 0.02% that have Stanton as captain? (These are AFL Fantasy percentages as at Thurs night).
Well, I can honestly say, good luck this week, I get the feeling most of us are going to need it! At the moment I have exactly 18 playing in AF, and that is after trading and I reckon that at least one these guys is a vest chance!  I had a dedicated bye plan for SC that would have seen me have 21 available, I am now down to 18 before trading and according to my plan in RDT I am supposed to have 21 but actually now have 16 before trading!  If your team is completely stuffed this week you may want to ditch this week and plan to dominate the following two, but just beware, if you do that there is no rule in DT that says that things have to go well for the next two weeks just because this one is rubbish!
Catch you all on twitter @pkd73 over the weekend.