Throwback Thursday – Rd.11
Sheeds waved his jacket in 1993 and the Essendon v West Coast rivalry is strong.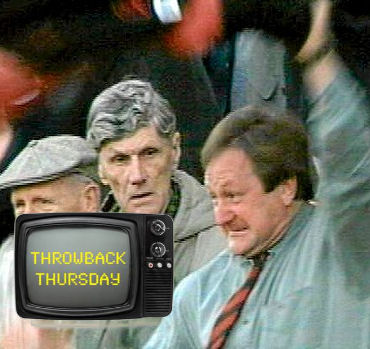 TAKE IT OFF
Do Bombers and Eagles fans still wave their jackets in the air? I guess we'll find out after this Saturday's matchup, but the minor phenomenon of waving your dirty laundry in the air like you just don't care all started in 1993 thanks to coach Kevin Sheedy's antics after a remarkable two point victory in the final moments. Essendon also flogged the Eagles in the semi final prior to winning the premiership that year, but the inaugural jacket-waving certainly wasn't a celebration of their Dream Team scores!
Only one player from either team in the Round 16 1993 thriller managed to crack the tonne, with Essendon's Gary O'Donnell scoring 101 from his 33 possessions, whilst the Eagles' Don Pyke got 104 from his 25.
Legendary 'Baby Bombers' such as Hird, Harvey, Thompson, Watson, Long, Wanganeen, Misiti, Salmon and Fletcher all failed to shake up the Fantasy leader boards in any outstanding fashion, whilst Eagles like Matera, Mainwaring and even a game-high goal score of 4.3 from Sumich didn't reap much reward in Fantasy land. One reason for this was perhaps the most telling stat compared to today's standards, the total tackle count – just 35 to 29 for the match… were they playing touch footy? The hit-outs were also strange in comparison with modern times – a total of 19 to 11! Although you could say the names Somerville, Harding and Hynes weren't exactly Dream Team ruck legends…
Some weeks later and the '93 semi was a good day for the Big Fish, as Paul Salmon's 4 goals and 14 hitouts (of a team total 26) earned him 125 DT points. Mercuri, Misiti, Long and O'Donnell all had upwards of 24 touches yet all figured just below 100 DT, whilst again for The Eagles it was Pyke the sole centurian – and the only player on the ground with more than 4 tackles.
The jackets may (or may not) still come out for a spin but statistically, how times have changed!
JUDDY BEWDY
This Saturday will also tell whether the West Coast banner will honour their former Brownlow Medallist Chris Judd. It probably should, because he was one guy who did rack up some big totals across so many departments.
2004 brought about his first 'Charlie' and sudden public interest in his girlfriend's red dress, but 2006 was his best year on paper in the west. Back when he still had slightly more hair than bandages it was the first season he averaged 100 DT, with sub-80 scores in only 2 of his 23 games. Scoring 100+ on 10 occasions he also hit a career high 177 versus Brisbane (39D, 8T, 4G).
By his second Brownlow year in 2010 at Carlton, his points ceiling was slowly decreasing but his consistency and defensive pressure had reached a new peak. His season average of 103 came with 12 x 100+ scores (including 6 x 120+) from 21 games.
His 2011 season contained a massive 137 tackles and 13 x 100+ DT scores, highlighted by 133, 138 and 138 vs Melbourne, Richmond and Essendon. In those games alone he totalled 93 disposals and 34 tackles. As for Carlton, they won all three… by a ridiculous total 224 (avg 75) points.
Chris Judd, may you Retire In Peace.