Lampe's Price Watch – Round 11
With limited options to bring in this week, Lampe gives his best trade in options and some advice for bye round trading.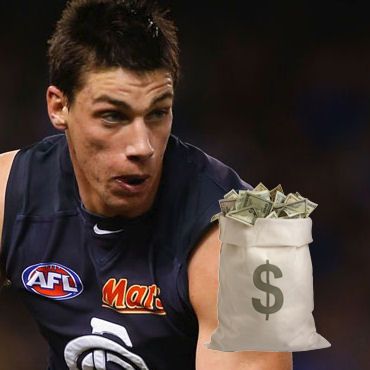 Like much of this season, round 10 was a difficult week for many coaches.
The vast majority of our rookies have under-performed, but if you somehow managed to miss the injuries and vests then you probably had a great week.
Unfortunately, things won't be getting any easier, as round 11 marks the beginning of the dreaded three week bye period.
All I can say is stay strong – hopefully you've planned for them and that you get some luck along the way!
With limited options this week, here are some of the best available to you.
Defenders:
Buy:
Shaun Higgins ($456,000): This year, it seems I can't help myself but pick players who I know will burn me at some stage. Higgins is another I took off the never again list at the beginning of the year, and it's starting to pay dividends. In years gone by, it has been Higgins tissue paper body, not his scoring potential, that has let him down. This is being proven with a three round average of 109.3 and a break-even of just 40. If you can bring yourself to give Higgins another go, this is the week. I am quietly hopeful that Higgins second half of the year can be even better than his first, with matches against GWS, Gold Coast, Geelong, Essendon, Brisbane, Carlton, Melbourne and St Kilda after Sydney this week.
With North possibly having the softest draw of any team in the second half of the year, Higgins could be a solid D5 or 6 for the remainder of the year…..if his body holds up.
Andrew Mackie ($426,000): Due to injury, Mackie is significantly under-priced for what he can produce. With a break-even of 64, Mackie looks to have reached his basement price. In my mind, there are two ways you can look at Mackie from here on out. You either view him as too injury prone and don't even consider him, or you can take the punt, and see where it ends up.
If you are going to get Mackie, this is the week, but try to avoid too many injury prone players in one area of your ground.
James Kelly ($438,000): Another one of the Geelong boys who is under-priced for what he can do. Kelly has a break-even of 63, and looks to have recovered from his sickening injury to the area of which we shall not speak. Down 56K on his starting price, he could be a handy D5 or 6 for the remainder of the year. Having watched Geelong relatively closely over the last few weeks, it seems to be Kelly, not Stevie J, who has increased rotations through the middle in the absence of Duncan and Bartel.
If he had been available as a defender for more of his career he would have been a fantasy stalwart. Is under-priced for what he should produce, but is prone to the odd stinker.
Avoid:
Clancee Pearce ($458,000): The last two weeks have provided a massive fall from grace for Clancee. In this time he has scored only 67 and 50. This follows an outstanding four week period in which he averaged 108. Selfishly, I can't help but be happy about his poor form of late. Earlier in the year I traded out Pearce after four reasonable rounds, taking the 50k price increase and turning a Midfield rookie into Barlow. How I wish I could have those trades again! Add to this, that as a Freo member, I have watched Pearce up close racking up the plus sixes, while Barlow hasn't got near it. Anyway, back to fantasy, Clancee has a break-even of 117 and with a round 12 bye coming up, should be a no-go this week.
Definitely not the week to get Clancee and he may have run his race.
Midfielders:
Buy:
Brad Ebert ($562,000): With a break-even of 82, Ebert is one who should be increasing in price over the coming weeks. I have always thought of Ebert as too inconsistent and that's why I have stayed away until this year. In-fact, Ebert has actually been very consistent with 7 of 10 games over 100, four of which have been 120+. Another positive, is that Ebert looks to be back to his best, having recovered from the huge cork against West Coast that affected his movement and scoring.
Has dropped in price due to one of the bigger corks this year, but should be able to sit in one of your final midfield spots for the rest of the year. A round 13 bye also helps.
Daniel Hannebery ($589,000): If you are willing to fork out top dollar for Hannebery, this could be the year that he repays the faith. Hannebery has been giving signs of a career best fantasy season, and his scores are beginning to back that up. He has the second highest three round average in the competition of 128.3, and should increase in price in the coming weeks with a break-even of 77.
If you are looking for a POD in your team, Hannebery could be your man. Owned by only 3.76% of the competition and at only 24 years of age, he looks to be having a break-out year.
Avoid:
Josh Kennedy ($539,000): Kennedy has been something of a roller coaster this year. He had a poor first month, four consecutive hundreds and now a high of 80 in his last two.  Due to this inconsistency, his price has dropped 56k and his average is down almost 8 points on last year. With a break-even of 140 and a round 12 bye, this is not the week to bring Kennedy in.
Avoid Kennedy this week, with one of the highest break-even's in the competition. If he can get it together after his bye, he could be a steal at close to $500,000.
Rucks:
Buy:
Todd Goldstein ($507,000): Goldstein has exceeded all my expectations from a few weeks ago. He has back to back hundreds, and in the process, broken poor recent history against these sides. With a break-even of just 76 and a round 13 bye, Goldstein could be a very handy addition to your ruck department this week.
With Bellchambers looking like being dropped, Goldstein could be a great replacement. This has the added benefit of getting rid of a round 12 bye player a week early!
50/50:
(Matthew Kreuzer $258,000): Last week, when I said trading in Kreuzer could be season defining, I meant it. If you were to do it this week, it would take things to a whole new level. The only reason I would even consider this trade, is if Bellchambers doesn't play and you are desperate to get rid of players with a round 12 bye. You would need to have at least 19 or 20 players playing this week, so that you can carry another zero. The obvious and very real risk with this strategy, is that Kreuzer gets injured between now and his next match, or that he doesn't even get named.
An incredibly risky strategy and not one that I can endorse, given how many things could go wrong. It should only cross your mind if you are looking at overall rankings and need something very different to get yourself near the top. *This is the same theory as trading Bellchambers to Jacobs/Martin this week*
Forwards:
Buy:
Jack Ziebell ($490,000): I actually find it hard to believe that Ziebell is still under $500,000. I must admit that I have a soft spot for Ziebell, after picking him up at an injury induced $440,000 earlier this year. Since then, Ziebell has been a measure of consistency, with seven 80+ scores in a row. Ziebell also plays a fantasy friendly role, spending most of the match in the middle, loving a tackle and a sausage roll.
Has a break-even of 76 and could be another Kangaroo to benefit from North's easy run home following the Sydney match this week.
Tom Mitchell ($547,000): Tom Mitchell is now the only player I have mentioned each week. He is coming off a massive 133 and beginning to show pig like tendencies. With a break-even of 74, he has more money to make in the coming weeks.
Seems to have finally gained the trust of Longmire and is flourishing as a result. The only reason you would avoid him this week, is if you are waiting until after his round 12 bye.
Avoid:
Nick Riewoldt (469,000): Saying to avoid Nick Riewoldt for the second week in a row is probably the harshest call I have made all year. This is purely based on the fact that he has the dreaded round 12 bye, and with a break-even of 86, he should be similarly priced after his week off (Unless he takes a leaf out of Cloke's book…)
I would wait until after his bye, where you can get Riewoldt severely under-priced and as a great POD in your forward line.
Round 11 advice: This is predominantly for those players looking to improve their overall ranking.
As terrible as the bye rounds may be, these are the three weeks that can separate you from the pack. There will be no time in the remainder of the year, where you can realistically make up 500 points in a single round on your competitors. If you have planned well and continue to do so after the byes, you can make huge inroads towards those at the top.
Final Thoughts: Lampshade's lads managed 2095 this week, one short of my week 9 score. Like many of you, my rookies were my biggest cause for concern. What this does, is really highlight the need to upgrade your team as soon as possible, and not rely on rookies to produce premium like numbers.
Luckily, I did manage to move up to 337th in the rankings. Hopefully this can continue, and push me up into the top 100 throughout the bye rounds.