Here come the DPPs
Next week the second influx of Dual Position Player additions will hit the AFL Fantasy competition. Who will they be?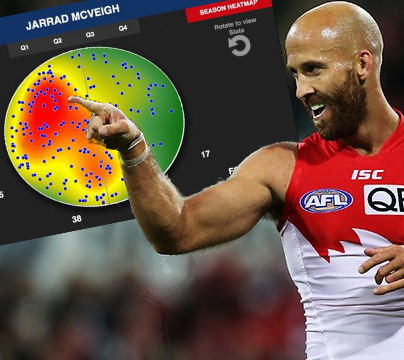 Next week the second influx of Dual Position Player additions will hit the AFL Fantasy competition.
We saw 18 players awarded DPP status in round 6 and while we're not sure of how many there will be in this next round, there will a few that might tickle our Fantasy fancy.
A lot of questions were asked about how players gained a new position. The answer isn't simple, but it is a combination of statistics including percentage of disposals in a certain half (and area) of the ground, heat maps (which can be accessed via the AFL Live Pass) and where players line up at different periods of the game. This coupled with actual footy roles that stats don't always tell the complete story.
We've given our two cents in the process and the next lot will be finalised after this round is over ready to roll out in the early hours of Wednesday morning.
Here are some thoughts on the upcoming round.
LIKELY
Sydney's Jarrad McVeigh has called the back half his home this season. 66% of his disposals are in the back half and his heat map definitely demonstrates that he is at home in defence. With even bigger numbers, Daniel Cross has been spending a lot of time down back with 74% of his disposals there. While he does sometimes line up on a wing or follow a player, his games of late have been very much in the defensive 50. Both of these players should be in the mix for a spot in your defensive 6.
Jesse Lonergan is a midfielder that is likely to pick up defender status, too.
Ultimate Footy added FWD to Toby Greene and he looks likely to become FWD/MID next Wednesday.
Without a doubt Rhys Stanley needs to add RUC eligibility. He was overlooked in the first round of changes and we'd think that will be rectified.
MAYBE
Kurt Tippett may gain RUC status as Mitch Clark received it in round 6. He has been doing enough rucking to justify it in Fantasy. His team mate Ben McGlynn could gain FWD status with a heatmap showing him predominately playing up in the front half. The Swans are blessed with midfielders and this looks like his role.
Mathew Stokes, Lachie Whitfield and Sam Gibson lead some names of players whose heat maps show a fair bit of DEF time. With Mundy getting it in the fist round, they have to be a chance. This can be said for Brent Stanton and even Brad Ebert (check out his love heart looking map) may also warrant DPP. This is very much a maybe as the numbers can stack up but there probably needs to be a line drawn otherwise we could see a truckload of players being added to this such as Brandon Ellis, Adam Treloar and more.
UNLIKELY
A few coaches have been calling for Steve Johnson to gain FWD status. His season numbers show 45% in back half, 55% up front (this increased on the weekend though after playing mostly forward). If this continues, he may get it in round 18 ahead of the finals.
Sam Mitchell, Luke Parker and Patrick Dangerfield are all a big no in our opinion.
On his return, Pearce Hanley was 85% defensive half. There won't be enough data to get him DEF status yet… but he is someone to look out for in round 18. There is a long way to go until then though!
Below are some tweets we have seen floating around the place with heat maps. Discuss who you think will gain DPP next week in the comments.
Yep, here is McVeigh's map. I think (hope) he gets DEF status next week. @T_Gregg95 pic.twitter.com/T0Os0ANj2r

— Adam 'Warnie' Child (@WarnieDT) June 8, 2015
@ktapscott21 Could gain FWD :) pic.twitter.com/czTLo58766

— AFL Fantasy DPP (@AFLFantasyDT) June 9, 2015
Daniel Cross is as close as they come to a lock. Expect him to gain DEF status at round 12. #AFLFantasy pic.twitter.com/AEvLMqEgeX

— AFL Fantasy DPP (@AFLFantasyDT) June 8, 2015
Not enough just yet I don't think. @kacey_curtis @RoyDT @DTTALK @CalvinDT pic.twitter.com/f75RwA83kc

— Adam 'Warnie' Child (@WarnieDT) June 8, 2015
A popular topic seems to be Tony Greene getting FWD status. Will be very close! #AFLFantasy @AFLFantasy pic.twitter.com/6zT51H5x65

— AFL Fantasy DPP (@AFLFantasyDT) June 9, 2015
For those wanting Parker to gain FWD status in @AFLFantasy. Highly unlikely. #AFLFantasy pic.twitter.com/dKc1rhZS20

— AFL Fantasy DPP (@AFLFantasyDT) June 9, 2015