Jeppa's Juniors – Round 10
With the bye rounds here, don't miss out on Jeppa's complete rookie review from Round 10. It's arguably the most important week to get your 'juniors' right!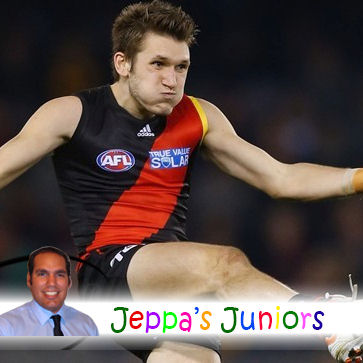 I think all of us are pretty keen for some rooks this week. Those loaded up with Round 11 bye players, a double downgrade this coming lockout will maximise your options in Rounds 12 & 13. Others should be looking to the classic downgrade, upgrade. Whoever you trade in, you need to be 100% certain that they'll be getting a game over the next month. Thankfully, there are a few 'juniors' putting their hand up.
Three Gamers 
KEEPERS
The yoyo output from Adam Oxley (Def. $381,000, 50 be AF. $374,400, 55 be DT) continues and it is incredibly frustrating. In his past six games, the Ox has scored 36, 136, 77, 48, 91 and 29. Naturally, most of us looked to trade him out or bench him on the back of his 29 in Round 9. Fair reaction until Paul Roos decides to leave him as a loose man in defence and he racks up 24 kicks, 6 handballs, 14 marks and 126 Fantasy points as a result. The Pies play GWS this weekend and because it is at the G, Oxley should be good for another decent score. If he produces another mare then at least he's 'consistent'. You have to hold him though.
That's now three really good games in a row from Angus Brayshaw (Mid. $382,000, 41 be AF. $381,300, 30 be DT). The youngster is living up to the hype and his work rate against the Pies saw him win this week's NAB Rising Star award. Brayshaw finished with an impressive 18 possessions, 2 marks, 6 tackles, 1 goal, 90 Fantasy points and was one of the Dees best. With the Round 13 bye, he's definitely a handy rook to have over the next couple of weeks.
A rest this week for Patrick Cripps (Mid. $383,000, 54 be AF. $379,200, 36 be DT) will do his young body a world of good. The inside mid is hitting his straps and against the Crows he was one of the Blues better players after amassing 25 possessions, 4 marks, 2 hitouts, 4 tackles, 1 goal and 94 Fantasy points. I'm holding him.
Jordan De Goey, 84 (Mid. $272,000, 30 be AF. $251,300, 26 be DT), Jackson Thurlow, 83 (Def/Mid. $399,000, 75 be AF. $398,100, 86 be DT), Touk Miller, 71 (Mid. $377,000, 73 be AF. $366,900, 75 be DT) and Trent Dumont, 62 (Mid. $185,000, -13 be AF. $196,200, -39 be DT) are other rooks to hold because of their solid form and Round 12 / 13 bye.
DON'T PANIC
I'd love to know the reason behind Karl Amon's (Mid. $183,000, 7 be AF. $174,700, -10 be DT) red vest last weekend. The midfielder works his butt off and in my opinion, adds plenty of value when he's on the ground. From just 50% time on ground, Amon had 10 kicks, 3 handballs, 1 mark, 3 tackles and 53 Fantasy points. It's fair to assume he'll provide decent output when he gets a fair run. Let's hope it's this week.
No green or red vest for Blake Acres (Mid. $207,000, 6 be AF. $239,500, 4 be DT) unfortunately didn't translate into a decent score. 14 touches and 57 Fantasy points is far from embarrassing especially against a rampant Hawks outfit. I expect better output from him against the Dees this Sunday.
Even though they were down on form, this week, I'd hold popular rooks in Kamdyn McIntosh, 58 (Def/Mid. $348,000, 52 be AF. Def. $343,200, 38 be DT), Jesse Hogan, 48 (Fwd. $383,000, 69 be AF. $381,000, 80 be DT) and Adam Saad, 45 (Def/Mid. $345,000, 72 be AF. $338,300, 81 be DT). Hold, Saad and Hogan given their byes. If you have to offload McIntosh due to structure then fair enough.
Liam Duggan, 57 (Mid. $300,000, 43 be AF. $307,500, 64 be DT), Corey Ellis, 53 (Mid. $218,000, 51 be AF. $173,300, 33 be DT), Bailey Dale, 49 (Fwd. $188,000, 25 be AF. $155,700, 10 be DT), Henry Schade, 44 (Fwd. $204,000, 38 be AF. $192,700, 34 be DT) and Callum Sinclair, 36 (Ruc/Fwd. $353,000, 63 be AF. $365,500, 66 be DT) were all below par but their breakevens are lower than / close to their averages so you should still profit this week.
Daniel McKenzie (Def/Mid. $257,000, 52 be AF. $197,300, 16 be DT) missed with concussion last week and fingers crossed he's named back in the seniors come Thursday night. I'm not holding my breath though.
TRADE, TRADE, TRADE
If I haven't categorised a player from Round 10 under 'Keepers' or 'Don't Panic' then trade them out as soon as you can but when appropriate.
A poor score and the upcoming bye sees Cameron Ellis-Yolmen, 46 (Mid. $377,000, 76 be AF. $367,200, 67 be DT) on the chopping block. The inside midfielder was well down on form against the Blues and with Brad Crouch and Richard Douglas firing in the SANFL, I fear he'll be dropped come Round 12. His job is done. Let's just hope that he doesn't do an Oxley!
Another popular rook Aaron Vandenberg, 47 (Fwd/Mid. $386,000, 70 be AF. Mid. $398,300, 97 be DT) looks likely to miss a few weeks with a hamstring injury. It's tough to hold an injured player through the bye rounds especially a player with currency.
Note that Fraser McInnes, 42 (Fwd. $262,000, 33 be AF. $270,700, 61 be DT) is likely to be dropped this week for Jack Darling. Trade.
Two Gamers 
Long term, Andrew Boston (Mid. $190,000, -1 be AF. $128,700, -55 be DT) looks to be a safe option. The Suns are decimated by injury and the dynamic half forward has shown enough in his first two games to hold his spot. Playing a powerhouse in the Swans last week Boston scored just 45 Fantasy points but he was stuck forward of centre and little supply came his way. He faces Freo this week at Metricon (gulp) but after the Suns' bye in Round 12, a fairly decent run that includes Carlton, North, Bulldogs and the Giants should see him average 65. Consider.
Key defenders Tom Clurey (Def. $154,000, -2 be AF. $158,000, -13 be DT) and Joel Hamling (Def. $162,000, 0 be AF. $124,600, -39 be DT) weren't inspiring from a Fantasy point of view. They scored 49 and 41 respectively and their job security is far from assured. Word is that Jackson Trengove is a chance to return this week (so much for a 6 week injury) putting Clurey on the chopping block. I thought Hamling got his pants pulled down by Westhoff too meaning he's no shoe in for the coming weeks especially with Michael Talia keen to take his spot back. Avoid both if you can but if you have to pick one, pick Hamling.
Keegan Brooksby (Ruc. $161,000, -6 be AF. $102,900, -55 be DT) was used everywhere on the weekend. He played full back on Kurt Tippett, had stints in the ruck and spent time up forward. The result was 53 Fantasy points for the big fella backing up his 60 from last week. Naturally, plenty are keen on the Bellchambers to Brooksby trade but Dixon is to return and Zac Smith is doing well in the NEAFL. Be careful.
Daniel Robinson, 30 (Mid. $163,000, 2 be AF. $124,600, -37 be DT) and Clay Cameron, 7 (Def. $169,000, 58 be AF. $201,300 DT) both copped the green vest in Round 10 and unfortunately had little impact. At this stage of the game it is silly to bring in players with a high vest risk like these two.
On a positive note, it appears cheap key defenders Alex Pearce (Def. $144,000, 8 be AF. $124,600, -13 be DT) and Jack Leslie (Def. $150,000, 20 be AF. $201,300, 86 be DT) will replace the injured Luke McPharlin and Steven May. With Freo's injuries to key defenders, a fit Alex Pearce is good for the next month but don't expect an average greater than 50.
One Gamers
Elliott Kavanagh (Mid. $167,000, -9 be AF. $148,600 DT) is a rook that should be high on your agenda. The midfielder was in the thick of the action against the Cats playing on ball for most of the match. He started the game exceptionally well and was on 64 Fantasy points at half time but faded to finish on 83. Hird said post match that it was the best game Kavanagh has played for the club, which holds him in good stead for the next few weeks. He's my number one trade down option this week for Fantasy…no contest. I'm expecting a big score from him on Saturday against a loose checking West Coast!
Orazio Fantasia (Fwd. $159,000, -1 be AF. $156,200 DT) finally got a game! One of my favourite 'juniors' yet to show us his full potential started for the Bombers at half forward but did more damage when he was moved to half back in the second half. The speedster finished with 14 possessions, 3 marks, 6 tackles, 67 Fantasy points and I'm expecting him to hold his spot this week even with Jobe and Zaharakis returning. Yes, Fantasia's job security is far from assured and it is definitely a risk bringing him in but he is one of the few rooks available that can score at a decent click.
Matthew Kreuzer (Ruc. $258,000, 24 be AF. $333,000 DT) wasn't going to die wondering last Saturday. After more than a year out of the game, Kreuzer set a standard for his teammates, attacking the ball with vigor, following up with second and third efforts around the contest and kicking a couple of goals. He scored 78 Fantasy points and it's fair to assume that he'll improve with time. A likely option to trade in come Round 12.
I didn't get a good vibe from Hugh Beasley, 30 (Def. $123,000, 16 be AF. $102,900 DT), Peter Wright, 27 (Ruc/Fwd. $266,000, 67 be AF. $187,900 DT), Michael Luxford, 18 (Fwd. $120,000, 29 be AF. $124,600 DT) and Toby McLean, 11 (Fwd. $207,000, 62 be AF. $117,900 DT). Stay away from these blokes.
Please note that if I haven't mentioned a rookie priced player above, it means I don't rate them. Remember rooks are classified as players under $250,000 in Fantasy and/or Dreamteam.
Keep Your Eye On
With just 12 teams featuring this week, new talent coming through is limited.
The previously mentioned Jake Kolodjashnij (Def. $120,000, 22 be AF. $124,600 DT), Jack Steele (Fwd/Mid. $227,000, 43 be AF. $117,900 DT), Hugh Goddard (Def/Fwd. $236,000, 43 be AF. $122,900 DT) and Jayden Laverde (Fwd/Mid. $240,000, 46 be AF. $127,900 DT) have continued their good form in the reserves and could be named for Round 11 as a result.
Out of the four, I like Goddard most just because he's likely to play the most games in the final 13 rounds.
Feel free to ask me a question below and don't forget to add me on Twitter @JeppaDT for all things Fantasy and more. Happy trading!